Prior to the Upper House election July 21, The Genron NPO conducted a public opinion survey on Japanese democracy. The results revealed that less than 30% of the respondents trust the representative democracy system where constituents elect their representatives, indicating that the Japanese government is losing public trust.
The survey also illustrated that the majority of the population are pessimistic about the future of the country. Some 55.2% think that Japanese political parties are incapable of solving the various issues the country faces. The public mistrust in politics is particularly noticeable among young people in their 20s and 30s.
The opinion survey was conducted between May and June 2019, targeting men and women over the age of 18 across the country in the door-to-door visit method, resulting in a collection of 1,000 valid samples. The Genron NPO conducted the survey in collaboration with think tanks around the world in order to understand global trends and people's views on democracy. While democracy faces unprecedented challenges in many countries, the survey is conducted annually and this year's is the third of its kind.
Trust in Japanese democratic system
Among various institutions and establishments that constitute Japanese society, "political parties," "the Diet" and "media" have noticeably lost public trust. Only 22.4% and 29.4% of respondents have a "great deal of trust" or "quite a lot of trust," respectively, in "political parties" and "the Diet," the national parliament where democratically elected politicians discuss and make decisions. Conversely, 67.6% and 60.4% answered that they "do not have very much trust" or "no trust at all" in respective institutions.
Neither "media" nor "government" won very much public trust: Only 32.3% and 36.4% said that they trust these institutions while the majorities, 56.6% and 54%, responded that they do not have much trust or none at all.
By age group, it is notable that those in their 20s do not trust political participation: Only 10.9% of the participants in their 20s trust "political parties," 13.4% the "the Diet" and 21% the "government." By contrast, "the emperor and the imperial household" enjoy significant trust with 87.1%, followed by the "Self-Defense Forces" with 77% and "police" with 71.6%.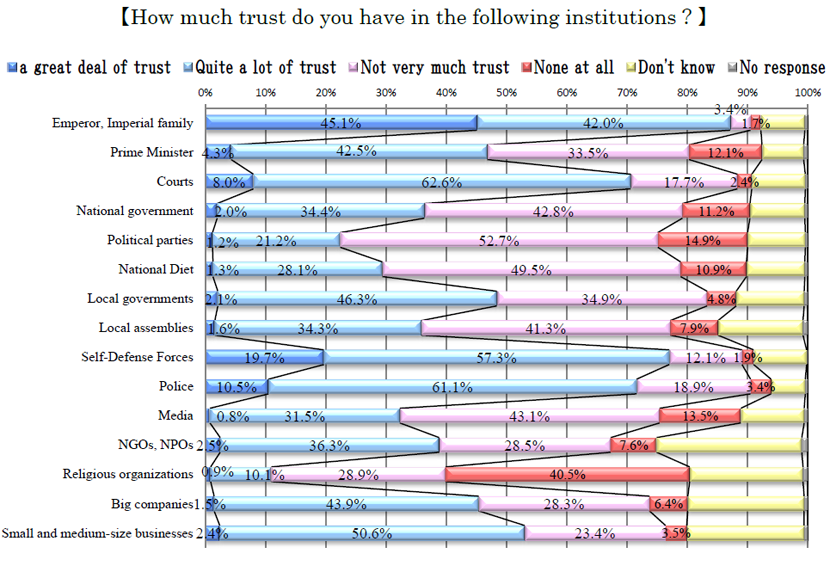 Reflecting the above results, only 32.5% trust the current Japanese representative democracy system itself, where democratically elected politicians discuss policies in the Diet, and the Cabinet in turn administers and implements the Diet's decisions. Nearly half of the respondents are skeptical about the representative democracy system with 24.4% saying they do not trust or rather not trust, and 24.6% answering neither trust nor distrust.


By age group, such skeptical views were widely spread among respondents in their 20s and 30s, with only 20.2% of those in their 20s more or less trusting the current representative democracy, while with those in their 30s, it was as little as 14.2%.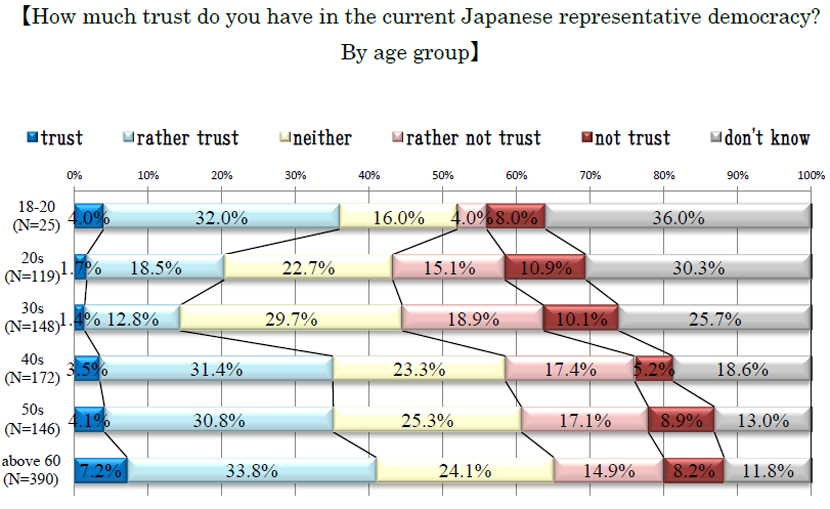 Japanese perceptions of democracy
About 70% of Japanese consider democratic values, including freedom and basic human rights, as important and should be protected, and think that in order to make democracy function, continued efforts for improvements and reform are required.
Nevertheless, about 40% of the respondents replied that either they "do not think so" or "neither." About 20% do not think that Japanese democracy is functioning, with such an inclination more prominent in young people in their 20s and 30s. As regards the reasons why they do not think democracy functions, 69.7% indicated that the "attitude of public servants who act by guessing what the powers that be imply," with such an attitude derived from a recent case that actually involved the administration of Prime Minister Shinzo Abe. This is followed by "low turnout rates" with 38.9% and "weakening of opposition parties."

Such skepticism about Japanese democracy is also prominent among people in their 20s and 30s. Only 38.75% of those in their 20s and 39.9% of those in their 30s think that Japan is a democratic country, with those who "do not think so" or "neither" outnumbering the former respondents.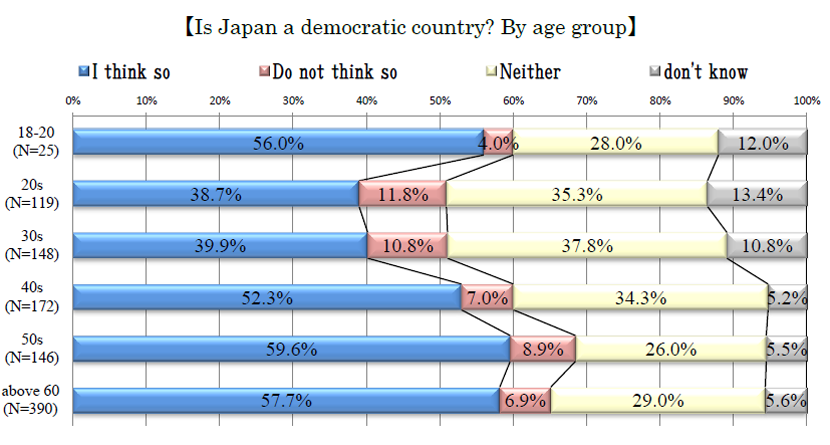 While more than a majority, 55.5%, still think the current Japanese democratic system does "function," some 19.8% think that it does not. Among younger generations, those who think the democracy works fail to reach a majority with 42% in their 20s and 47.3% in their 30s.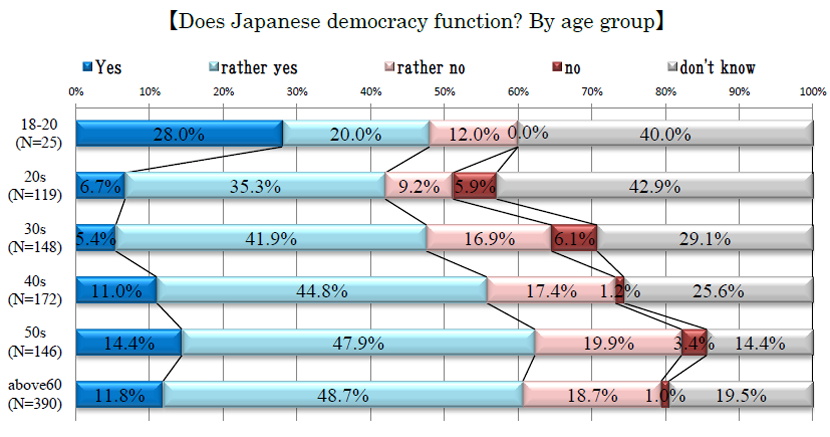 Trust in current Japanese politics
Some 57% of Japanese respondents replied that they are satisfied with their lives, while 65.4% are not satisfied with "current Japanese politics," showing a sharp contrast. By age group, respondents in their 30s (69.6%) and 50s (69.2%) are particularly dissatisfied with Japanese politics.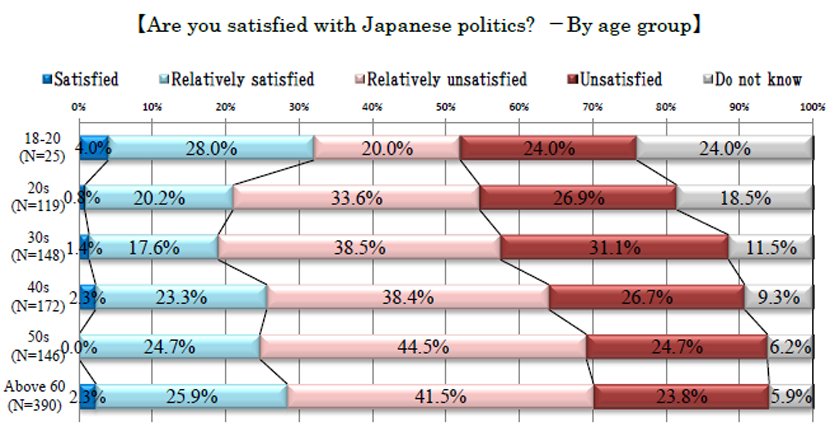 Nearly half (42.7%) of Japanese have "pessimistic" views about Japan's future, exceeding by far those who are optimistic (30.9%). Regarding the reasons for the pessimism, it is notable that 79.2% answered that there are "no effective measures to counter the rapidly aging society and population decrease," followed by 52.5% who feel "anxious about own future due to uncertainty in social security and pension systems."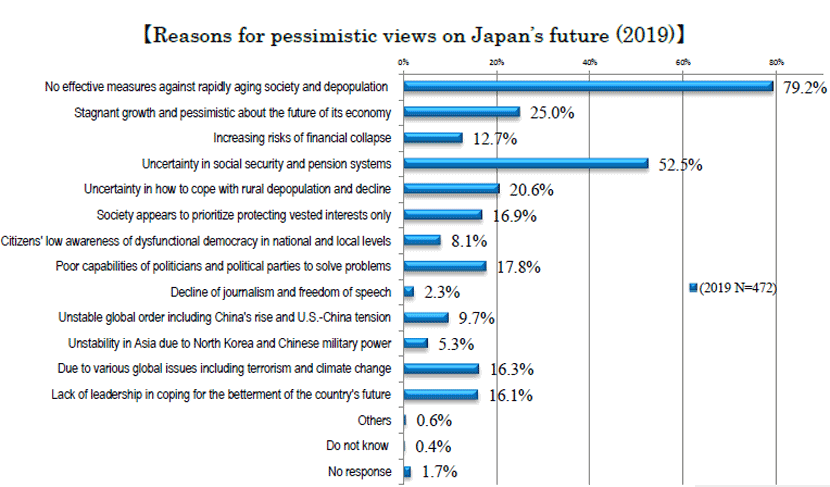 More than a majority (55.2%) think that they cannot rely on the political parties to solve the various issues that Japan faces, exceeding by far the 22% who more or less rely on them. By age groups, those in their 20s and 30s are particularly skeptical about political parties with 13.4% and 15.6% answering positively, while 54.6% and 62.2% replied negatively.
Regarding the reasons for their low expectations, 60.5% chose the answer "the political parties do not seriously tackle the issues but are only concerned about winning elections"; 42.6% chose "the political parties and politicians seem to be incapable of solving the issues"; and 23.6% think that "the politicians and public servants take too much for granted, and are unaccountable in their political management."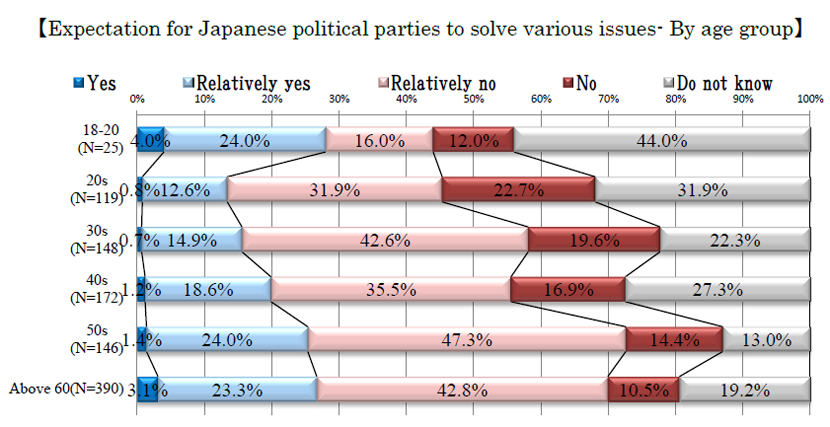 While populism that appeals to people's anxieties and dissatisfaction is growing worldwide, only 4.8% of Japanese think that it is spreading in Japan. Nearly half (49.9%) replied "don't not know," while the rest of the near majority either think that there is "no populism rise" or a "partial but not widespread populism rise."
Those who think populism is already prevalent or has partially spread in Japan, ascribe the reasons to "anxiety about the future" (41.8%), "widening gaps" (39.2%) and "anxiety over current life" (33.5%).
Impacts of new technologies on democracy
Regarding the impacts of technical innovation such as AI and digital technologies, nearly 30% of Japanese answered "I don't know", while over 30% are concerned about negative impacts of such technological advancement such as "limiting the functions of democracy" and "denial of democratic values".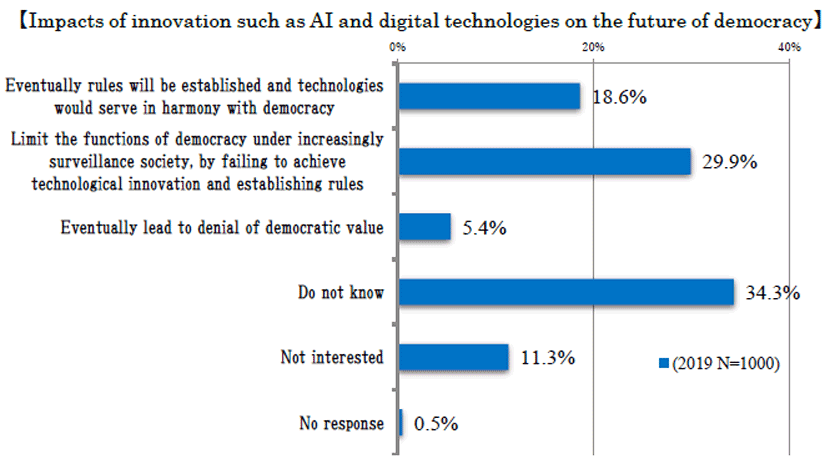 Evaluation of the Abe Administration and the upcoming upper house election
At the time of conducting this survey between May and June 2019, 39.1% supported the Abe administration, 33.4% did not support it, while 21.6% did not know.
Although some Japanese media report that young people tend to support the Abe administration, there is no indication of such a tendency in the results of this opinion survey.
Rather our results show that those in their 20s and under 20 are the least supportive of the current administration. Taking into consideration the results of previous questions, it should be considered that these generations are most skeptical about Japanese politics or do not understand it very well.
Regarding the main issues in the upcoming Upper House election, 34% answered the "future of Japan," followed by "consumption tax rise" (20.3%) and "evaluation of the Abe administration" (19.3%).
While the U.S.-China conflict intensifies, only 5.7% replied "Japan's positioning within Asia and the world"; 34% of the respondents in their 30s chose the "future of Japan"; while the top answer by those in their 20s and under 20 is "do not know" with 40% and 33.6%, respectively.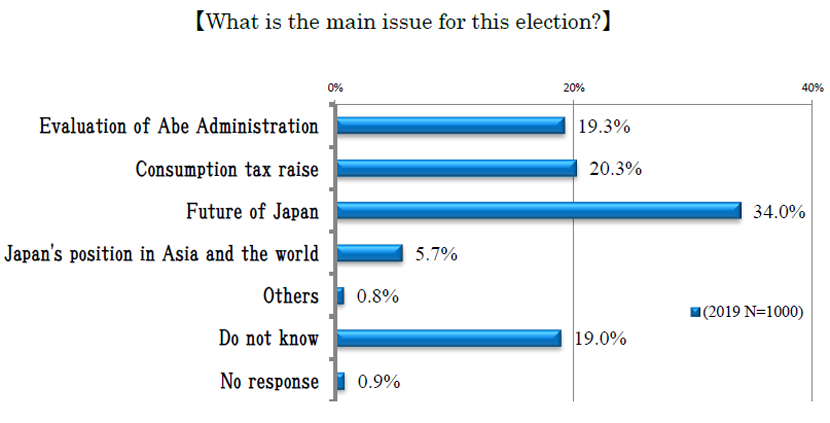 Survey Method
The opinion poll was conducted between May 18 and June 2, targeting men and women across the country over the age of 18. Questionnaires were delivered to participants and self-administered, resulting in a collection of 1,000 valid responses. The final academic qualifications of the respondents were as follows: 48.6% of the respondents were men and 51.4% of them were women. Elementary/middle school graduates: 7.6%, high school graduates: 45.1%, junior college/technical college graduates: 21.8%, four-year university graduates: 22.7% and graduate school graduates: 1.1%. Age distribution of the respondents were as follows: under 20: 2.5%, between 20 and 29: 11.9%, between 30 and 39: 14.8%, between 40 and 49, 17.2%, between 50 and 59, 14.6%, and 60 and above: 39.0%.
For more details, please visit at Japanese website.
If there are any questions, please contact The Genron NPO Secretariat
at info(at)genron-npo.net