In line with the Asia Peace Conference held on 24 February 2021, The Genron NPO surveyed the opinions of 195 diplomatic and national security experts from four countries - Japan, the United States, China, and the Republic of Korea. Based on their scoring of various issues facing the region, we were able to create a list of the top ten risks threatening peace in Northeast Asia in 2021.
Key Findings:
According to the experts we surveyed, the number one risk threatening peace in the region in 2021 is North Korea's status as a nuclear power. The experts see high risk in the relationship between China and the US, as the next highly-ranked risks were the current US-China animosity, the power struggle occurring in the digital realm, and territorial land and water conflict in the South China Sea.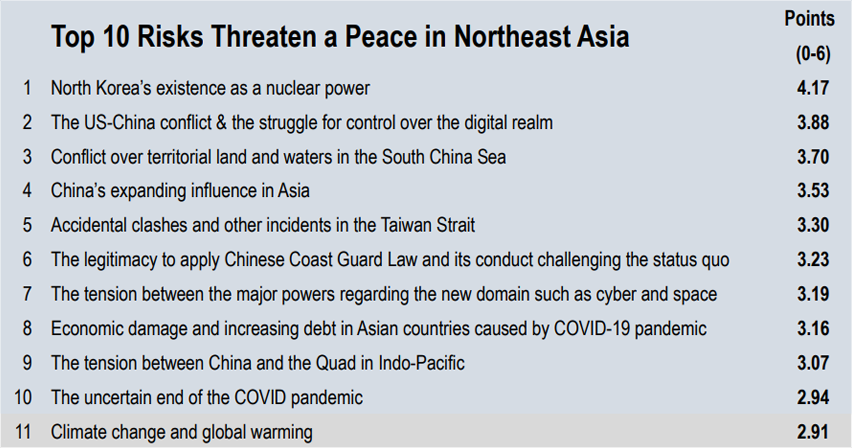 Outline of survey
In order to create the survey, Genron distributed a questionnaire to 2,000 academics that work with us. After receiving 115 responses, we selected 19 of the answers provided about threats to peace in Northeast Asia in 2021. We then asked 195 diplomatic and national security experts in Japan, the US, China, and South Korea to score each one on i) impact on peace in Northeast Asia and level of severity (with three points being the maximum score) and ii) in terms of the how possible it is that the issue will flare up and cause real damage in 2021 (also out of three points, for a total score of six points).
In Japan, Genron asked 55 national security and diplomatic experts to score each threat. In China, Genron's partner in holding the Tokyo-Beijing Forum - China International Publishing Group - made the same request of 50 individuals with similar expertise. The Asan Institute for Policy Studies handled scoring by 55 South Korean experts, and the Pacific Forum and the Carnegie Endowment for International Peace worked together to organize the assessment among 35 US experts.
If there are any questions, please contact The Genron NPO Secretariat
Info〈at〉genron-npo.net