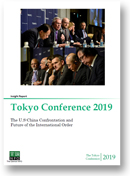 Tokyo Conference 2019
Amid major changes in the geopolitical landscape and the economic balance of power on a global scale, we are witnessing the destabilization of the international order and the deterioration of diverse global issues, including risks to the world economy. Excessive globalization is triggering numerous economic and social issues, bringing about tension in relations between globalization and nation-states, and threatening the individual freedoms that are the very basis of liberal democracies. In advanced countries, populist moves are spreading and political leaders overtly call for protectionist and exclusionist policies.
The aim of the Tokyo Conference is to promote discussions on the pressing issues the world faces among representatives of the leading thinktanks in ten countries which have the stand point of fostering the norms and principles such as individual freedom, democracy and multilateralism as the basis for the international cooperation and global order.
The confrontations between Washington and Beijing are not limited to trade but are beginning to show signs of a full-fledged face-off in pursuit of world dominance. The battle between the two superpowers has been posing historical challenges to the liberal international order and a serious uncertainty in the world. At the Tokyo Conference, panelists have examined the worsening Sino-U.S. relationship, and the future of the global free-trade regime and multilateralism, while exchanging views on how to defend and advance the liberal world order. The opinions and proposals in the conference have been submitted to the G7 and G20 presidencies, French and Japanese governments.