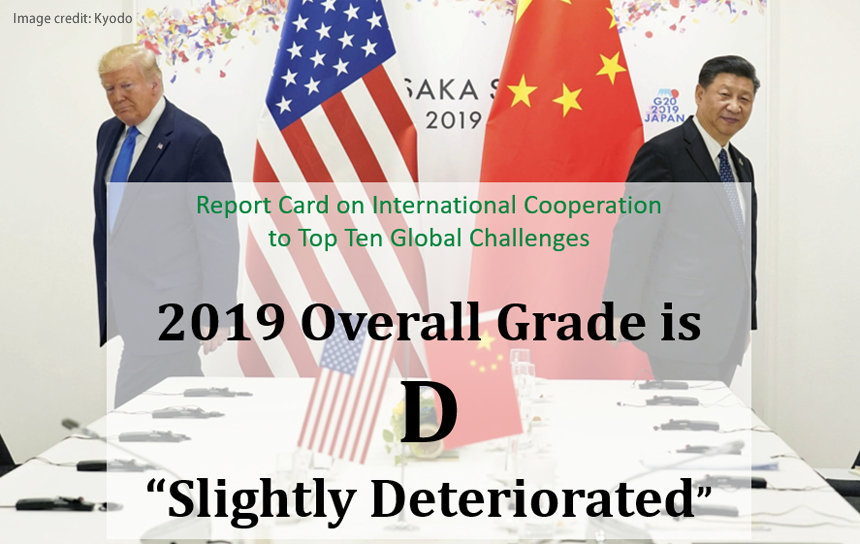 Overall International Cooperation Efforts Deteriorate in 2019
Global efforts to address transnational issues in 2019 were adversely affected by the intensifying rivalry between the United States and China, and the worldwide move toward nationalism. The Trump administration has formally announced that it would withdraw the United States from the Paris Agreement on climate change, while the effects of the growing geopolitical rivalries among major powers were being felt in the area of development assistance. At the same time, little progress was made to break the stalemate in multilateral negotiations to create new world trading rules centered on the World Trade Organization (WTO), the most comprehensive framework for open and rule-based world trade, and the WTO's dispute settlement mechanisms remained dysfunctional. Meanwhile, Washington-Pyongyang talks on North Korea's denuclearization led to a dead end in 2019, despite rising international expectations for a successful outcome. The world now fears that North Korea may renew its acts of provocation. Given these developments, The Genron NPO awarded a grade of D, meaning a deterioration from a year ago, to international cooperation in six of the 10 designated areas, which are nuclear proliferation, climate change, development, global economy, global trade and internal violent conflict.

---
Report Card on International Cooperation to Top Ten Global Challenges
2019 Overall Grade is D
In the area of transnational terrorism and internal violent conflict as in Libya, Syria and Yemen, there were few signs of dramatically mending the fundamental structures of conflicts, leading to the prevalence of instability by embracing diverse problems. In the area of cybersecurity, it was agreed at the United Nations to launch discussions on the creation of common norms for the prevention of cyberattacks, which are increasing day by day. However, it is too early to see the just-started multilateral efforts leading to the reinforcement of the cybersecurity norms and eventually to the establishment of a multilateral framework for the effective prevention of cyberattacks. Given that such prospects do not warrant optimism, The Genron NPO awarded a grade of C, or no change from a year earlier, to international cooperation in the three areas of transnational terrorism, violent conflict between states and cyber governance.
We awarded a grade of B, indicating a certain amount of progress had been made from a year earlier, solely to international cooperation to promote global health. The positive evaluation is based on the recognition that the World Health Organization (WHO) dealt appropriately with the Ebola outbreak in the Democratic Republic of Congo. Under the new leadership of Director-General Dr. Tedros Adhanom Ghebreyesus, the WHO took positive measures to contain the Ebola outbreak in the conflict-stricken Congo by overcoming the legacy of the organization's blunder at the time of the massive outbreak in 2014. Currently, a deadly new coronavirus is spreading from China to the rest of the world. The virus was first detected in China's Wuhan Province toward the end of December 2019 and the Chinese authorities reported the outbreak to the international community according to WHO rules in January 2020. We did not include the latest development in assigning grades to the area of global health in 2019 as the issue should be subject to scrutiny in 2020.
In retrospect, the geopolitical rivalries largely affected global efforts to solve transnational issues in 2019. Global health and climate change are issues that directly affect the lives of people across national borders, and therefore, it is quite feasible to evaluate how global efforts make progress or fail in solving these global issues. Many people across national borders would share the benefits of solving these transnational issues, and therefore, we are pinning strong hopes on such international efforts to surmount the geopolitical rivalries. In actuality, however, such a sense of crisis is not yet fully shared to the extent of overcoming the rivalries. As a consequence, The Genron NPO had to make an extremely severe evaluation of international cooperation in relation to the 10 challenges in 2019, compared to that in the preceding four years, by giving the grade of D to overall efforts by the international community to solve global issues.

---
Report Card on International Cooperation to Top Ten Global Challenges
Grade of Performance 2019

The Genron NPO experts and intellectual survey respondents in japan graded international cooperation in 2019.

Grade on Global Issues

Results of
Intellectual Survey

B

B

C

C

C

C

C

D

D

D

D

D

D

D

D

C

D

D

---
Report Card on International Cooperation to Top Ten Global Challenges
Ranking Top Global Challenges
The Genron NPO experts and intellectual survey respondents in japan graded how world leaders should prioritize global challenges in 2020
Ranking Top Global Challenges in 2020

1

2

3

4

5

6

7

8

9

10

---
Report Card on International Cooperation to Top Ten Global Challenges
Ranking Opportunities for Breakthrough

The Genron NPO experts and intellectual survey respondents in japan graded prospects for progress in 2020.


Ranking Opportunities for Breakthrough

Results of
Intellectual Survey

C

B

C

B

C

B

C

C

C

C

C

C

C

C

D

C-

D

C

---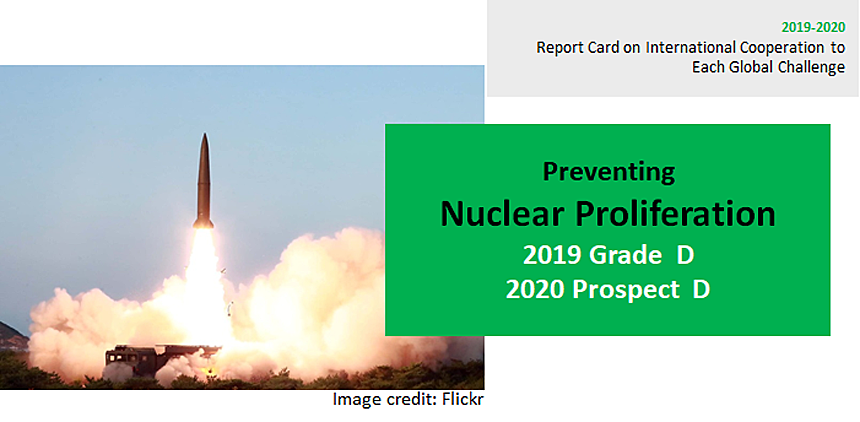 2019 Evaluation
In evaluating the prevention of nuclear proliferation in 2019, The Genron NPO focused on North Korea and Iran. Due to the summit deadlock and the hardened attitude subsequently assumed by North Korea, we evaluated the North Korea situation to have slightly deteriorated since the historical rise in expectations for a US-North Korea summit in 2018. Iran has also progressively stepped back from its nuclear agreement in response to economic sanctions from the United States, so we evaluated the Iran situation as having slightly deteriorated as well.
The death of the INF treaty and the fact that negotiations have not progressed in extending the New START treaty also led us to evaluate the control of nuclear arms to have slightly deteriorated in 2019 as well.
Due to the above reasons, we have evaluated this issue in 2019 overall as having "D (slightly deteriorated)."
Prospect 2020
In terms of expectations for the prevention of nuclear proliferation in 2020, due to Chairman Kim Jong Un's hardened attitude and President Trump's declining interest, we expect the situation in North Korea to slightly deteriorate. At the same time, there is a possibility that anti-US sentiments will strengthen in Iran, and because the US cannot be expected to let up on its sanctions, we anticipate that the situation in Iran will also slightly deteriorate.
Regarding expectations for the control of nuclear arms in 2020, security in Northeast Asia has been a concern following the death of the INF treaty, as the United States is considering deploying intermediate-range nuclear missiles in the Asia-Pacific region and there is no mechanism in place for the control of such nuclear arms. At the same time, while there has been an increase in countries that have ratified the Treaty on the Prohibition of Nuclear Weapons (TPNW) on the one hand, in terms of the Non-Proliferation Treaty (NPT), heated debate over its desirable state is expected at the review conference in late April. These events do not paint the picture that prospects regarding nuclear arms control are improving either. Rather, we decided to set importance on the risk that the issue will "slightly deteriorate" in 2020. Due to the above reasons, we evaluated our expectations for progress in 2020 overall as "D (will slightly deteriorate)."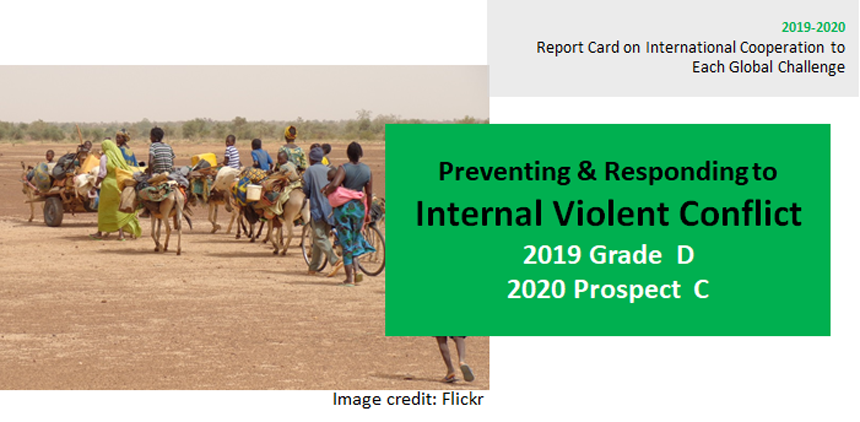 2019 Evaluation
In evaluating this issue for 2019, The Genron NPO focused on four countries - Afghanistan, Yemen, Syria and Libya. Of these countries, Yemen's internal conflicts have been on the decline, so we evaluated the situation in Yemen as having progressed to a certain degree. However, we evaluated the situations in the remaining three countries as either unchanged or having deteriorated, in light of their continuing conflicts and rise in death tolls and refugees. We especially evaluated the internal conflict situation in Libya at the lowest score due to the state of confusion and chaos that has resulted from increasing pressures from Russia and Turkey, in addition to the state of proxy war between the powers in the region. 
Due to the above reasons, we evaluated the issue of preventing and responding to internal violent conflicts as having "D (slightly deteriorated)" for 2019 overall.
 
Prospect 2020
Regarding expectations for 2020, we expect that this issue will remain unchanged in all four countries. The reason for this is that, even in places where there is movement towards peace, there is a significant level of mutual distrust between opposing sides, with little prospect of negotiations progressing smoothly.
Due to the above reasons, we expect that this issue "C (will not change)" in 2020 overall.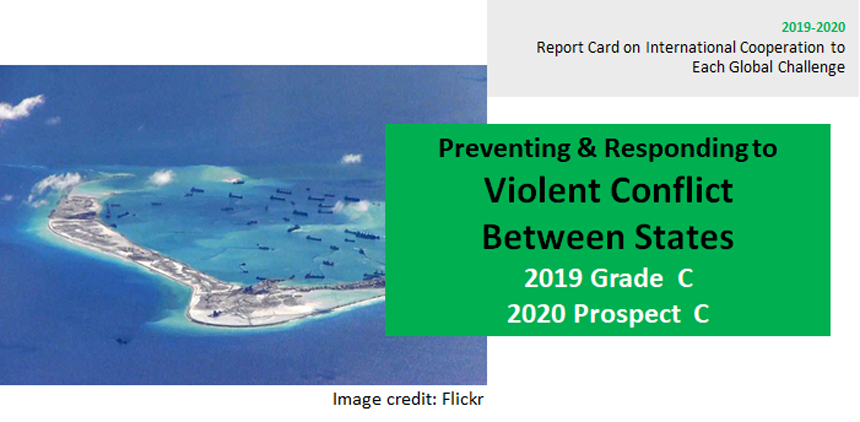 2019 Evaluation
In our evaluation of this issue for 2019, The Genron NPO focused on four countries - Ukraine, South China Sea, East China Sea and Kashmir. Of these, we evaluated the conflict in Ukraine as having progressed to a certain degree, due to the first meeting held between Zelensky and Putin and the agreement towards peace. However, due to China's continuing activities in the South and East China Sea, we determined that the poor state of these conflicts have not changed from last year. On the other hand, an airstrike by Indian military aircrafts within Pakistani territory for the first time in 48 years has increased tensions in Kashmir, a conflict that we evaluated as having slightly deteriorated.
Due to the above reasons, we evaluated this issue for 2019 overall as "C (unchanged)."
Prospect 2020
Regarding expectations for 2020, in Ukraine, there are still many issues that must be resolved in progressing towards peace, and while the situation may not deteriorate from its current state, because we cannot anticipate it to progress either, we expect that it will remain unchanged in 2020. At the same time, while we do not expect the situation in the South and East China Sea to deteriorate, because China's actions will likely remain unchanged, we also expect the situation there to remain unchanged as well. On the other hand, for Kashmir, due to concerns over escalating terrorism from the Pakistani side and retaliation from India, we expect that efforts towards preventing and responding to this conflict will slightly decline in 2020.
Due to the above reasons, we evaluated our overall expectations for progress in 2020 as "C (will not change)."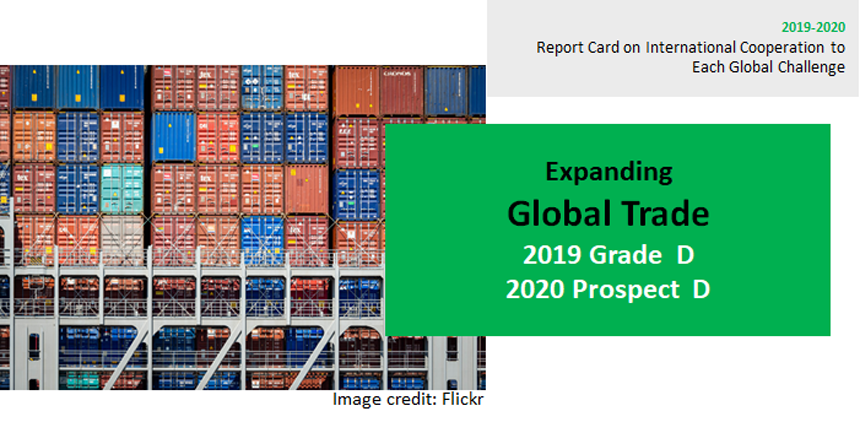 2019 Evaluation
Amid uncertain outlooks on the US-China and US-EU trade wars, the growth rate of world trade in merchandise has fallen this year and is expected to continue to drop in the future. At the same time, the WTO's Appellate Body has essentially stopped functioning and the WTO's structure itself is in danger - the mechanisms supporting freedom in the world have largely deteriorated. On the other hand, while mega-regional FTAs have progressed such as the CPTPP and EU-Japan EPA as well as the RCEP, for which an overall agreement has been reached, we evaluated the expansion of international trade as a whole as having regressed in 2019.
Prospect 2020
On January 14, 2020, the trilateral meeting of the trade ministers of Japan, the United States and the European Union announced a rough plan regarding the new rules of the WTO, based on the pillars of trade regulations and strengthening rules on industrial subsidies that distort the global economy. However, it has been difficult to reach an agreement that includes China, and a consensus on dispute resolution may not be possible at the WTO Ministerial Conference in June. While many countries share the same awareness on protecting multilateralism and freedom in the economy, reaching a consensus has been difficult, even at the G7 and G20. With the upcoming US presidential election this year and our current state of waiting on election results, there will likely not be an opportunity to improve 2019's state of regression regarding international trade.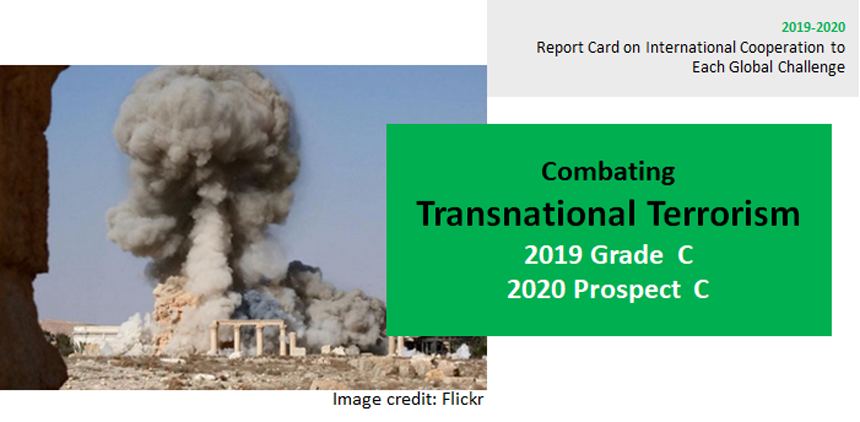 2019 Evaluation
In 2018, there were 9,607 cases of terrorism throughout the world, causing over 22,987 deaths. At around 10,000, the number of cases per year currently remains high. In terms of the main "actor" behind such terrorist attacks, the majority today are "lone wolves," who do not belong to any organization and whose first offense is the large crime that they have planned alone over a long period of time. Because they can use the internet and social media to exchange information and interact with a multitude of anonymous people, there is no effective measure at this time for preventing their radicalization.
Furthermore, while there has been a certain level of progress in counter-terrorism measures, including such as the United Nations Security Council Resolution's sanctions like asset-freezing for terrorist organizations undertaken by international society as a whole, the provision/exchange of information on terrorists and other criminals, and the strengthening of immigration control systems, these measures still remain insufficient.
Prospect 2020
Since the declining power of ISIL, Islamic extremists have spread to various countries and regions across the world, and it has become more difficult to detect the beginnings of terrorist acts. At present, counter-terrorism measures are starting to shift to those that work on regulating methods and weapons. While terrorist information is shared between the various countries' investigating authorities and intelligence agencies, the danger that such terrorist acts could be undertaken by someone from the general public has risen like never before. While we believe we are at a point at which we, as a society, should discuss and agree upon issues like the extent to which we should control and monitor personal information and freedom. However, such discussions have been continually shelved, and we cannot anticipate any in-depth endeavors in 2020.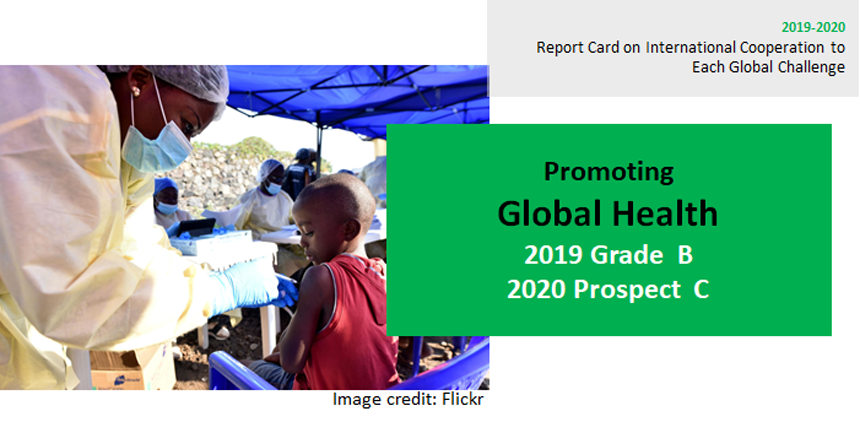 2019 Evaluation
*This evaluation was made before the coronavirus outbreak at the end of 2019.
The most important global health issue in 2019 was the response to the Ebola hemorrhagic fever outbreak in the Democratic Republic of the Congo. Our assessment of the response this time differed largely from that of the outbreak in West Africa in 2014. First of all, there was the issue of the WHO's response. Under the new system put in place by the new Director-General Tedros Adhanom, the WHO had extended its system and funds for responding speedily to emergency situations, strengthening its response in times of crisis. As a result, the further spread of infection has currently been prevented, a point that shows progress. On the other hand, issues still remain regarding response to the infectious disease in fragile states like the DRC and other conflict-affected areas as well as countries lacking national governance. 
Issues that increased in severity in 2019 include those of Non-Communicable Diseases (NCDs), antibiotic-resistant bacteria, and various infections and chronic diseases that might be caused by climate change and extreme weather conditions, which have become further aggravated in recent years.
Looking at these issues as well, global challenges in this field have rather increased, and there is further a huge lack of funds and human resources. Further consideration is required as to what issues the WHO will focus on in the future and how it should cooperate with other international and private organizations. For these reasons, we decided on the evaluation that the issue has "slightly progressed."
Prospect 2020
The novel coronavirus outbreak in China has been an enormous issue since the end of 2019. The number of infections in China alone has already reached nearly 6,000, and cases have also been confirmed abroad. While the WHO postponed its declaration of a global health emergency on January 23rd, the airport and stations in Wuhan were closed down the same day, with the infection having spread both within and outside of China. Whether or not this response was correct requires further consideration in the future.
Another challenge is whether the WHO can lead a system to strengthen the implementation of International Health Regulations (IHR). While WHO member states are required within the IHR to maintain minimum capacities regarding response and surveillance in the event of emergency situations, external evaluations of the countries' advances have not been admitted in China and Russia, in addition to the fragile states as noted above. While there has been a call for the thorough implementation of the IHR, we cannot yet determine whether improvements will be possible, and our evaluation for 2020 was that it will not change.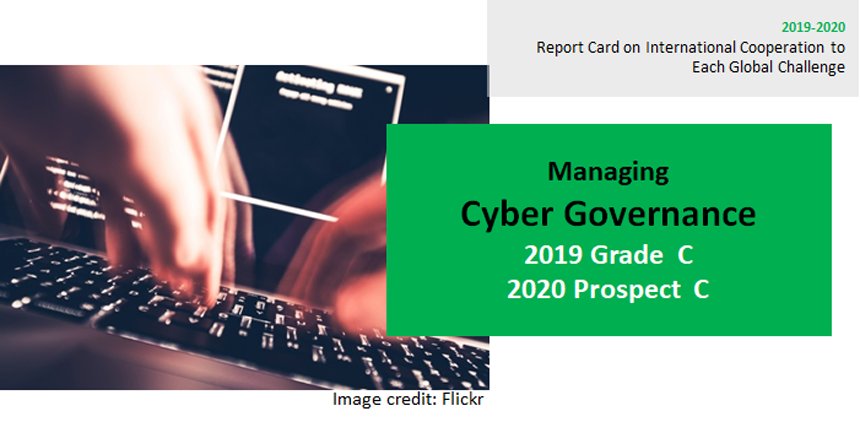 2019 Evaluation
In 2015, the United Nations reached an agreement and submitted a report on cyber security norms. While the GGE in 2017 achieved no progress, we commend the fact that in December 2019, the GGE put forth its aim to submit a report to the United Nations General Assembly in 2021 and began its discussions. Furthermore, a United Nations Open-ended Working Group (OEWG) was established, in which all UN member states and private companies are encouraged to participate, and discussions on norms in cyberspace have begun to move forward along two axes on the UN stage.
While it is highly commendable that such discussions have begun, there is still great disparity in opinions between Japan, the US and the EU as well as China and Russia, and because the prospect of reaching an agreement still remains uncertain at this time, we evaluated this issue as having remained unchanged on the part of cyber governance management.
Prospect 2020
2020 will be a year in which many elections will be held in many key countries including the U.S., but we believe that it should also be a year in which focus should be placed on whether IT and digital technologies will strengthen or destroy democracy. Currently, oppositions between sovereign states are being brought into the realm of cyberspace, making it difficult to formulate a system of governance for cyberspace.
Furthermore, the target of these attacks in cyberspace have spread to systems like the various countries' democracies and civil life, and have come to involve the protection of personal information and data management, the control of peoples by authoritarian states through the use of cyber technologies, and even involvement in democratic elections. As cyber technologies endanger systems of democracy, we are at a major turning point in thinking about democracy and IT/digital technologies.
We hope that 2020 will be a year of serious reflection for many people on issues of democracy and society as well as personal information. However, because it is unlikely that such trends will immediately progress into developing norms and regulations for cyberspace, we have evaluated that cyber governance in 2020 will likely remain unchanged.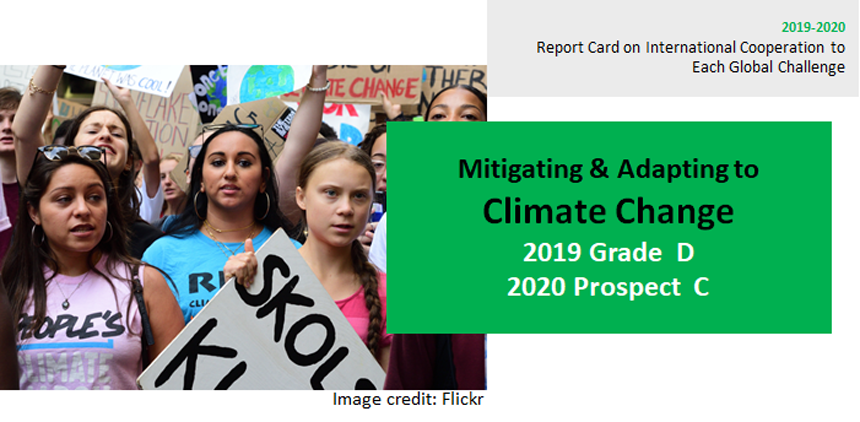 2019 Evaluation
In 2019, extreme weather events caused by global warming continually threatened the lives and livelihoods of people across the globe. Under such conditions, a special report by the United Nations' Intergovernmental Panel on Climate Change (IPCC) indicated that any increase in global warming would engender various risks such as obstructing stable food supply. A report by the United Nations Environment Programme (UNEP) further warned that, under the current goals upheld by each country, global temperatures will rise 3.2 degrees by 2030 and current measures are far from enough to resolve the situation.
The COP25 in December, however, could not set forth any effective measures. Only 77 countries could agree to raise reduction targets, and mandatory obligations for all countries were postponed. At the same time, no agreement could be reached regarding the rules for a "market mechanism" for negotiating greenhouse gas reductions between countries (a focal point of discussions) due to strong opposition from Brazil and India.
Furthermore, we cannot say that the US and China, the top two countries with overwhelmingly large emissions, are expending sufficient effort in reducing their staggering levels of emissions. While the positive note in this situation is that grassroots efforts led by private companies are increasing, the rise in energy demand due to the industrialization of developing nations and population increase, have increased greenhouse gas emissions by 0.6% as compared to last year. It seems as though our goals are moving farther away than our measures can progress, and this state has continued through 2019, leading us to evaluate this issue as having "slightly deteriorated."
Prospect 2020
While the Paris Agreement is set to begin in 2020, progress in resolving climate change issues likely "will not change" from its current unpromising state. First of all, the passive stances assumed by countries like the US, China and India towards reducing greenhouse gas emissions are expected to continue in 2020. At the same time, it is still unclear whether agreements can be reached for establishing rules and increasing reduction rates at COP26. Furthermore, another factor contributing to the decline in expectations is the lack of a country that can assume international leadership. Japan, which had led the adoption of the Kyoto Protocol in 1997, shows no signs of changing its dependence on coal, being the only G7 country still pursuing plans to increase coal-fired power plants, and its leadership in the issue looks unpromising. Because of such conditions, we determined that our current state of moving farther away from our goals will continue unchanged in 2020.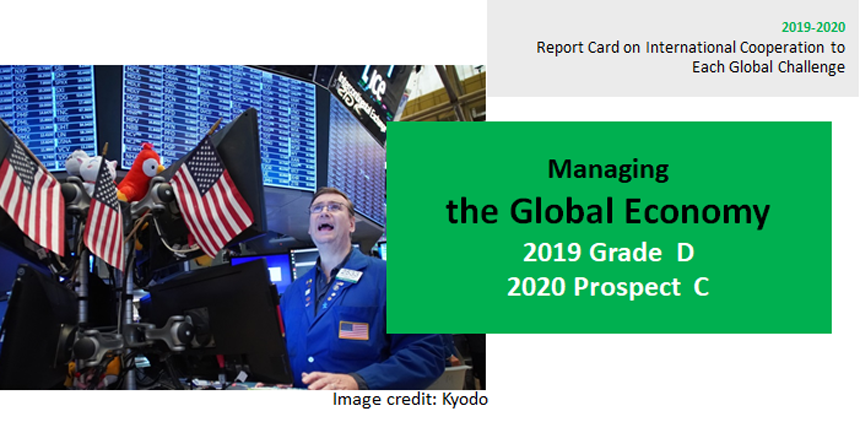 2019 Evaluation
In terms of managing the global economic system, globalization has been accompanied by increasing disparities, and the point of the matter is how, amid rising protectionist tendencies among the various countries, we can continue on the route to sustainable, balanced and inclusive growth while adjusting for global and domestic policies.
First of all, in terms of resolving both international and domestic economic/ income gaps, a statement by the G20 held in Osaka in June 2019 declared to agree upon a resolution to issues surrounding the digital economy by the end of 2020, as a means of preventing global Big Tech companies like GAFA from escaping taxation. While this can be considered a step forward, due to the differing opinions between countries, we cannot yet determine whether a final agreement will be reached by the end of 2020.
Next, in terms of the challenge of how we should go forth with the rules-based international order, while the G20 Statement included policies supporting the WTO reform, due to the structural opposition between the US and China and the significant rise in the principle of putting one's own country first among developed countries starting with the US, we cannot tell how feasible the WTO reform will be.
Another further issue regarding the economic system is the problem of currencies. Around the time of the G20, Facebook announced its plans to establish the Libra cryptocurrency. If the Libra were to suddenly spread across the world as a means of sending and settling payments based on its added value of high convenience, it would raise concerns over issues like international taxation, money laundering and measures against the financing of terrorism. Should the Libra expand into financial fields other than sending money and making payments  in the future, it could possibly endanger domestic financial policies and the international monetary system. While we commend the fact that the major central banks were in sync with one another regarding their move to contain the currency (based on their reasoning that its response to money laundering is insufficient), China has suggested the effectuation of a new digital yuan, and future challenges include how we should respond to such digital currencies. At present, we cannot help but say that efforts are still lagging behind, and we have evaluated the issue overall as having regressed.
Prospect 2020
According to the IMF's scenario, economic growth, after hitting bottom in 2019, is predicted to recover in 2020. As 2020 will be the year of the US presidential election, President Trump will likely not get too deeply involved in the China-US trade war. If so, cooperation in the global economic system may partially progress on the surface. However, because this would not change the structural issues between China and the US, mechanisms for maintaining world order, like the WTO and G20, will further be reduced to a mere formality, with very little possibility for improving this situation.
At the same time, in maintaining the current global economic system based on the Bretton Woods system , a big challenge is how to more highly engage China in the rules-based liberal order. However, because such themes cannot be discussed at the G20, it is necessary to develop a consensus at the G7. At present, however, gaps still exist in the opinions of Japan, the US and Europe regarding China, and outlooks are uncertain as to how far the countries can align their attitudes. We therefore evaluated prospects for 2020 as unchanging from that of 2019.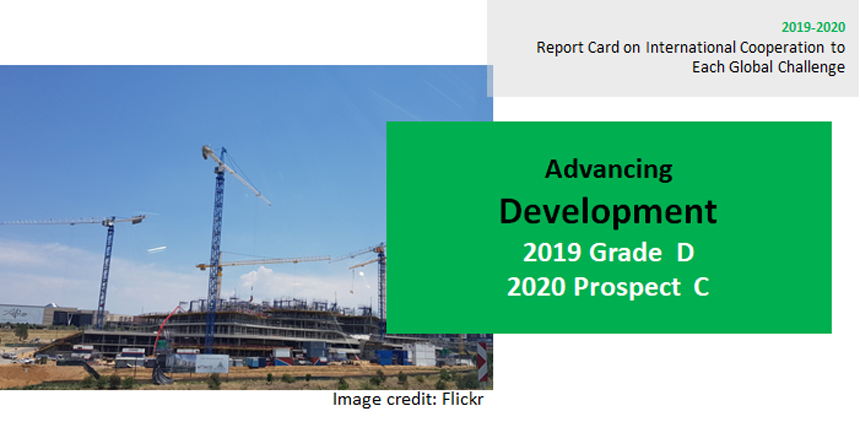 2019 Evaluation
Global development goals have taken concrete form in the Sustainable Development Goals (SDGs), which include 17 aims such as eliminating poverty and providing clean water and sanitation throughout the world. According to a report by the High-level Political Forum (HLPF) on sustainable development held in September 2019, the global poverty rate in 2018 was 8.6%, largely decreasing from the 36% in 1990, while deaths in children under 5 years also largely fell from 9.8 million in 2000 to 5.4 million (2017). These results show progress in realizing these goals. On the other hand, the number of people with no access to safe drinking water services has increased from 663 million in 2015 to 785 million, showing variations in levels of goal attainment. More work is therefore required to realize such goals by 2030.
While a great deal of investment is required in working towards these goals, due to the severe economic climate in developed nations, development aids like the ODA have hit their peak. Furthermore, in response to China's Belt and Road Initiative, development aid around the globe has begun to be based more on geopolitical competition, accelerating the phenomenon of boosting projects like port improvement and urban infrastructure that are more beneficial to donor countries, rather than aiding the recipients' real needs. At the same time, private investment in projects in developing countries concentrate on those which produce greater returns, and it is difficult to discern the path needed to realize the immense demand for infrastructure. While it is significant that the SDGs have triggered the chance for developed to countries to confront not only global poverty but also poverty and disparities within their own countries, it is also concerning that resources cannot be selected or focused on those who are truly in need, such as those in absolute poverty, throughout the globe. Due to these reasons, we have evaluated this issue as having regressed in 2019.
Prospect 2020
Realization of the SDGs requires a huge amount of capital. However, problems have recently begun to emerge regarding the suppliers of such capital. Under the strategy of the Belt and Road Initiative, China is loaning large sums of money to aid-receiving countries, beyond their debt sustainability. And in return for reducing their debt, a problem has arisen with China seizing the management rights to important infrastructure such as ports in the aid-receiving country . On the other hand, this principle of putting one's own country first has begun to infiltrate through other developed countries as well, giving rise to the trend of providing development assistance, not to countries and peoples that are truly in need of assistance, but as part of the donor country's measures to counter Chinese strategies. Such aid based on geopolitical competition between countries is becoming more conspicuous, and concerns are arising over whether these aid programs are indeed contributing to resolving global poverty and other pressing development issues faced by the developing countries.
One problem may be that the SDGs' shift in focus from only the poor countries of the world to all countries has obscured its focus. At the same time, because of the ambiguous definition of "necessary infrastructure" in infrastructure demand estimates, we believe that in order to realize the goals of the SDGs and work to develop the developing countries, we must redefine the term "necessary infrastructure" in developing countries and reconsider how they should be selected and where the focus should be placed. Such actions, however, have not been seen at present. With our limited capital and resources, we must embark on this kind of constant review, otherwise it will be difficult to realize the ultimate goal of the SDGs to "Leave No One Behind," and so we assessed that this situation will not change for the time in 2020.
---

About the Report Card on International Cooperation to Top Ten Global Challenges

The Genron NPO aims to create a multi-layered venue for public debate in Japan by bringing together diverse discussions on how to address global issues, at the same time it established the Tokyo Conference in 2017, a flagship track II multilateral dialogue to discuss pressing global challenges by bringing together the leading think tanks from ten major countries and develop a policy proposal based on the debates as a message to the G-7 leaders. This is also expected that Japan's opinions will spread globally and that Japan's proactive contribution to the solution of issues will be shown more tangibly to international society.
As one of our initiatives for addressing global issues, we have taken part in the Council of Councils (CoC) Report Card on International Cooperation, which evaluates multilateral efforts to address ten of the world's most pressing global challenges, from countering transnational terrorism to advancing global health. The Genron NPO assesses international cooperation's each year representing Japan's intellectual community since 2015.
For the evaluation of this year's Report Card 2019-2020, over forty Japanese experts and government officials with each expertise of ten global issues have cooperate as their private capacities. In addition, more than three hundreds Japanese intellectuals join the online survey. Both evaluations and survey have been done between December 10, 2019, and January 28, 2020.
All were asked to assess the state of international cooperation in following ways:
How did the world do overall on international cooperation in 2019?
How did the world do, in terms of performance, over the past year in addressing each specific challenge?
How should these challenges be ranked, in terms of their relative importance, for 2020?
Which of these problems offers the greatest opportunity for breakthrough in 2020?
What do experts prospect international cooperation on each issue in 2020?
Past Report Card Results: 2015 to 2019
Please visit this website https://www.cfr.org/interactive/councilofcouncils/reportcard2019/#!/