Japanese Foreign Minister Fumio Kishida said that the significance of the Group of Seven (G-7) should not diminish as an alliance of major democratic states that shares the universal values of individual freedom, democracy, free trade and the rule of law.
Citing these values as the "compass" in a world that seems increasingly adrift, Kishida said that Japan, as "one of the most politically stable countries among the advanced democracies," will take the lead in maintaining the G-7 collaborative relationship.
Kishida made the remarks in a special lecture in Tokyo on March 4 at the close of the Tokyo Conference open forum, a new multilateral debate platform organized by The Genron NPO.
The foreign minister recalled that the international collaborative system has been established on these universal values since the end of World War II out of deep remorse for the failure of humankind to prevent the two global conflicts.
"In spite of the spread of anti-globalism, protectionism and populism in some advanced states, and moves to alter the status quo by force, I strongly believe that these universal values will never erode, and never be replaced by anti-globalism and protectionism," Kishida stressed.
At the same time, he acknowledged the importance of addressing the negative side of the globalizing economy, including the issue of divisions and inequalities, with a call for improvement in domestic policy measures, especially in the areas of social security and education, and for global efforts to attain the U.N.'s sustainable development goals (SDGs).
Predicting that the international situation, especially the security environment in Asia, will undergo dramatic changes this year, Kishida said Japan's diplomacy must be navigated on an even, well-balanced course.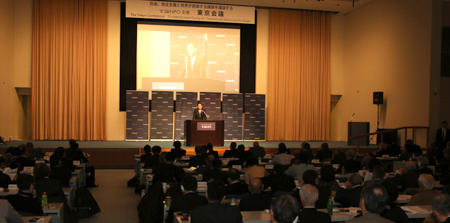 Specifically, he referred to four challenges - a balance between stepped-up defense buildups and political dialogue, or diplomatic efforts; a balance between the maximization of national interests and efforts to address global agendas; a balance between short-term domestic economic policies, and medium- and long-term measures to deal with issues of the global economy; and a balance in dealing specifically with each region of the world by promoting "diplomacy from a panoramic perspective of the world map."
Regarding Japan-U.S. relations, the foreign minister reiterated that Tokyo and Washington are strong allies that share basic values and strategic interests, and the bilateral relationship is the cornerstone of Japan's diplomacy.
"The Japan-U.S. summit in February showed the entire world that the bilateral alliance is unshakable, thereby easing apprehensions about its future under the new U.S. administration of President Donald Trump," he said.
Kishida said that Japan will try harder to inform the U.S. of Japan's stances and seek its understanding in the ongoing process of forming the policies of the new U.S. administration.