The Genron NPO conducted a survey in December 2015 of its supporters to evaluate the three-year performance of Prime Minister Shinzo Abe's Cabinet. It received responses from some 300 well-informed and influential figures, including business leaders, scholars, researchers, media people and civil servants.
Survey Methods
An online survey was distributed by email to roughly 6,000 experts all over Japan that had previously participated in The Genron NPO's activities during December 16-22, 2015. 303 responses were received.
Participant Demographics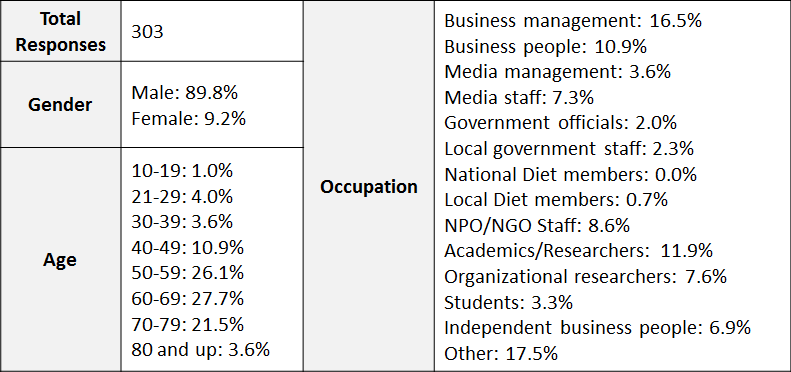 The Genron NPO has carried out such an evaluation of the eight past prime ministers of Japan since 2006, the year Shinzo Abe formed his very first administration (2006-2007). Five other prime ministers followed him into office but all lasted only for a short period.
The most recent survey indicated mixed ratings on Prime Minister Abe and his administration's performance. In short, the initial enthusiasm that heralded his second debut has faded in the past three years, with obvious disappointments apparent in certain areas; but people still expect much of Abe compared to his predecessors.
Asked in general if the Abe administration is seriously engaging the issues Japan faces for the sake of the nation's future, for example, 53.1 percent of the respondents provided positive replies.
Is the Abe administration seriously engaging in the issues Japan faces for the sake of the nation's future?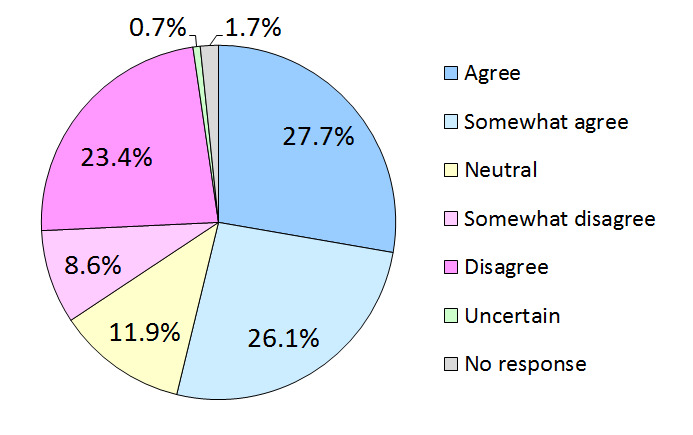 Support picks up a little, but his public appeal and accountability fall short
The survey shows the declining support for Abe picked up this time to 39.9 percent of respondents who expressed a positive opinion, rising from a low of 34.6 percent a year ago, Non-supporters still outnumber supporters, but their number slightly declined to 44.9 percent, from 49.8 percent one year ago.
The survey asked people to rate his leadership qualities as prime minister on a five-point scale in eight different categories: "the prime minister's personality," "leadership and political caliber," "perceptiveness, capability and qualities," "direction of policies," "accomplishments," "ability of organizing a team or system," and "public appeal and accountability."
Abe won 2.3 points on average altogether about his "qualifications to be prime minister," slightly down from 2.7 points at the end of the second year, yet higher than his recent predecessors. Among all the categories, however, the rating on his "public appeal and accountability" noticeably dropped from 2.6 points to 1.9 points.
Qualities of Prime Minister Abe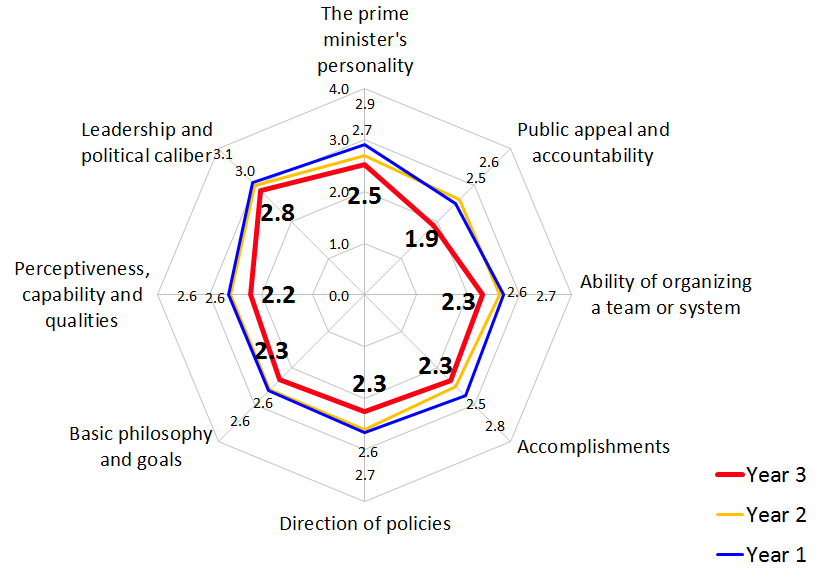 Positive evaluation made on 8 major policies, but not on many others
The survey then asked the respondents to evaluate 40 of Abe's major policies.
Only eight policies out of 40 won approval from over 50 percent of the respondents, who selected in the list of replies "managed well" or "if not managed well but promising in handling in the future."
They include: "The alliance with the U.S.," "TPP agreements and their contents" and "strategic promotion of collaboration for national interests such as FTA." These three policy categories won positive feedback from more than 60 percent of the polled.
On the other hand, in two other specific policies -- "reduction of Diet (parliament) seats" and "fixing the disparity in the number of voters per representation" -- more than 70percent of the respondents expressed a negative view. They selected either of two negative evaluations: "not managing well and highly unlikely to manage well in the future" or "not agreeable because of the problematic way of handling."
Also, more than half the respondents indicated negative evaluations of about 21 other policies, including "financial reform," "social security reform," "labor market reform" and "reconstruction from the nuclear power plant disasters."
Ratings of the Abe Administration's Policies

Abe Cabinet likely to last
The survey asked respondents how long they think the Abe Cabinet will last. The most popular answer, from 35.6 percent of respondents, was "up to September 2018, when its term ends." And, 16.8 percent thought Abe would stay in power approximately to "the summer of 2020, when the Tokyo Olympics opens." The survey result indicates more people than last year foresee a long reign for Abe.
The findings of the survey also include such views of the respondents as follows:
-- Evaluation of government economic policies, or the so-called Abenomics, is quite divided, with 38.0 percent holding positive views and 36.8 percent negative.
-- Abe pledged in his party presidential election in fall 2015 to boost Japan's GDP to \600 trillion and the birthrate to 1.8 per woman in a package of policies for the "second stage of Abenomics." But 57.5 percent of the survey respondents are pessimistic about the package while only 29.7 percent have expectations for it.
-- An overwhelming majority of 72.5 percent view the current policies for "financial reform" are not working. The ratio shot up from 58.6 percent two years ago.
-- Nearly 40 percent agree with a statement about Japan's current political status, which says: "(Japan is at a stage where) political parties remain incapable of offering options for Japan's future, continuing dole-out policies and repeating criticism of bureaucracy, which consequently increases populism (in Japanese politics)."
▼Please see the full survey results at:(Japanese only)
https://www.genron-npo.net/politics/archives/6105.html