With societies and economies suffering in the pandemic, democracy must be made more inclusive and compassionate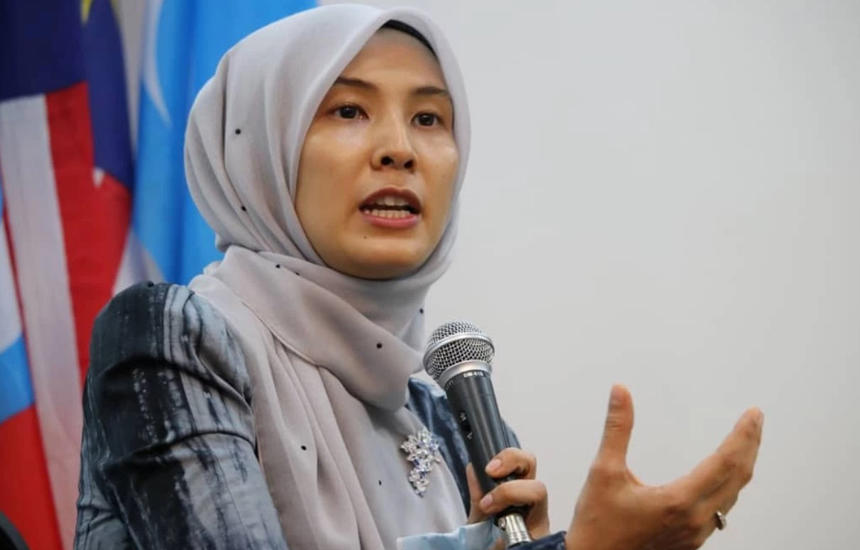 Nurul Izzha Anwar, Member of Parliament, Malaysia
The following article is from an interview conducted by Genron NPO President Yasushi Kudo with Malaysian politician Nurul Izzah Anwar. The content has been translated from Japanese which may have resulted in the introduction of minor inconsistencies.
Malaysia faces a democratic emergency with the shuttering of Parliament
Yasushi Kudo:
Democracy is retreating worldwide. How do you feel about the current state of democracy?
Nurul Izzah:
Lawmakers in Malaysia are now facing an emergency with the suspension of our Parliament, so we have essentially lost an important part of democratic functionality. You mention that you think democracy is in retreat, and I agree.
In order to curb the spread of the new coronavirus infection, the King declared a state of emergency in Malaysia on the advice of the Prime Minister. Parliament has been suspended for the duration of the emergency, and all decisions will be made by the National Security Council (NSC). It is expected that the state of emergency will remain in place until the promulgation officially ends in August, and until that time, Parliament will not meaningfully fulfill its role. Inappropriate legislation is being enacted without the consent of the legislature, and conversely, legislation required to contain and deal with the pandemic has halted altogether. Neither finances nor spending require any legislative approval. This is a degradation of leadership and a step backwards for democracy.
During the pandemic, many governments have taken on greater authority. In order to reduce infection rates, strict countermeasures have been unavoidable. However, if governments are going to take on greater power, they have a duty to simultaneously fulfil greater responsibilities. In reality, this is not always the case. In addition, we must find a means for civil society to be actively involved in governance, even during a pandemic. Democracy is facing setbacks in many countries around the world, not just in those which have seen the rise of populist leaders. We have to look at parliaments, institutions, and the other mechanisms that form the structure of democracy, and analyze how to make democracy work.
Asian Democracy is slowly going in the right direction, but constant effort is needed to ensure this continues
Kudo:
Democratic principles are being lost in some Asian democracies, and we can call very few countries in the region actual democracies. What is causing democracy in Asia to fall so far behind?
Nurul Izzah:
Asia is essentially made up of many young countries born in the aftermath of the Second World War. There have been many lost opportunities, particularly in Southeast Asia. Democratization has been a painful process for it has been applied woefully by the countries of Southeast Asia; in a way almost cynically utilized by undemocratic countries in ASEAN. Why is it that Southeast Asian countries place unnecessary trust in democracy when trying to reach an agreement to jointly act in ASEAN even as major massacres, ethnic cleansing, and other major calamities call for speedier action? In this sense, it beguiles the mind that democratic values have not been more widely accepted in the different countries.
I still believe nonetheless that we're in the process of becoming more democratic. Martin Luther King Jr. once said, "The arc of the moral universe is long, but it bends towards justice." It will take time, but I think democracy in Asia will eventually go in the right direction.
But it will not move forward automatically. A coup d'état began in Myanmar in February. Its citizens are being murdered. Even before the coup, there was the issue of the Rohingya ethnic minority. But none of the countries in ASEAN were able to sufficiently handle Rohingya refugees. We must deal with clear cut moral issues, together. We cannot allow the voices of ethnic minorities to be silenced. Human rights are universal, and are not defined by our respective skin colors. In Islam, we are taught that your position in society matters not; instead it is about your degree of piety to the Almighty.
In Southeast Asia, it is important to think about how democracy can concretely better people's lives
In 2018, Malaysia saw its first change in government in more than six decades of one coalition rule with much expectation and excitement. Malaysians were all very proud of this successful and peaceful democratic transition process. However, a bloodless coup cut short the rule of the new 'People's Hope' (PH) coalition before the end of their elected term, with several Members of Parliament from the PH coalition crossing sides. This has led to understandable public consternation, and anger that is quite palpable, as can be seen on social media.
Indeed, the threat of the COVID-19 pandemic has led to increasing calls for a stable political system and good governance. Having good governance at the national level is extremely important, but accountability is just as important. This requires active communication between the government and their people. One example of that is the enthusiastic engagement between the people of New Zealand and their Prime Minister. Governments can ensure good governance emerges through transparent and accountable engagement with the public.
More importantly, we must communicate to the public what democracy can achieve and what it can mean to citizens. With the pandemic causing great damage to both society and the economy, we must implement a system in which democracy can be made more inclusive and more compassionate. It is important to adopt better ideas and programs, and to protect the most vulnerable people in society.
In the case of Southeast Asia, we need to consider how democracy can improve people's lives. We should be building safety nets, securing access to health care and disbursing the minimum income required for quality living; and in some cases, consider providing universal basic income or workable furlough schemes. Politicians must always be thinking about the people's daily struggle to make a living, so as to ensure the lustre and appeal of democracy persists. Efficient and meaningful management of the pandemic, especially in fixing systemic inequity, will go a long way.
I often talk to the voters and ask them how democracy can help them. We conducted a study on multidimensional poverty in my constituency, Permatang Pauh, and discovered that poverty figures could improve through democratic action. That is why democracies must change their responses to meet the needs of the people. Democracy can and should be more inclusive and more compassionate.
Whether a democracy fails or succeeds depends on whether the government thinks about and tries to substantively help their people through democratic rule
Kudo:
You mentioned earlier that the suspension of Parliament is an emergency measure, but have the people of Malaysia accepted it?
Nurul Izzah:
It's difficult to say that people are accepting it. They simply have no other option. People see it as an unavoidable pandemic countermeasure. People have been hit hard by the pandemic and are doing their best to get through each day, relying on cash benefits provided by the government. People's safety is important, and they have to consider how to respond to standard operating procedures under lockdown. So even if a demonstration is held, methods are limited due to the pandemic.
I worry about the people. Right now, all too many Malaysians are in an extremely difficult place, but they don't know who to rely on, and they are becoming increasingly cynical. Whether a democracy fails or succeeds depends on whether the government is made up of people who both think about their citizens and try to help them.
The "Restore Democracy" slogan is not an abstract one - we must show that democracy can effectively improve people's lives even in a pandemic
Kudo:
Finally, I would like to ask what you think about US President Joe Biden's vow to "restore democracy".
Nurul Izzah:
I welcome it. I support the relaxation of immigration policies and the maintenance of democratic standards, and agree that it is right to rebuild infrastructure and protect workers. Workers should enjoy greater economic benefits.
President Biden has created an atmosphere and flow conducive to his goal, but it is not simply an abstract slogan. We must show that democracy can actually improve people's lives and effectively handle a pandemic.