December 14, 2017
Yasushi Kudo, President, The Genron NPO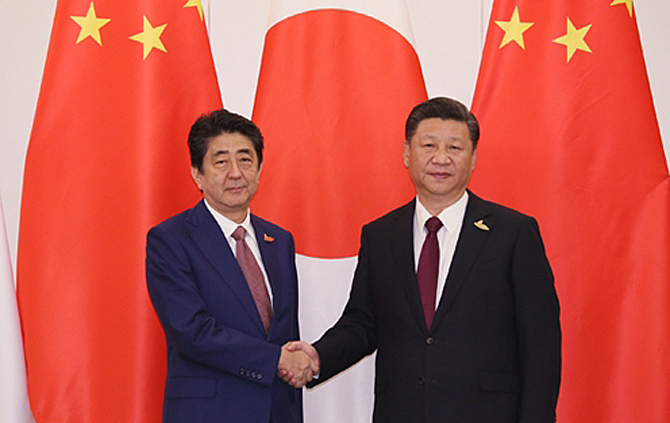 Perhaps the most significant finding of this year's Japan-China joint survey is that sentiment among citizens of the two countries toward each other is showing signs of improvement. But the 13th annual opinion poll conducted by The Genron NPO and China International Publishing Group also shows that they feel the two countries have lingering issues that prevent the bilateral relationship from improving fundamentally.
The number of Japanese respondents who feel Japan-China relations are "bad" dropped below the 50% mark to 44.9%, almost 30 points down on the 71.9% from the previous year's survey. This improvement in sentiment among the Japanese becomes clearer when one looks at the trend of the past 13 years. Sentiment worsened after 2012 when the Japanese government nationalized the disputed Senkaku Islands (Diaoyu in China) in the East China Sea. But this year's figure has returned to the level before this period. In fact, it is the third-lowest figure since the survey started 13 years ago. Meanwhile, 64.2% of the Chinese surveyed feel the relationship with Japan is "bad," although this has fallen from last year's 78.2%.
This does not, however, imply that the people of Japan and China judged the bilateral relationship to be "good," as there are only 6.7% Japanese and 22.8% Chinese who feel the relationship between the two countries is "good."
The reason why fewer Japanese are pessimistic about the Japan-China relationship is most likely because there were no open conflicts between the two countries this year, and also because of the increased number of meetings this year between senior government officials of the two countries, including several summits between Japanese Prime Minister Shinzo Abe and Chinese President Xi Jinping. With these meetings, the general public has been exposed to media coverage that shows that the relationship between the two governments is improving.
Furthermore, the heightening North Korean nuclear threat is actually making the Japan-China relationship appear to be more stable. But the Chinese do not feel as threatened by North Korea, which seems to account for the difference in the degree of pessimism between Japanese and Chinese respondents.
Impression of Japan rapidly improving among Chinese people
Another notable characteristic of this year's survey is the rapid improvement of Chinese people's perceptions of Japan, contrary to the Japanese, whose perceptions of China do not show major improvement. For example, fewer Chinese responded that they "do not have a good impression of Japan" (66.8% versus last year's 76.7%) and more Chinese are saying they "have a good impression of Japan" (31.5% versus last year's 21.7%). This is in contrast to the Japanese surveyed, a large percentage of whom say they have a bad impression of China (88.3% versus last year's 91.6%).
The reason the impression of Japan among Chinese is improving is because of the increased number of Chinese visitors to Japan. Some 1.3 million Chinese visited Japan in 2013, and the figure continued to rise, with 6.37 million -- nearly five times as many -- Chinese visiting Japan in 2016. This trend is reflected in the survey as well, with 15.7% of Chinese surveyed having visited Japan in the past, compared to last year's 13.5%. When the Chinese who have visited Japan in the past were asked the same question, 59.8% said they have a good impression of Japan, compared to the 26.2% who have never visited Japan. Those who have visited Japan say Japanese people are "polite, respect manners and are civilized," or that "the Japanese are serious-minded, diligent and hardworking." This is contributing to the overall improved sentiment of the Chinese toward Japan.
Another trend is that the younger generation in China appears to have a better impression of Japan. While 61.9% of the Chinese aged under 20 years old have a good impression of Japan, the figure drops to 40.6% among those in their 20s and to 16.2% among those aged over 60. There are no such demographic differences in the responses among Japanese.
The reason for the favorable impression among the younger generation of Chinese appears to lie in how they obtain news about Japan. In China, the younger generation turns to news Web sites and smartphone applications to obtain information about Japan-China relations as well as Japan in general. The survey shows that 42.2% of Chinese who rely on mobile devices to obtain information have a good impression of Japan, compared to 25.4% who watch television and 20% who read newspapers. Meanwhile in Japan, people obtain information primarily from the television, regardless of age. Even among Japanese who use mobile devices to read news, only 14% have a good impression of China. The result is not much different from the 10.9% who watch television for news.
This indicates that direct interaction through travel and the diversification of news sources contribute to improving Chinese people's perceptions of Japan, while that does not seem to be the case for Japan.
Issues hindering better relations and sentiment
When asked what hinders the development of bilateral relations between Japan and China, the majority of respondents in the two countries cite "territorial disputes." Another popular response is the "lack of trust between the governments and citizens of both countries." Asked what would be effective in improving Japan-China relations, about 40% of Chinese respondents say addressing the "territorial dispute regarding the Senkaku/Diaoyu Islands" and "the problem of the perception of history," while 40.7% of Japanese and 30.2% of Chinese cite "improving trust between the two governments." These results show that if current efforts by the two governments to improve bilateral relations continue, the perceptions of the citizens of both countries about each other will also likely improve.
Furthermore, the number of Chinese wanting to visit Japan continues to increase, with 44.2% of respondents saying so compared to last year's 40.9%. That should also contribute to improving the impression of Japan among Chinese people. But unfortunately, over 70% of the Japanese respondents say they do not want to visit China.
Mutual understanding on a deeper level needs more work
This year's survey shows that while there are fewer people with negative images of each other, there are many obstacles that need to be overcome for the people of both nations to have a truly positive image of each other. The first matter to be addressed is the basic understanding of each other's country. A majority of Japanese view China as a "socialist communist country" and over 30% see China as a "totalitarian state" with "single-party rule." Meanwhile, the Chinese view Japan as a democratic country, but nearly 40% also see Japan as a "militaristic" and "hegemonic" state. Only 9.7% of Chinese feel Japan is a truly democratic state, a further drop from last year's 18.2%.
If one feels that the perceptions of the opposite party are wrong, then one must make the effort to explain what exactly is wrong. The media must be particularly careful as they play a part in creating impressions of each other, and could wrongly encourage their audiences to build negative impressions of each other.
The "history problem" remains key issue for the Chinese
Many Chinese feel the so-called "history problem," or the continued resentment among Chinese over what is seen as Japan's unwillingness to confront its history of aggression in World War II, to be a major obstacle to improving Japan-China relations. Asked if this issue remains an obstacle, the number of Japanese respondents who believe so is basically unchanged from last year, but 56.3% of Chinese respond that it is a major issue with no signs of resolution, a further increase from last year's 47.8%. Add the 30.9% of Chinese who believe some progress may have been made in solving the history issue, although it remains a major issue, and the result is that over 80% of Chinese people strongly believe that this decades-long controversy continues to be a bone of contention between the two nations. Furthermore, 51% of Chinese say the relationship between the two countries will not improve without resolving this problem.
Different perceptions on security, but bright signs for the island dispute
The number of Japanese who feel threatened by North Korea has increased to nearly 90% over the past year, following the repeated missile launches near Japanese waters and underground nuclear tests by the Stalinist state. As a result, the interest of Japanese people has shifted from China's military threat to that posed by North Korea, with 20% fewer people feeling threatened by China's military buildup compared to last year.
What is puzzling is Chinese people's low sense of urgency over Pyongyang's actions, with only 13.1% saying they feel threatened militarily by North Korea. Rather, 25.6% say they feel threatened by South Korea. The fact that there appears to be no effective way for Japan and China to cooperate in addressing the North Korean threat as well as maintaining peace in Asia also contributes to widening the perception gap over security issues. But there is a glimmer of hope, with 55.4% of Chinese calling for the two countries to swiftly resolve the territorial dispute and work for a peaceful solution -- the first time such views constituted a majority.
Passive attitude toward economic relations among Japanese
With regard to the economic relationship between Japan and China, the responses of Japanese people remained passive, with 41% saying it is difficult for the two countries to build a win-win relationship, up from last year's 37.5%. Furthermore, only 10.7% of Japanese respondents said they expect economic exchanges and trade between the two countries to expand.
Why is Japan-China relationship important?
This year's survey shows that while there are signs that the relationship between the two governments is improving, the people of both countries believe there are issues from the past that need to be resolved before Japan and China can move forward.
Asked if they believed Japan-China relations are important, 71.8% of Japanese answer "yes," up from last year's 70.4%, while 68.7% of Chinese people say "yes," down from last year's 70.8%. These figures have not changed much since the survey started in 2005, but when asked which country is most important to one's own, the ranking of the two countries improved from the previous year in both cases. For the Chinese, Japan moved up two ranks to third after Russia and the United States, and for the Japanese, China moved up one rank to second behind the United States.
This slight progress is most likely a reflection of the improved sentiment toward each other's country. But people also appear to be unable to work out why exactly this bilateral relationship is so important. Asked why good relations between Japan and China are necessary, the most common answer from Japanese respondents is "bilateral cooperation is necessary for the peace and prosperity of Asia" (57%), while the Chinese answer is "because Japan is an important neighbor" (75.4%). Both are vague responses with no concrete ideas as to why exactly the bilateral relationship is so important.
As to the future of the two countries, a majority of respondents in Japan and China hope for the peaceful coexistence and co-prosperity of both nations, but they add that they are unsure if that will actually be realized. While acknowledging that the bilateral relationship is important, the people of the two countries do not understand why, or what kind of future to build together. That is the current state of the relationship between Japan and China.
Strong expectations for a new Japan-China relationship
Despite the skepticism, it is also true that the survey provides evidence that the two countries are making an effort to move forward. With the global order showing signs of instability and with heightened concern for the peace of Northeast Asia, the respondents were asked for the first time in this year's survey whether Japan and China should work to strengthen their cooperative relationship. In response, 59.2% of Japanese and 73.5% of Chinese answered "yes." This strong expectation for a better bilateral relationship, not only between governments but also on a private-sector level, has become apparent in the findings of this year's survey. Which direction the sentiment of the citizens of both nations will take from here will depend on whether we can pick up on the general public's sentiment and shape a cooperative framework for the two nations.