Yasushi Kudo
President, The Genron NPO

Public opinion polls in Japan in 2019 and South Korea in 2020 showed a drastic drop in mutual national sentiment in the two countries, stemming from the Korean court decision regarding wartime labor conscription in the Korean Peninsula, Japanese government export controls applied since 2019, and more. Even now, a year after the most recent polls were conducted, the influence of these issues still holds sway on public opinion in the two countries.
The rapid spread of negative national sentiment in each country over the last few years can be traced back to reactions by the people in each country to the government of the other. Current South Korean President Moon Jae-in, someone who has made decisive actions that have contributed to the continued distrust between Japan and South Korea, will retire after the 2022 presidential election to be held in March next year. While in Japan, a new government took power in October under the leadership of Fumio Kishida. Unless the new governments of both countries resolve to improve this situation, it could be prolonged and become a structural part of the bilateral relationship.
The rise of China has coincided with the worsening of the friction between it and the USA. There is an increased danger of division across the globe, and tensions are rising in Asia. North Korea has begun to provoke the countries around it with its actions. These two countries - Japan and South Korea - both stand as allies of the US and share the same democratic values - their mutual disagreement must not continue.
In advance of the new leaders taking over in each country, public polls were held in Japan and South Korea in September 2021 to determine what the public think about bilateral and regional issues. In short, the survey showed that mutual opinions about each other's country and about the Japan-South Korea relationship have warmed slightly since last year, but sentiment remains chilly. In contrast, Japan and South Korea have trended somewhat closer within the context of the US-China conflict.
 
Slight improvement but 60% of South Koreans and 50% of Japanese still have poor impression of other country
First, we look to find the polls show any tendency towards improvement in people's impressions of the other country, which had drastically worsened in 2019. The results showed that while people in both countries have slightly better opinions of the other country, the situation is still somewhat chilly. A total of 63.2% of South Koreans still have a "poor" impression of Japan. This is an improvement over the 71.6% found last year, but it is still worse than what was seen in 2016 after impressions improved when an agreement was reached in 2015 on the issue of comfort women. Essentially, all improvements have been lost. Meanwhile, with 48.8% of Japanese people calling their impression of South Korea "poor," we see that their impression has worsened slightly since last year.
Next, when asked about the current Japan-South Korea relationship, 81% of South Koreans and 52.7% of Japanese judged it as "poor," a slight improvement over last year in both countries. Only 8.1% of Japanese and 1.3% of South Koreans call the relationship "good."
Impressions of other country (Over past nine years)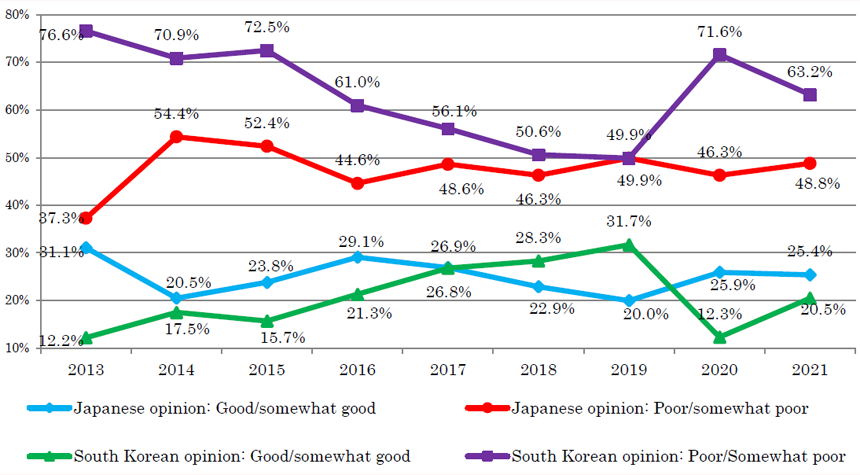 Japanese people in particular tend to have a pessimistic view of the future of Japan-South Korea relations, and only 4.6% expect that the person who takes over as the new South Korean president after next year's March election will have a positive effect on the relationship between the two countries.
Among South Koreans, 22.4% have elevated expectations of their own future president, while 18.1% have high expectations of the new Japanese prime minister. This is slightly higher than what we see in Japan, but nearly half of South Koreans believe that the situation will remain unchanged under the new administrations in the two countries.
The conflict between the governments will not improve unless both try to repair it
One reason people expect little in regard to improving the Japan-South Korea relationship is that neither government is doing anything to restore it. In addition, people in both countries have a deep-seated mistrust of the government of the other country. Another major reason is that people tend to evaluate the actions of their own government highly when they respond to actions taken by the other government. There is little room for governments to manoeuver when public opinion has created such an environment.
In our polls, we ask respondents whether they believe that the relationship between Japan and South Korea is important. The answers do not normally fluctuate greatly. However, the percentage of people in Japan who believe the relationship to be important has dropped every year since 2017, and has now reached 46.6%. This is 27 points lower than its peak of 74% in 2013. When those who responded that the relationship is unimportant were asked their reasons, the highest number of respondents at 67% selected, "The current government cannot be trusted to negotiate in good faith, as it has overturned previous intergovernmental agreements regarding historical awareness." The next most common answer at 44.8% was, "The current South Korean government is actively provoking Japan." It is obvious that the Japanese people have a deep-seated distrust of the actions of the current South Korean government.
(Japanese Opinion) Why is the Japan-South Korea relationship unimportant?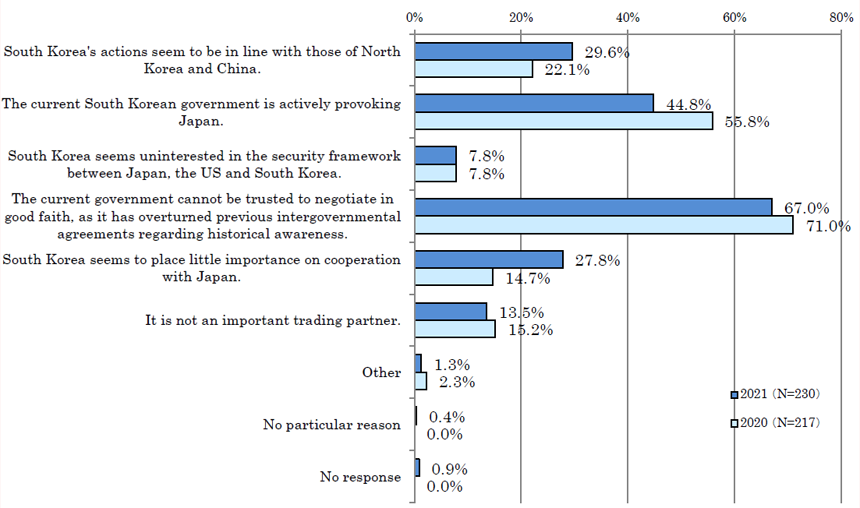 The Japanese government implemented export controls and other measures aimed at South Korea in 2019 in response to the South Korean Supreme Court decision in 2018. This was a form of backlash against the judgement, which overturned the already existing bilateral agreement on the issue of claims made from conscripted laborers.
The Japanese government felt that this had watered down the Treaty on Basic Relations between Japan and the Republic of Korea signed in 1965 to establish diplomatic relations with South Korea, thereby destroying the foundation on which the Japan-South Korea relationship was built. The South Korean government then retaliated, which led national sentiment to plunge.
In other words, as long as conflict between the government exists, the relationship will not improve unless both governments work to repair it.
Will youth awareness and pop culture in both countries lead to new trends?
Even as the two governments continue to bicker, two new trends that could have an effect on future Japan-South Korea relations are emerging. One is awareness among younger generations, and the other is the influence of pop culture content from both countries. This survey showed the clear and positive effect of K-pop and other cultural trends on young people's opinions on the other country.
There is a comparatively higher number of respondents under 40 who said their impression of the other country is "good" when compared to respondents 40 and over. Good impressions of South Korea are held by 40% of Japanese respondents under 20 and 34.7% of those in their 20s, while 30.7% of South Koreans in their 20s have a good impression of Japan. These numbers are higher than the averages across all age groups (25.4% in Japan and 20.5% in South Korea.)

Currently, 52.7% of Japanese and 81% of South Korean respondents see the Japan-South Korea relationship as poor, but that view is shared by fewer less than half of those in Japan under 20 (24%) and only 40.6% in their 20s. The numbers are lower for youth in South Korea as well, with those under 20 at 75% and those in their 20s at 68.1%.
We can get a clearer picture of younger people in South Korea in the responses to the statement "I want to go to Japan." Even in the midst of the COVID-19 pandemic, 51.6% of South Koreans want to visit Japan, an increase over 46.5% of last year. Much of the drive behind that increase is comes from the younger generation, with 66.5% of those under 30 saying that they want to visit Japan.
People under 40 have many means of learning about the other country, and the influence of last year's K-pop boom and other pop culture trends has contributed to a relatively higher opinion of each other's country and of their mutual relationship.
Impact of worsening Japan-South Korea relationship on pop culture consumption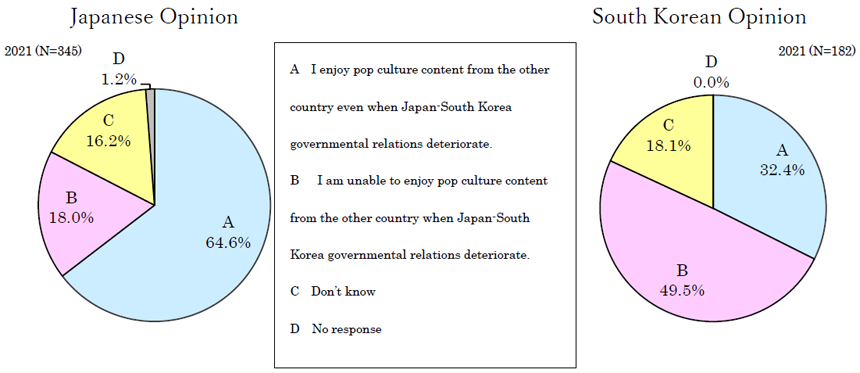 Even as the relationship deteriorates, 64.6% of Japanese are K-pop fans
The influence of pop culture in Japan is significant.
A total of 53.4% of Japanese hold a good impression of South Korea. Many stated their interest in South Korean culture as a reason, and the influence of pop culture is spreading throughout all age groups. This is particularly true among those under 20, of whom approximately 80% have a good impression of South Korea because of South Korean culture.
Narrowing down the Japanese responses to those who "enjoy South Korean pop culture immensely," we find that 77.5% have a good impression of South Korea. In addition, 64.6% of Japanese respondents stated that even if the relationship between the countries were to continue to deteriorate, they would remain enthusiastic fans of K-pop. A similar trend can be seen in South Korea as well, with 55% of those who "enjoy J-pop immensely" stating that they have a good impression of Japan.
Leaving the inter-governmental conflict aside, the people of the two countries are beginning to connect through the mutual interest in each other's lifestyles and culture, and through tourism, food, and online shopping.
More than half of South Koreans believe they should be part of the Quad
Finally, we look at the impact of the US-China conflict on Japan-South Korea relations. First, one trend that clearly emerged in this survey was the growing sense of threat South Koreans feel from China, and the increasingly strong expectations for cooperation with the US and Japan as its ally.
For example, the survey showed that 61.8% of South Koreans feel that China poses a military threat, a 17.5% increase over the 44.3% found last year. For South Koreans, China is the next largest threat to their country after North Korea in this year's poll.
Countries/regions that seem to pose a military threat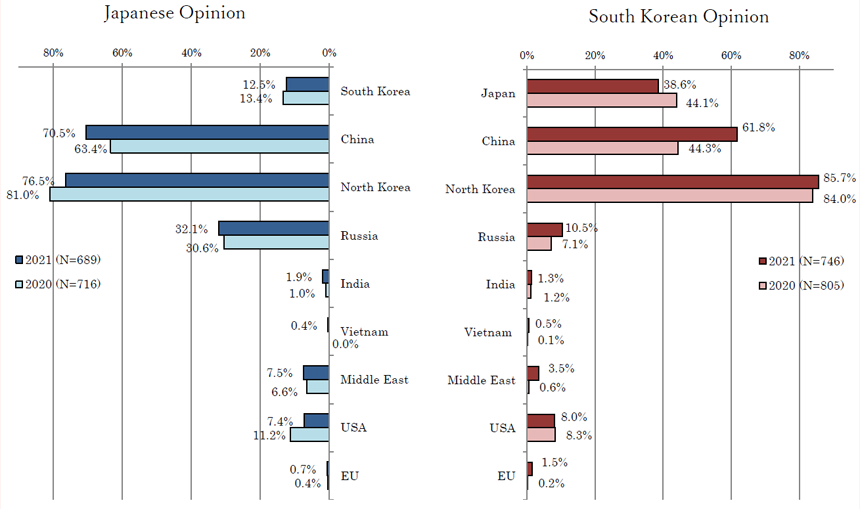 In addition, 64.2% of South Koreans feel that the trilateral security framework between Japan, South Korea, and the USA should be fortified, a 10.6% increase over last year's 53.6%. Also, 51.1% of South Koreans think that their country should be part of the Quad, the strategic dialogue between Japan, the US, Australia, and India.
Should South Korea join the Quad?

This desire for cooperation in security concerns on the part of South Koreans is connected not only to the actions of China, but also to the increasingly unstable de-nuclearization situation in North Korea - a situation that has little prospect for resolution in the near future. More South Koreans now feel that the Korean Peninsula will remain unstable and that tensions will increase over the next decade. At 57.4%, that is a 7-point increase over the 50% of South Koreans who responded in that way last year.
This year's survey also showed that South Koreans are looking to greater cooperation with Japan in economic terms as well.
For example, 52.4% of South Koreans see Japan as important to their own economy, an increase of 10.7 points over last year. Those who see Japan-South Korea economic cooperation as necessary to their own country's future success make up 80.4% of respondents.
Both governments should prepare a solution
As the survey has shown, people in both countries still hold somewhat unfriendly feelings towards the other country, and the conflict between the US and China has led to recent changes in awareness and new trends.
Regarding public opinion, even with the drastic reduction in interpersonal exchange caused by the spread of COVID-19, shared culture such as K-pop and shared issues such as the US-China conflict have begun to bring about hints of compromise between Japan and South Korea. For the very future of the region, both governments should be working to prepare a solution that will heal the relationship between their countries.