Between June 5 and July 12, 2023, The Genron NPO conducted a survey of diplomacy and security experts in Japan, the US, China, and South Korea on the top ten risks threatening the peace in Northeast Asia. A total of 143 individuals from the four countries evaluated and scored the items therein, and the results were compiled in the 2023 edition of the Top 10 Risks Threatening Peace in Northeast Asia.
The greatest risk to peace in Northeast Asia in 2023 was judged by the experts to be North Korea, with its missile launches and other military provocations in first place, followed by North Korea's status as a nuclear power.
Filling out much of the top ten were risks associated with the US-China conflict and its escalation, with the deepening conflict between the two countries in third place, the struggle between the US and China for digital hegemony in fourth, the increased focus on economic security and exclusion of China from supply chains in sixth, and the lack of functional "guardrails" in the US-China crisis management dialogue in tenth place.
Meanwhile, the occurrence of accidents in the Taiwan Strait, which was in fourth place last year, fell to 18th place, and potential emergencies over Taiwan fell from eighth place last year to 21st place this year.
143 diplomacy and security experts from the US, China, Japan, and South Korea collaborate on evaluating the issues
Assessment of the ten risks threatening peace in Northeast Asia was conducted in two stages.
First, a questionnaire was distributed to 500 Japanese experts (with 333 respondents) who participate in discussions and other activities regarding Asian diplomacy conducted by Genron, and this allowed us to narrow the list of items used to assess security risks in Northeast Asia to 25. Next, the survey was distributed to diplomacy and security experts in Japan, the US, China, and South Korea who evaluated each item according to two criteria (with Chinese respondents evaluating 24 items).
The two criteria used to assess each item were A, the likelihood of that risk resulting in conflict in Northeast Asia, and B, the impact and severity of any such conflict on peace in Northeast Asia.
This assessment was conducted between June 5 and July 12, 2023. Each was evaluated using a score out of four, and the two scores were then added together. A maximum of eight points was possible.
The scoring was conducted in collaboration with the thinktanks and security experts from the four countries participating in the Asia Peace Conference. Participants from Japan included former government officials and diplomacy/security experts; from the US, former military personnel and representatives from security-related thinktanks; from China, representatives of thinktanks affiliated with the People's Liberation Army and other organizations; and from South Korea, representatives of the Asan Institute for Policy Studies.
A total of 143 experts participated in the survey: 52 from Japan, 33 from the US, 51 from China, and 7 from South Korea.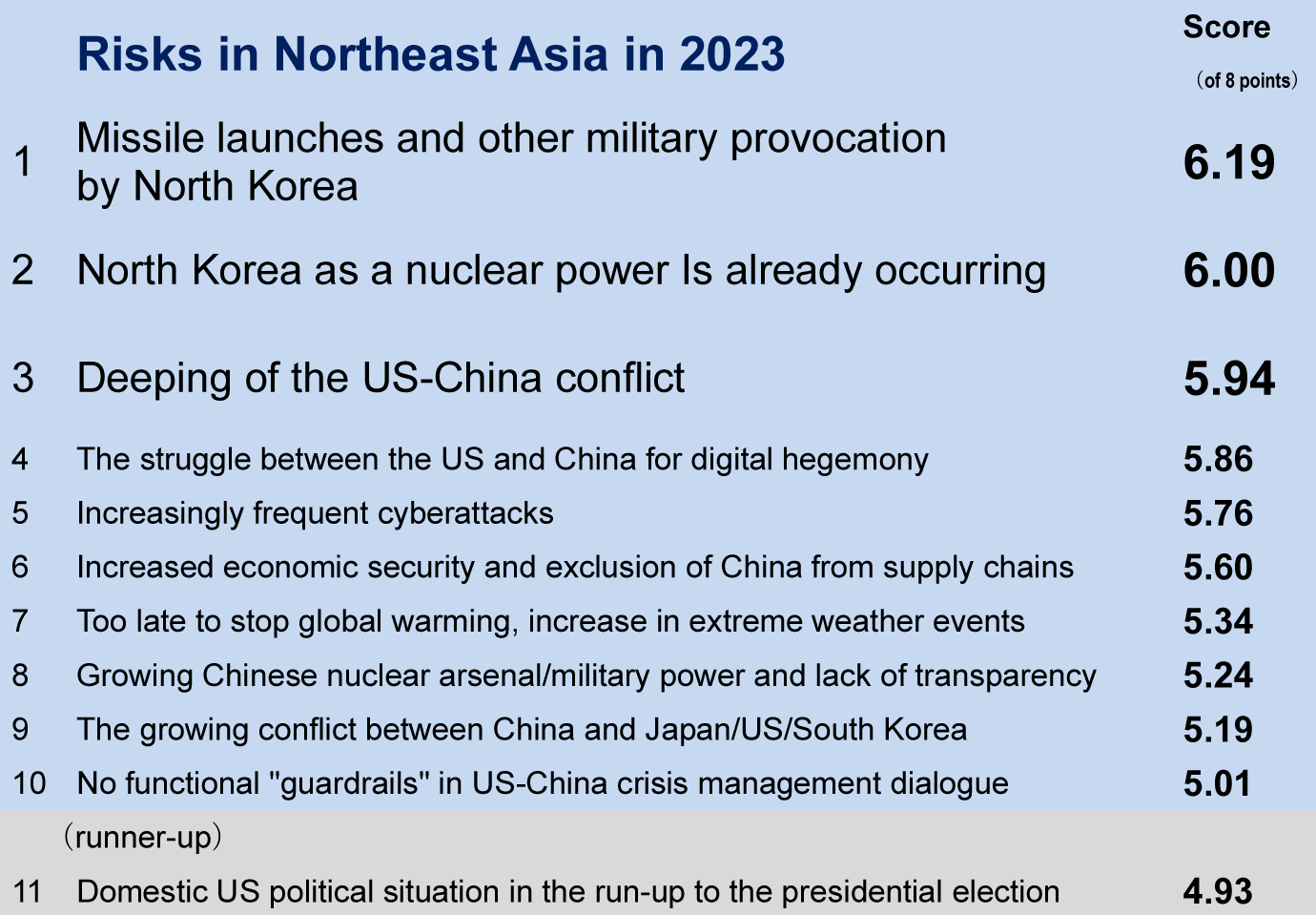 *Reference: Ranking in 2022