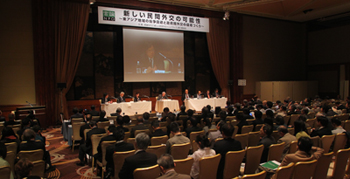 Twelve prominent foreign policy experts from Japan and five other countries got together in Tokyo on March 29 for a one-day international forum to exchange views on the role of private-sector actors in solving diplomatic challenges.
The forum was the first of its kind organized by the New Civil Diplomacy Initiative, which came into being in December last year under the wing of The Genron NPO, a non-partisan, not-for-profit think tank based in Tokyo.
The main theme of the symposium, sponsored by the Foreign Ministry of Japan, was "The Possibility of New Civil Diplomacy - Prevention of Conflicts in East Asia and the Creation of a Better Environment for Government-to-Government Diplomacy."

In his opening address, Yasushi Kudo, President of The Genron NPO, told an audience of about 300 people at a Tokyo hotel that the world is becoming increasingly apprehensive about the tension in Northeast Asia. "We are in a critical situation in which there is a high likelihood that Japan and China would engage in military conflicts in the wake of an unintended accident in the East China Sea. Nonetheless, government-to-government diplomacy between the two countries has ceased to function," Kudo warned.
He thereby called on opinion leaders and other private-sector actors in Japan, and other countries to help to create informed public opinion, not emotional and exclusive public opinion, in order to make a breakthrough in the stalled governmental diplomacy and solve problems.

Representing the organizers, Yasushi Akashi, former Undersecretary General of the United Nations, who serves as Chairman of the Executive Committee of the Initiative, said in an address that the job of diplomacy is being borne by professional diplomats and politicians. "However, the private sector should assume the role of building mutual trust among peoples and of creating a better environment for government-to-government diplomacy," he emphasized.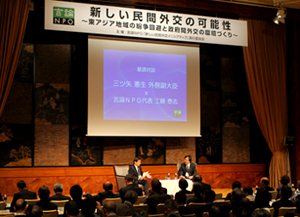 His address was followed by a brief keynote debate between Norio Mitsuya, Senior Vice Minister of Foreign Affairs, and Kudo, in which Mitsuya voiced high expectations on the private sector to play a larger role in diplomatic challenges. He noted that direct people-to-people dialogue should be a shortcut to the resolution of conflicts, if the deterioration of public sentiment toward any particular country is based on misunderstanding and prejudice," he reasoned.
Following the keynote debate, three panel discussions were held on the themes of "How the World Is Observing Confrontations in Northeast Asia," "Public Diplomacy and 'Genron Diplomacy'" and "'No-War Pledge' and the Creation of a New Order in East Asia."

The list of the Japanese and foreign speakers and panelists follows:


Yasushi Akashi, former Undersecretary General of the United Nations and Chairman of the International House of Japan, Japan




Yasushi Kudo, President of The Genron NPO, Japan




Norio Mitsuya, Senior Vice Minister of Foreign Affairs, Japan




Scott Snyder, Senior Fellow for Korea Studies and Director of the Program on U.S.-Korea Policy, the Council on Foreign Relations (CFR), the United States




Alexander Neill, Shangri-La Dialogue Senior Fellow for Asia-Pacific Security,
the International Institute for Strategic Studies (IISS), Britain




Mushahid Ali, a Senior Fellow at the S. Rajaratnam School of International Studies (SRIS) of Nanyang Technological University, Singapore




Yuji Miyamoto, former Japanese Ambassador to China and Chairman of the Miyamoto Institute of Asian Research, Japan




Zhao Qizheng, Dean of the School of Journalism and Communication at Renmin University of China, and former Minister of the State Council Information Office, China




Lee Sook-jong, President of the East Asia Institute, South Korea




Kazuo Ogoura, former Japanese Ambassador to South Korea and Advisor to the Japan Foundation, Japan




Seiichi Kondo, former Commissioner of the Agency for Cultural Affairs, Japan




Yoriko Kawaguchi, a professor of Meiji University and former Foreign Minister, Japan