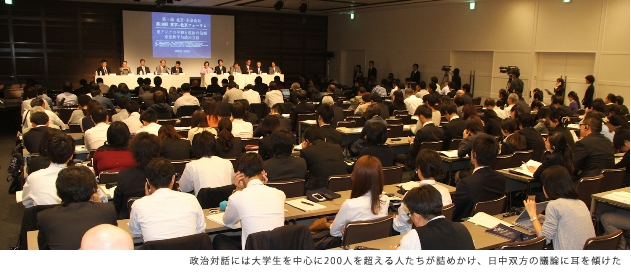 Leading figures from Japan and China have frankly exchanged views about the reasons for the lack of mutual trust between the two countries, which is seen as a major obstacle to repairing the soured relations between the neighbors.
The absence of mutual trust between Japan and China can be attributed to their failure to explain to each other about what kind of country they will try to be in the future, former Japanese Foreign Minister Yoriko Kawaguchi said.
She was speaking as the Japanese moderator at a panel discussion about political issues Sept. 28 as part of the 10th meeting of the Tokyo-Beijing Forum, an annual, bilateral private-sector dialogue, at a Tokyo hotel.
Shigeru Ishiba, one of the Japanese panelists and secretary-general of the ruling Liberal Democratic Party (LDP) until early September, said that Japan will aim at being "a country that is well prepared on all fronts," including the political, economic and national security fields, and that Japan will create a new model to this end.
Japan is a country that learns from history "humbly and seriously," said Ishiba, currently minister in charge of vitalizing the local economy. Recalling Japan's failures in the prewar years, he said that Japan was too confident, made light of other countries and lacked civilian control of its military. Today's China looks like Japan in the prewar years, Ishiba said. "I just can't understand specifically what 'China's Dream' means," he said.
Referring to Chinese warplanes' recent approaches toward Japanese and American aircraft over the East China Sea, Ishiba said that it is doubtful whether China maintains civilian control of the People's Liberation Army. Japan must explain its national security policy to China, but China should do the same to Japan, Ishiba said.
The direction China pursues is clear, said Wu Jianmin, executive vice chairman of the China Institute for Innovation and Development Strategy. What China has in mind is "a rich, democratic, civilized and well-harmonized country," he said.
To achieve this, there should be a peaceful political environment, he said. This must be the same for Japan, Wu said. China's smooth national development in the past 30 years can be ascribed in large part to the favorable relations it has maintained with Japan, he said.
Poor relations between Japan and China in recent years have caused great damage to both sides and therefore, the two countries should ensure that their mutual understanding will not worsen any further, Wu said.
Chen Jian, a former Chinese ambassador to Japan, noted that Japan has discarded its peace-oriented postwar Constitution. He criticized what he sees as Japanese political leaders' moves to shift public opinion in Japan along rightist lines while pursuing a value-based diplomacy and spreading the view that China is a threat.
Wang Xinsheng, a professor of history at Beijing University, warned against Japan's recent decision to revise the interpretation of its postwar pacifist Constitution in order to allow itself to exercise the right to collective self-defense. Japan's postwar pacifist policy line has come to a halt, he said. Japanese Prime Minister Shinzo Abe's pet policy of becoming a proactive contributor to peace also can be seen as a move to make Japan a military power, he said.
A recent public opinion poll shows nearly 40 percent of the Chinese respondents regard Japan as a hegemony-seeking state, but this is clearly untrue in light of realities, said Ichiro Aisawa, a senior LDP member of the House of Representatives (the Lower House of Japan's Diet).
It will be very dangerous to allow this kind of misunderstanding to spread further, he warned, stressing the need for both countries to continue efforts to know more about each other's situation and let each other know about their situation.
Former Japanese Foreign Minister Takeaki Matsumoto in the defunct Democratic Party of Japan government, said that Japan has consistently pursued the role of a "peaceful country" through the 70 years since the end of the war. Rightist leanings are a tendency seen only among some people and Japan's national security policy itself is quite moderate, said Matsumoto, also a House of Representatives member.
Kenichi Matsumoto, a noted commentator and a professor at Reitaku University, noted that China is expected to occupy 25 percent of the global gross domestic product in the year 2025, as against 15 percent for India and 5 percent for Japan. These percentages are exactly the same as seen in 1820, he said.

Speaking from the perspective of a historian, he doubted that when it comes to the same situation as 200 years ago, China may aim at reviving the Chinese Empire. The slogan of "China's Dream" alone cannot fully explain its future path, Matsumoto said.
Kawaguchi, the moderator on the Japanese side, asked the Chinese whether the so-called "China Dream" has anything to do with its ever-increasing military spending.
Chinese panelists explained that the increase in China's military budget is only a natural consequence associated with its national modernization and purely aimed at self-defense. China's advance into the South China Sea is for the purpose of securing sea lanes for commerce, they said. The increased funds in the military budget are partially used for international peacekeeping activities, they said.
The notion of "China's Dream" existed in the days when Sun Yat-sen (1866-1925), the founding father of the Republic of China, was in power and it is nothing new, said Zhao Qizheng, dean of the School of Journalism and Communication at Renmin University of China, and formerly director of the Information Office of the State Council of China.
It is wrong to focus only on the military aspect when it comes to the notion, Zhao said, noting the idea also contains a broad range of policy goals for improving people's livelihoods in such fields as education, employment, social security and the environment.
Ishiba said that Japan's alleged tendency of leaning toward rightist values should rather be seen as a realist policy line. Japan's right to exercise collective self-defense is an inherent right established under the U.N. Charter for U.N. member nations, he said.
There may be fears that Japan's right to collective self-defense will be abused, but the process of exercising the right will be democratically controlled with prior approval by parliament (the Diet), Ishiba said. Japan hopes that its democracy will be trusted, he said.
Yang Bojiang, deputy director of the Institute of Japanese Studies of the Chinese Academy of Social Sciences, who served as the moderator on the Chinese side, noted that the gaps in mutual understanding between the two countries are partially attributable to the fact that they use the same Chinese kanji characters but sometimes with different connotations.
For instance, conservatism has a very horrible meaning for Chinese, but conversely, the term enhancement of a country's wealth and military strength is used by Japanese in a historical perspective associated with Japan's wartime militarist policy, but it does not have any particular meaning for Chinese, Yang said. It is important for the two countries to harmonize their notions with each other before discussing the problems of mutual interest, he said. (END)