The sub-session on economic issues was convened in the afternoon of Sept. 28 with discussions held on "Economic Structural Reform, and Common Interests between China and Japan."
Toshiro Mutoh, board chairman of Daiwa Institute of Research Ltd., served as chair for Japan along with panelists: Hirohide Yamaguchi, chairman of the advisory board to Nikko Financial Intelligence Inc.; Shoei Utsuda, chairman of Mitsui & Co. Ltd.; Masahiro Kawai, a research professor at the Graduate School of Public Policy, University of Tokyo; Takeshi Kunibe, president and CEO of Sumitomo Mitsui Banking Corp.; Norio Sasaki, vice chairman of the board of Toshiba Corp.; Koji Tanami, advisor at Bank of Tokyo-Mitsubishi UFJ Ltd.; and Ryutaro Yatsu, advisor to the Ministry of the Environment.
Acting as chair for China was Jin Limbo, a researcher at the China Institute of International Studies, attending together with: Wei Jianguo, vice chairman of the China Center for International Economic Exchange; Zhang Yansheng of the National Development and Reform Commission, the State Council; Liang Xinjun, vice chairman and CEO of the Fosun Group, China's largest privately owned conglomerate; and Song Wenzhou, founder of Softbrain Co. Ltd., which is listed on the First Section of the Tokyo Stock Exchange.
Yamaguchi opened the meeting with his keynote speech titled "Economic Dialogues over the Past Decade and in the Decade Ahead." He reported how productive the past dialogues have been -- focusing on China and Japan's contribution to the economic development of Asia and worldwide -- despite some difficulty in sharing awareness in certain areas. Yamaguchi suggested that "it is now time for the two countries to come together to form a win-win relationship in contributing to Asia and the rest of the world."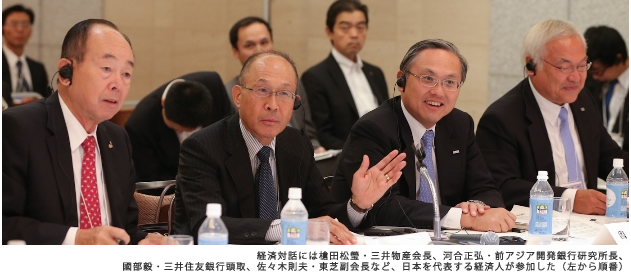 China's keynote speech was given by Wei Jianguo, who explained that there are three main aspects to the China-Japan economic relationship: That it consists of mutually complementary ties, that more collaboration is needed in the environmental sector and that a Fair-Trade Agreement (FTA) and Regional Comprehensive Economic Partnership (RCEP) between China, South Korea and Japan must be promoted.
In response to these keynote presentations, Utsuda from Japan first shared his impressions on the lumbering progress in the financial deregulation policies that he gained from his visit to the Shanghai Pilot Free-Trade Zone.
Kawai stressed that military conflicts between the two countries will confound the economic climates not only between the two countries but also of the entire Asian region.
Adding to this, Kunibe raised his concerns over China's financial deregulation that may cause local financial deficits or degradation of the entire financial system. "Lessons that Japan learned from its financial liberalization would certainly be useful to China," he suggested.
Sasaki offered that Toshiba's business scale in China is to the tune of \1.65 trillion and that "there are still many areas in which Japan can contribute" in China. He also agreed with Kunibe's opinion that Japan's experience in financial deregulation can be applied to many of the financial reform challenges China is facing, for example, in resolving the shadow banking issue.
The last Japanese panelist, Tanami, pointed out that China's economy "must focus more on consumer-oriented consumption." At the same time, the country needs to resolve such other issues as pollution, environment, disparity, social security and the aging population.
Next, from the Chinese panel, Zhang Yansheng stated his belief that the China-Japan relationship has entered a golden age with great potential ahead. "By increasing direct dealing of the Japanese yen and Chinese yuan, the countries can reduce the risk of depreciation of the yen against the dollar," he suggested.
From an entrepreneur's point of view, Liang Xinjun analyzed that the China-Japan economic relationship is positive in the long term but negative in the short term, an ideal climate for investment.
Song Wenzhou, also representing the private sector, pointed out the issue of the oligopolistic market of China's state-owned enterprises. Another of his observations is that many Japanese companies tend to think that their failure in the Chinese market is somewhat due to the political tensions between the countries.
In the free discussion session that followed, the panelists touched on a wide range of topics, including China's financial deregulation, growth slowdown, real estate "bubble" issues, renminbi (RMB) internationalization, Japan's balance of payment deficits, non-tariff barriers, and the drop in investments in China and its attractiveness as an investment destination.
New forms of China-Japan economic relations
The second half of the sub-session was to share insights on some of the micro aspects of "China-Japan Collaboration for Sustainable Economic Development."
Zhang Yansheng from the Chinese panel addressed the stalemated political situation between the two countries and suggested that economic collaboration could break the deadlock. He also stressed the importance of resolving China's environmental issues through resuming the Japan-China Energy Conservation Forum, joint R&D, and enhancement of the Sino-Japan Energy Efficiency and Environment Fund.
Utsuda offered six possible areas of China-Japan collaboration: 1) joint contributions in aiding the stable development of Asian and African regions; 2) promotion of an FTA, RCEP and Trans-Pacific Partnership (TPP) agreement between China, South Korea and Japan; 3) new technological developments in resources and energy; 4) discussions on nuclear power generation; 5) public support in resolving environmental issues; and 6) ways to increase human exchanges.
Liang Xinjun asked Yatsu how the Sino-Japan Friendship Center for Environmental Protection can contribute to resolving China's environmental challenges. He also stressed that the Energy Efficiency and Environment Fund is in need of further financial support, and asked Tanami for the views of the Japan Bank for International Cooperation (JBIC).
"It is encouraging that we are finally able to discuss business-related topics at this forum," smiled Yamaguchi, seeking Utsuda's opinion on financial prospects. RMB liberalization is the most desirable path to liberalization of business, commented Utsuda.
Kawai's statement summarized the common awareness of the panelists -- that China and Japan could not only establish a win-win relationship but could extend such a relationship beyond to Asia and the rest of the world. To do so, China must effectively escape the middle-income trap and Japan has a lot of experience to offer.
Kunibe expressed his view that Japan's private sector will be expected to invest more in infrastructure development in Asian countries.
Sasaki suggested that Japan and China could cooperate in offering high-quality, sophisticated power generation technologies at a reasonable price to developing countries. He also pointed out the importance of promoting energy conservation in China.
Tanami also praised China for its efforts in trying aggressively to resolve environmental issues. He is optimistic about the JBIC's willingness to assist the Energy Efficiency and Environment Fund.
Yatsu expressed his support for collaborative initiatives, including financial support, to meet the needs proposed by member states of the Association of Southeast Asian Nations.
After each panelist had a chance to offer his opinion, the meeting was opened to a free discussion. The Japanese panel asked the Chinese members about the Asian Infrastructure Investment Bank (AIIB). The China panelists explained that the AIIB's mission is to support infrastructure development in developing and impoverished countries, and one of the Japanese panelists suggested that Japan's participation is a possibility.
Jin Limbo commented that China's economic reform is shifting from a GDP-oriented system toward a more quality-oriented economic system. To sum up the meeting, he revisited the many possible areas of China-Japan collaboration that were mentioned in the discussions and once again stressed the importance of enhancing mutual understanding.
In response, Mutoh suggested that the form of China-Japan collaboration is starting to change. Now that China has become the world's second-largest economy with greater influence on other countries, Japan and China must be mutually complementary, and jointly assume the responsibilities for their Asian neighbors and the rest of the world. He concluded the meeting by expressing his confidence in the two countries to establish a win-win relationship. (END)