Noted researchers and opinion leaders from five Asia-Pacific countries have recently agreed that civic society's role is extremely important for building peace in East Asia amid continued instability in the region. The occasion was an international symposium organized by The Genron NPO, an independent non-profit Japanese think tank, to discuss challenges facing the region on the 70th anniversary of the end of World War II.

In a five-way dialogue on the second and last day of the symposium in Tokyo, Yuji Miyamoto, a former Japanese ambassador to China, said that if civil society matures, with each citizen becoming capable of looking at the situation calmly and objectively, they can prevent their society from moving in the wrong direction. During the last war, Japanese people enthusiastically supported the government's war policy, and because they did not have the ability to view the situation correctly, Japan could not turn away from the path that led to war, Miyamoto said.
Based on the wartime examples, some experts maintain that deepening economic interdependence in Asia in recent years will not work to avert war in the region, but the level of today's economic interdependence is quite different from that in the wartime years, he said.

Sometimes, provocative, extremely nationalist acts, such as so-called hate speeches, occur, but these moves should be properly checked in each society by the citizens themselves, said Ichiro Fujisaki, a distinguished visiting professor at Sophia University in Tokyo and president of the America-Japan Society. Referring to history-related issues as obstacles to improving Japan's relations with China and South Korea, Fujisaki, a former ambassador to the United States, said that Japan should seriously examine, not justify, what it did in the wartime years, and at the same time, China and South Korea should not focus only on the past.

Phillips Vermonte, head of the Department of Politics and International Relations at Indonesia's Center for Strategic and International Studies, said that democracies do not go to war with each other. "This is an established global theory," he said. Therefore, the wider democracy disseminates, the greater the possibility of realizing peace will be, Vermonte said. Since governments in democratic countries have to listen to the voices of their people all the time, whether to go to war ultimately depends on the people, he said.

According to Nancy Snow, a leading figure in public diplomacy studies in the United States, the private sector's say has been increasing in the diplomatic field since the end of the Cold War. The phenomenon reflects the spread of Internet tools, particularly social media devices, she said. Snow stressed that it is important for people to go beyond the virtual world and build "face-to-face" relations with each other. Otherwise, communication between people in the true sense of the term cannot be established, said Snow, an Abe fellow at the Social Science Research Council of the United States and a visiting professor at Keio University in Tokyo.
The panel discussion was divided into two parts, the first half held under the title "70 years after WWII, can Northeast Asia move toward peace?" and the second on "Can 'Genron diplomacy' contribute to peace-building in Asia?"

Former South Korean Foreign Minister Yu Myung-hwan said that political leadership is certainly important, but that civic society also has an important role to play for democracy. "This can be said for all democracies," said Yu, chairman of the Board of Trustees of Sejong University in Seoul. The attitudes of people in the private sector are gradually changing in Japan and South Korea, Yu said. If this change can be felt by leaders on both sides, the political environment between the two countries may improve, he said. Yu was not optimistic that relations between the two countries will change any time soon. Japan and South Korea need to be patient in repairing their relationship, he said.
Restoration of mutual trust

Hitoshi Tanaka, chairman of the Institute for International Strategy of the Japan Research Institute, said that countries in East Asia should strive to restore mutual trust first of all to establish cooperative relations in the region.
Noting Japanese Prime Minister Shinzo Abe's plan to issue an official statement on the 70th anniversary of Japan's surrender in the last war in August this year, Tanaka said that Japan should take the occasion to clearly reconfirm that the country made a mistake 70 years ago. In the meantime, neighboring countries should properly appreciate Japan's efforts to rebuild itself after the war, he said. By doing so, Japan and its neighbors can break with their past and build mutual trust toward the future, Tanaka said.

Rong Ying, minister counselor at the Chinese Embassy in Japan, explained China's regional diplomatic policy with emphasis on friendship, peace and reciprocal relations with neighboring countries. This policy will lead to building a fortune-sharing community in this part of the world, contributing to peace and prosperity in the region, he said. In order to build win-win relationships in East Asia by overcoming the conflicts in the region, civic society's support will be indispensable, Rong said.
Tanaka outlined his original idea of "multilayer functionalism" as a means of resolving the challenges facing the region. The idea calls for forming function- or field-specific frameworks between different countries according to specific situations. Asian countries lack uniformity in terms of culture, values and the stage of economic development, and therefore it will be difficult to unify these countries in a comprehensive manner, such as with European Union member countries, he said. A proposed function in the security field will seek military exchanges between Japan, the United States, China and South Korea, while an economic function will make use of mechanisms such as the proposed Regional Comprehensive Economic Partnership, or RCEP. These frameworks will pave the way to build win-win relationships in the whole of the region, Tanaka said.
Reconciliation with the past

Former Indonesian Foreign Minister Hassan Wirajuda said that Northeast Asian countries have not fully eliminated the negative wartime legacies.
The countries concerned should convert the memories into a source of reconciliation, he said. "This depends on how Japan will reconcile itself with its past," Hassan said. While noting that Northeast Asia should be a leader in the world in the 21st century, Hassan warned that "signs of tension" in the region are being recognized worldwide. The member countries of the Association of Southeast Asian Nations (ASEAN) also have frameworks that accommodate non-regional countries, notably Japan, China and South Korea. These mechanisms have served as a bridge for dialogue between Northeast Asian countries and they should be further used, Hassan said.

Tanaka of Japan called on political leaders in the region to come up with grand visions in order to overcome the obstacle of extreme nationalism that hinders efforts to restore trust between peoples.
Rong of China said that the proposed visions should be based on common principles for East Asia. It may be difficult to pinpoint these common values, but there should be various opportunities, such as in the economic and cultural fields, to find them, he said.
Yu of South Korea said that China's active diplomatic moves in recent years have made many neighboring countries nervous that Beijing may be trying to restore a Chinese bloc. Chinese President Xi Jinping should issue a clear vision to show what China is trying to realize, he said. Rong admitted that China should strive to have its role understood by neighboring countries. But he also said that discussions are beginning in China on how it should behave in increasing its global presence in a peaceful manner. Beijing hopes that developed countries will watch moves involving China calmly and objectively, though they may feel pressured by its increasing presence, Rong said.
The first half of the discussion was attended by eight panelists - Tanaka, Miyamoto and Fujisaki, all from Japan, Snow from the United States, Yu from South Korea, Rong from China, and Hassan and Vermonte from Indonesia.

Attending the second session were Tanaka, Miyamoto, Yu, Rong, Snow and two other figures from Indonesia -- I. Ketut Putra Erawan, executive director of the Institute for Peace and Democracy and Rahimah Abdulrahim, executive director of the Habibie Center, one of Indonesia's leading think tanks.

Genron NPO's surveys

At the beginning of the second session, Genron NPO President Yasushi Kudo outlined the findings of two separate questionnaires conducted in 2014 covering well-informed people in Japan and China, and those in Japan and South Korea. The surveys revealed that polled people in Japan and China, and those in Japan and South Korea were increasingly feeling that each other's country posed a military threat. At a time when intergovernmental diplomacy is not functioning well in this part of the world, 79.4 percent of the polled said they pin hopes on private-sector efforts for diplomacy. In a keynote remark, Miyamoto stressed that the Genron public debate-oriented diplomacy will become more important in today's diversifying society.
"Our mission is to create a mature, democratic civic society," he said. It may be difficult to move people in one direction in today's society with its diversified values and ideas, but it will be possible to share grand visions, or broad ideas and values, Miyamoto said.
Efforts to come up with these visions represent the core importance of the Genron diplomacy, he said. While recognizing the value of the Genron diplomacy, Snow said that if Japan, China and South Korea can work together, and continue diplomatic activities on the non-government track, the situation will be improved for mutual confidence-building efforts.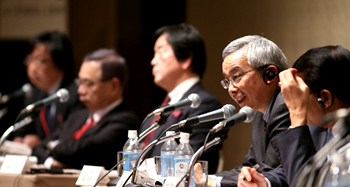 Noting that Japan has a diversified society with a basically mature democratic culture, Tanaka said the Genron diplomacy can facilitate diversified discussions in society.
The world's democracies are desperately fighting to maintain their societies, Miyamoto said. "We should no longer wait to see the emergence of a superpower," he said. Because the countries concerned should discuss problems of mutual concern together, Genron NPO-organized activities aimed at facilitating such discussions will be more important from now on, Miyamoto said.