Yasushi Kudo, president of The Genron NPO, visited Beijing on Sept. 1-2 to make preparations for the 11th Tokyo-Beijing Forum to be held Oct. 23-25. During his stay, he held discussions with China International Publishing Group, the joint sponsor of the annual workshop, as well as those involved.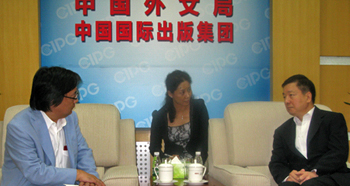 As Japan-China relations remain volatile, Kudo and Zhou Mingwei, director of China International Publishing Group, agreed on the prominence of the upcoming forum and expected it to shape the future form of dialogue between the two countries.
The two men also looked back on the 10-year history of the forum and renewed their determination to make the event a meaningful dialogue platform for the coming decade.

Kudo stressed the prominence of the forum as it brings together important economy and security policymakers and opinion leaders of the two countries, at a time when the world's attention again turns toward the future of China's economic conditions.
Obtaining the full support of the Chinese government, China International Publishing Group suggested the contents of the Tokyo-Beijing Forum be also transmitted to the world and the West.
Kudo also met with Zhao Qicheng, dean of the School of Journalism and Communication at Renmin University of China, and a founder of the Tokyo-Beijing Forum.
Zhao praised the forum highly for being held without any break despite soured bilateral relations between Japan and China over the past few years. Nevertheless, Zhao analyzed the current Japan-China relationship as being weak and fragile, and said that it should be nurtured to stand up for itself without extra pampering. To this end, Zhao expressed his high expectations of the Tokyo-Beijing Forum.