Sponsored by the China Foreign Affairs University, the second Trilateral People-to-People Exchange Forum was held Aug. 30-31 in Changchun city, Jillin province, China.
A total of 200 opinion leaders and top media figures from Japan, China and South Korea came together to discuss the three themes of "political reliability among the three countries," "the role of the media" and "ways to enhance economic exchange."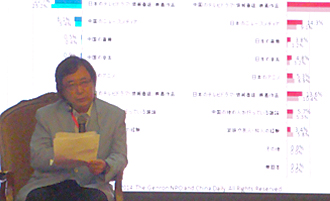 Yasushi Kudo, president of The Genron NPO, attended the forum as a panelist and talked about ways to promote media cooperation among the three countries. He also emphasized the importance of diffusing a cooperative relationship in East Asia.
Panelists from Japan and South Korea introduced the joint projects and cross media activities of the three countries, and stressed that even when there are difficulties in the political and diplomatic arenas, it was important to promote a media-led collaborative relationship in the areas of youth exchange, environment, culture and sports.
The panelists further commented on how SNS and new media have provided a new means of information collection among young people, thereby changing their knowledge of surrounding countries. As such, they said it was important to properly acknowledge the power of such new media. Concurrently, they pointed out the need to review conventional media and revise ways of expressing opinions on other countries.

Kudo noted how public opinion in the three countries affected nation-level relationships, with provocative media reports aggravating such conditions. He also commented that though the opinion polls conducted by The Genron NPO on the three countries showed 70 percent to 80 percent of the respective citizens seeking improved relations, their opinions were neglected by the media since they were the "quiet majority" who didn't speak up.
Kudo then emphasized the importance of establishing a private-level framework for holding problem-solving dialogues that provide stability and order to Northeast Asia. He explained how the Tokyo-Beijing Forum, organized by The Genron NPO, has functioned in such a way over the years. Since the Tokyo-Beijing Forum has come to be acknowledged by government leaders in Japan and China as a new form of "private-level diplomacy," Kudo assumed the forum could well open a new page in Northeast Asian history.