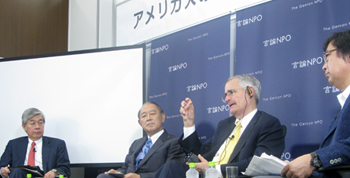 The United States will continue to place great importance on Asia as a pillar of its foreign policy in the future, whoever becomes the next president, according to noted American and Japanese experts in Japan-U.S. relations.
Given the overt U.S. inclination to see China as an indispensable economic partner, the most effective way for Japan to woo Washington is to fix its own economy by successfully implementing "Abenomics," they agreed at a recent Tokyo forum on Japan-U.S. relations.
The observation was made during a forum panel discussion, f involving three experts - Bruce Stokes, a senior researcher at the Pew Research Center, a Washington, D.C.-headquartered think tank, Glen S. Fukushima, a senior fellow at the Center for American Progress, another D.C.-based think tank, and Ichiro Fujisaki, a former Japan ambassador to the U.S. The debate was moderated by Genron NPO President Yasushi Kudo.
At the outset of the second session of the one-day 1st Genron NPO Forum on Sept. 19, Kudo acknowledged that many Japanese and Americans now recognize the strategic importance of Japan-U.S. relations in coping with the power shift in Northeast Asia, triggered by China's rise as an economic and military power.
The Pew Research Center's Stokes said that U.S. President Barack Obama was the first American chief executive ever to have advocated an "Asia Pivot" or "Asia rebalance," to commit more military resources to Asia. "This was because he grew up in an era when Asia was becoming the center of the world economy, whereas the generation before him considered that Europe led the way. In that context, this is a generational thing as well as being a military issue. And this is the reason why the Asia Pivot will continue into the future," he said.

Fukushima, a former deputy U.S. trade representative, agreed and added that the U.S. rebalancing policy is being extended to the economic arena, due mainly to Asia's great potential and dynamism as a fast-growing market. He also referred to the vast population growth of Asian-Americans in the U.S., which in turn allows them to make massive contributions to and influence U.S. policy and society. "Highly educated and earning good salaries, they will also be keenly interested in all Asia-U.S.-related matters, including security, economy and culture," he said. Fukushima also noted the huge increase in the number of Chinese students studying in the U.S. as compared to the dwindling number of Japanese students studying there, and stressed the importance of Japan enhancing and encouraging human relations in order to promote human exchange and working together.

Former Japan ambassador to the U.S., Fujisaki, referred to Japan-U.S.-China relations and said that the rise of China has both merits and demerits for the U.S. For instance, China's military expansion and its apparent inclination to ignore international rules on human rights, intellectual property, maritime governance and so on, pose threats to the U.S. Meanwhile, China's economic growth is providing great opportunities for American businesses, he noted. Under such conditions, what matters for Japan is not to choose between relations with the U.S. and with China, but to maintain a balance in dealing with the two countries, Fujisaki said.
As to the future relationship of Japan and the U.S., Pew's Stokes said: "We must think about what is needed to convince Americans and Japanese to work together. Though the external threat may be one factor, nothing is more helpful than economic success. Hence, I look forward to Japan's economy rebounding. If the Japanese economy improves as the Chinese economy falters, I think some Americans would pay more attention once again to Japan."
He also noted how Pew's survey found Americans not necessarily liking China and that they may in fact be fearful of China. "Americans are, nevertheless, doing business with the Chinese, simply because the future of the economy relies on them. American people are very pragmatic in that sense," Stokes said.
Agreeing with Stokes' comments, Fujisaki said, "Japanese must be aware of the fact that the success of Abenomics, Abe's support in the Upper and Lower Houses of the Japanese Diet, and his remaining three years in office, are the very reasons why he was enthusiastically welcomed in Washington this April."
Regarding the Japan-U.S. Security Treaty, Fujisaki assumed Abe's forceful revision of the law to allow Japan's right of collective self-defense, was in response to President Obama's speech last April that welcomed such a move by Japan..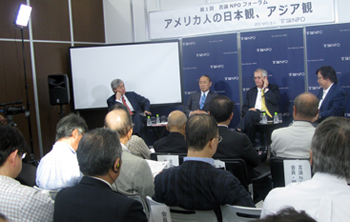 As to the question of whether the U.S. general public considers China as a threat, Stokes replied that this depended on how you define threat. He said the real concern of the American people today lay elsewhere such as ISIS, terrorism and Russia. "But in terms of the economy, it is clearly China, first and foremost," he added. He further noted that he is unaware of any survey that asked whether Americans would consider it necessary to use its military force to defend Japan, should Japan get into a military conflict with China. But if Americans were asked whether they would defend Japan tomorrow because of a pressing threat from China, "This would suddenly become a practical question instead of being hypothetical."
"Fully agreeing to defend its NATO allies in theory, the reaction of the general public may become very different and the figures for a positive response to defend an ally are apt to go down because their sons or daughters may actually die in a military clash," he added.
Fujisaki further commented that it's not a matter of whether it's a risk or a chance, it is both. The mood of American public opinion will differ, depending on circumstances leading to such a military conflict, or which side had provoked the conflict. Fukushima said that not only American public opinion but those in Japan and China will be affected by how the government and the media of each country inform them about it, and the attitude of the respective governments will be eventually influenced by such public opinion.
On U.S. economic ties with China in the context of Japan-U.S. relations, Fukushima admitted that in the medium and long terms, or in the coming 20 to 30 years, it is inevitable for the U.S. to opt for China, instead of Japan, in terms of economic benefits.

Stokes said that even though Americans have opinions on trade, their interest in it is generally very low, and China's economic threat to the U.S. will not be high on the agenda in the upcoming U.S. presidential election. "But if you asked Americans do you think trade creates jobs or destroys jobs, the vast majority would answer that it destroys jobs. But that doesn't mean overly protectionist policies would be adopted by the U.S. government," he said, adding, "What is said in political campaigns usually doesn't mean anything in practical terms."
Fujisaki, meanwhile, said that trade could be high on the U.S. political agenda as China takes a greater role on the international stage, such as the TTP, human rights, intellectual property and so on. In such a situation, Japan should enter the arena first to prepare fair rules that are honed through thorough discussions with everybody. "This, in turn, will allow easy entry for a country like China. We have entered an important era when such new rules must be created through the consensus of all," he stressed.
He and Fukushima were both of the opinion that American politicians may associate trade issues with the unemployment problem for their own political gains.
Toward the end of the debate, Kudo asked Stokes about the relationship between public opinion and its impact on policy-making. Stokes replied that history proves that the denial of public opinion would make any U.S. administration unsustainable, "making that administration pay a high price. However, we also should not overestimate public opinion because it is not always wise or insightful," he said.

In closing the forum, Kudo expressed his resolve to promote "Genron Diplomacy." "It is necessary to create an environment in which public opinion will help to sustain efforts for problem-solving, instead of becoming emotional and serving as an obstacle to problem-solving," he said. "Amid a major shift in the security environment in Asia and the world, we are set to continuously take on the difficult task of identifying an appropriate role for public opinion to play in problem-solving."