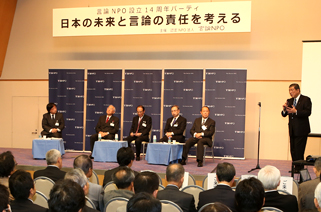 The Genron NPO hosted a celebratory gathering November 14 in Tokyo to commemorate its 14th anniversary under the theme "The Future of Japan and the Responsibility of Public Debate."
It opened with a brief eulogy by Genron President Yasushi Kudo for Yotaro Kobayashi, a former Advisory Board member and dedicated supporter of the NPO's mission. Since Genron's inception to his passing earlier this year, Kobayashi, a respected business leader, was deeply concerned about the status of democracy in Japan.
A panel discussion then followed during which four panelists offered their analysis and views on developing a sound democracy in Japan.

Kazuo Ogoura, a former ambassador to South Korea and France and current advisor to the Japan Foundation, emphasized the need for greater awareness of civic responsibilities among the Japanese people, who should act on their own instead of holding the media or others responsible.

Mitsuo Ohashi, an honorary advisor of Showa Denko K.K., similarly stressed that the Japanese people need to recognize their obligations and responsibilities. Japanese people think little about democracy because it cost them nothing; it was granted in the course of history, he noted.

Yuji Miyamoto, chairman of the Miyamoto Institute of Asian Research and a former ambassador to China, related his experience of talking to a French diplomat who expressed his views on human rights. Miyamoto, meanwhile, primarily referenced the response to the guidelines of the U.N. Commission on Human Rights. The Japanese people should train themselves to think on their own about freedom, democracy and other issues, while The Genron NPO should offer them criteria upon which they can base their judgments, he said.

Ichiro Fujisaki, director of Sophia University's Institute of International Relations and a former ambassador to the United States, said that he believes that Japan is on the right track. However, he is concerned about the recent volatility of national sentiments, as well as overheated and biased public opinion. He called for the emergence of a real "cool Japan," which would support a functioning democracy.

One of the invited guests, Shigeru Ishiba, the Cabinet minister in charge of bolstering local economies, said that there are no healthy discussions on such important issues as U.S. military bases, the right to collective self-defense and constitutional reform.
"In order to build a sound democracy, the people are expected to make judgments on the basis of level-headed and logical thinking," he said, adding that the discussions are more important than ever before.

Keiichio Asao, a member of the House of the Representatives, said that opposition parties must also address important issues proactively, and not simply oppose the government's position all the time.
Genron NPO President Kudo concluded the discussion with his pledge to expand the NPO's networks for promoting active debates and discussions and, consequently, for developing a true democracy in Japan.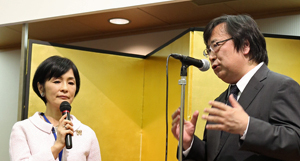 About 130 people attended the anniversary party that followed, including prominent policymakers, diplomats, scholars and media, who congratulated the NPO for its performance.
Chief Cabinet Secretary Yoshihide Suga sent a telegram message praising The Genron NPO for continuing Japan-China dialogues when the relations between the two countries were experiencing many difficulties.

Seiichi Kondo, formerly a veteran diplomat, pointed out that a liberal democracy is one system that could head off in the wrong direction, depending on who is driving, referring to Francis Fukuyama's theory. "The Genron NPO should become a driving school for citizens, all of whom need to qualify for its drivers' license," he said.

Expressing a high opinion of the NPO's accomplishments, Professor Masako Egawa of Hitotsubashi University's Graduate School of Commerce and Management offered two pieces of advice for the NPO's further development: 1) Share the same sense of crisis within the organization, and 2) Get more young people involved in its activities.

Toshiyuki Ito, an editorial board member of the Yomiuri Shimbun national daily newspaper, meanwhile, pointed out that the mass media tends to oversimplify complicated issues to produce easy-to-read stories. As such, he said, it is significant that The Genron NPO would struggle in tackling these issues amid such a media tendency.

In response to those guests' comments, President Kudo promised that his NPO would endeavor to become a catalyst for changing such a situation and work for the betterment of the future of Japan.