On Aug. 19, 2016, The Genron NPO hosted an open forum in Tokyo on issues of democracy in Asia. The event brought together 14 experts from India, Indonesia, and Japan to address the question, "Is democracy in decline?"
In the first session, the panelists discussed the challenges of democracy and globalism, and in the second session, they discussed the challenges faced by Asia based on the results of public surveys undertaken in the three countries.

Genron NPO President Yasushi Kudo opened the forum with a brief overview of what the organization is aiming for with its new Asia Forum of Opinion Leaders (AFOL).
The AFOL was designed to be a platform for discussion on how to handle the challenges faced by democracy and globalization - a forum for policy experts to work together to identify common challenges, to propose and promote solutions, and to bolster the foundations of democracy.

The keynote speaker was Shinsuke Sugiyama, the Japanese government's current Vice-Minister for Foreign Affairs.
Sugiyama pointed out that while the concept of democracy was built in the West, the approach to democracy taken by Asian countries is unique. He believes that the implementation of democracy should take into account local culture, history, and national character, which will allow it to be more flexible.
"Our priority shouldn't be to impose the mechanisms of democracy, but to promote the true essence of it," he said. "Democracy must recognize diversity and plurality, with all citizens taking part. It is not one-size fit-all."
Sugiyama finished his keynote by expressing his hope that as the attendees discuss the democratic challenges we face in Asia, the forum would become a celebration of the three nations building an even closer relationship than ever before.
Session 1: Is Democracy in Decline?
Challenges of Globalism and Democracy

Moderator Ken Jimbo, an associate professor at Keio University's the Faculty of Policy Management opened the first session by asking the panelists to consider the state of democracy over the past twenty years. Jimbo asked Hassan Wirajuda, Indonesia's former Minister of Foreign Affairs, and Yoshimasa Hayashi, a current member of Japan's House of Councillors, to present their opinions for discussion.

Hassan Wirajuda began by reminding us of how the world had watched the events known as the Arab Spring with the hope that we would soon see a brace of new democracies arise. Unfortunately, "the Arab Spring turned into a dark winter in the Middle East and North Africa."
Those events showed that while democracy is a universally accepted system of governance, it is not "contagious" so it must be promoted at the global level. An example of the failure to do so can be found in the U.N. Security Council, a forum with five permanent members who "dominate the entire international discourse on peace and security," he said.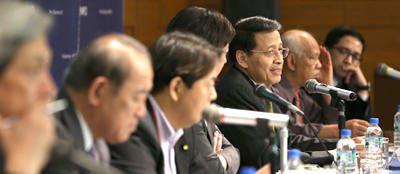 Wirajuda noted that in many emerging democracies, there is temptation to revert back to their authoritarian past, but of equal concern is the qualitatively decline in established democracies, particularly in the West. They are failing to reconcile their democratic principles with the idea of accepting differences of opinion, ethnicity, and tradition.
"Tolerance is a democratic principle," Wirajuda believes. "And democracies like Japan, India, and Indonesia must work closer together, to promote democracy as a major component of a new regional order in Asia."

Former Defense Minister Yoshimasa Hayashi spoke next, stating that while in the past the ideas of democracy and free economy were intertwined, that is not always true today.
"We have come a long way since the 19th century," he said. "The middle class is large, which is important for democracy, but the economy is not doing too well. Those with capital are making the money ... and we end up with a small group of rich people, and a large group of unhappy people."

Hayashi noted that this phenomenon can already be seen in the U.K. and the U.S., where the middle class has begun to feel that the rich are "robbing" them. The problem is, he continued, "we have a system in which a line has been drawn between the elite and everyone else. That is one reason democracy may be declining, he said.
Hayashi concluded by stating that, "Ownership is very important. People have to be engaged with their politicians. The voter is responsible for voting."

Next to speak was Azyumardi Azra of Syarif Hidayatullah State Islamic University in Jakarta. Azra touched upon the idea of globalization as a "double-edged sword."
"On the one hand, it brings liberalism and democracy, but it also affects the spread of violence and terrorism," he said. Azra believes that we need to "consolidate" democracy in countries like Indonesia, "the sole successful Islamic democracy," but we must also improve democracy by promoting good governance.
"We need to strengthen the dialogue between established democracies like Japan and new ones like Indonesia," he said, adding that Japan could play a strong role in the spread of democracy in the Middle East, where it may be seen as having no strategic agenda for the region.

Ichiro Fujisaki, a former Japanese Ambassador to the U.S., commented on globalization by saying, "To compete, you must deregulate ... and more deregulation makes countries stronger." He reminded the panel that regulations are there as a sort of "imposed fairness," but the aim is not to impose fairness, but equality.
Fujisaki believes that people are less frustrated at democracy and more frustrated at the establishment and existing institutions.
"Such frustrations can be resolved through the imposition of inheritance tax and other forms of progressive taxation," he said and pointed to Japan as a good example of the success of this approach. "There are some outrageously rich people both inside and outside of Japan, but there are fewer in Japan. To a degree, it is equality that needs to be protected."

Philips Vermonte, executive director of Indonesia's Centre for Strategic and International Studies, noted that before we try and promote democracy, "we have to agree on some aspects" of it.
"The first ... is freedom, both political and economic ... including equal access to political and financial institutions," Vermonte stated. The problem is that not everyone has such access. While Vermonte does not believe that democracy is in decline, he does feel it is being put to the test.
Another aspect Vermonte believes is a necessary part of democracy is accountability, something difficult to obtain with poor levels of press freedom or a lack of transparency. Equally important is the "regular alternation of power peacefully," and Vermonte pointed out that Japan and Indonesia face the same problem in that "democracy is hijacked by those with large capital promoting policies not useful to the public, but only to those in power."

Kiichi Fujiwara, a professor of international politics at the University of Tokyo said that it is not democracy that is in decline, but liberalism. Democracy provides a route for participation in politics, but it can potentially lead to authoritarianism. "If the majority rules, what happens to the minorities?" he asked. Fujiwara pointed to the U.S. as example of the potential danger of a decline in liberalism.
Politicians "are trying to gain support of minority, but where are the majority? White males were once the majority in the U.S., but now they are sidelined. What happens if they become violent?"
Yoshiko Kojo, a professor of international relations at the University of Tokyo, agreed that the advanced democracies created the model for liberal democracy, but "now we see the rise of politicians like (Donald) Trump (in the U.S.) and the ultra-right in Europe." "That is endangering the democratic model," she continued. "By promoting globalization, people are getting angry at the government."
The growing economic gap between the rich and the poor is increasing people's expectations of the government, Kojo says, but the government is limited in its options as it does not want to introduce unpopular policies.
India and Indonesia are developing economically, but the "middle income trap" must be avoided," she stated. "Both countries need to overcome that through redistribution. Otherwise, liberalism and economic development cannot co-exist."

Toru Yoshida, a professor at Hokkaido University, pointed out his belief that economic development and democracy aren't necessarily connected. The decline in growth has led to stagnation in advanced democracy and instability in their democracies, and the continued drop in voter turnout since the 1970s has led to different forms of democratic expression such as boycotts and the rise in populism, Yoshida said.
Session 2: Is Democracy in Decline? Challenges of democracy in Asia
based on the result of the Democracy Public Opinion surveys

Genron NPO President Yasushi Kudo returned to the stage for the second session to serve as moderator and to summarize the results of the surveys on democracy conducted in India, Indonesia and Japan. Upon completing his summary, Kudo asked Yenny Zanuba Wahid, director of The Wahid Institute, to make the opening remarks for Session 2.

Yenny Wahid started by pointing out that democracy defined by western standards is relatively recent in Asia, and people are questioning whether it is effective. The perception is that democracy is equal to economic progress, and they feel disheartened when progress is not achieved. Wahid herself believes it is a long, drawn-out process, and people sometimes do not have the patience to wait.
Wahid believes that several steps are necessary to improve. First, corruption must be stopped through judicial reform and stronger rule of law. Second, the military must be "tamed" by empowering civil society traditions and making sure civilian diplomacy remains the wish of the people, but we must be careful.
"You cannot put (the military) in the corner," Wahid warned. "They will fight back, like in Egypt."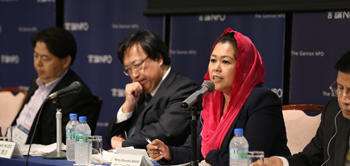 Wahid stated that the third important step was to ensure that the voices of minority groups - women, minority ethnicities, etc. - are heard.
She concluded by stating that "Democracy is a long race. We need stamina to stay the course. Japan, Indonesia and India have a combined population of 1.5 billion people ... we can affect how democracy is seen (around the world)."

Kudo next looked to Mihir Swarup Sharma, a senior fellow at the Observer Research Foundation, to give the Indian perspective of Asian democracy.
Sharma referred to the survey results and pointed out that, "Indians are tremendously optimistic about democracy. Liberal democracy ... has become part of our national identity ... and (ensures our) diverse country stays together."
An important part of democracy, according to Sharma, is that sometimes it is about not making decisions at all - it is about postponing them when a consensus cannot be reached.
"People say that democratic governments cannot make decisions, but that is because people can't make decisions and the government reflects the people."
Sharma also pointed out the differences between the western model of democracy and democratic states of Asia, and his hope that "there is much to learn from the Asian model." Sharma believes that in India, "we have understood things that the West has not."
"Demo is about discussion," he continued. "And crucially, those who are excluded from other forms of power are who will be its strongest supporters. It is a failure of democracy that working classes in the U.S. and U.K. do not feel empowered to make their voices felt."
Hassan Wirajuda pointed out that while democracy may have western origins, it is also inherently Asian in substance. India, Indonesia, and Japan all have strong traditions of engaging in dialogue - an essential aspect of democracy.
"But we are far behind other regions," Wirajuda noted. "The state of democracy in Asia and the Pacific is a matter of concern."
However, he also recognizes the dangers of imposing democratic government on other nations, which is why Indonesia founded the Bali Democracy Forum in 2008 as a platform for "sharing of experiences." The goal is for the forum to promote the spread of democratic principles in a more organic way.

Ken Jimbo returned as a panelist for the second session and pointed out the rapid expansion of democracy among the ASEAN nations beginning in the 1970s, then contrasted that with the declining freedom index of the past decade across the region.
While most ASEAN countries have "come a good way economically," their political structure has not yet become liberalized, Jimbo said. The middle class "created" by the governments of Asia is different than the middle class found in Europe, and many believe their power will be taken away by liberalization.

Hayashi made a quick comment about the possibility of having a shrinking GDP but continued increase in individual happiness and satisfaction. He referred to a study that indicated individuals start to become less happy as their incomes rise beyond 10 million yen a year, suggesting that GDP growth "isn't everything. That kind of perspective needs to be discussed."
Kudo asked Vermonte about the state of taxation in Indonesia, and he responded by saying, "One indicator of a modern state is the ability to mobilize resources, including taxes." Vermonte believes that Indonesia is weak in terms of the taxation aspect. Leaders must sometimes go against the will of the majority, even if it is against the principles of democracy, and a democracy based on taxation, "is the way forward."

Ichiro Fujisaki wrapped up the forum with a note of optimism.
"We have talked about many problems with democracy today," he said. "And if you just hear about the problems, you will think democracy is on the verge of destruction. But that is also its strength. If we talk about it, we can find solutions. The USSR and some countries in the Middle East - and potentially North Korea and China in the future - these systems have collapsed. But within democracy is a built-in maintenance function that allows us to reset the government to avoid collapse. That's the essential difference between democracy and other systems."