Opinion leaders from five Asian countries, including Japan, recently exchanged views on a variety of challenges facing democracy in Asia in light of growing populist sentiments around the world. They also discussed other social developments, notably the spread of new media tools, as well as the diversified political environments in Asian countries.
The occasion was the second Asian Opinion Leaders Forum held in Jakarta, the Indonesian capital, on May 4. The meeting was organized by the independent, not-for-profit Japanese think tank The Genron NPO. The inaugural forum took place in Tokyo in August 2016.
The meeting brought together eight well-informed authorities from Japan, Indonesia, the Philippines, Malaysia and Singapore. Japan and Indonesia were represented at the first meeting together with India.
The latest forum, under the overall title, "How to advance democracy: A decline in democracy and Asia's role," was divided into three sessions. The first session was devoted to examining the current situation in the region, and challenges to democracy in Asia and in the world, followed by discussions about Asian democracy and challenges to their respective countries at the second session, and those about the development of democracy and Asia's role at the third session.
The forum panelists were: Maria Faina Lucero-Diola, an assistant professor of public administration, the National College of Public Administration and Governance, the University of the Philippines; Alan Chong, an associate professor at the S. Rajaratnam School of International Studies in Singapore; Tan Sri Rastam Mohd Isa, chairman and chief executive of the Institute of Strategic and International Studies of Malaysia; Ibrahim Suffian, cofounder and director of programs, the Merdeka Center for Opinion Research of Malaysia; Agus Widjojo, a retired lieutenant general and former vice chairman of the People's Consultative Assembly of Indonesia; Endy Bayuni, editor-in-chief of The Jakarta Post; former Indonesian Foreign Minister Hassan Wirajuda; and Yasushi Kudo, president of The Genron NPO, who served as moderator.
The meeting came at a time when efforts to build democracy in Asia are facing a difficult environment amid increasing populism and anti-foreignism along with the spread of "domestic-first" policies in the United States and in some European countries. Their discussions also covered the current situation in East Asia, where authoritarian regimes and political leaders are garnering popular support.

In a keynote speech at the first session, Wirajuda of Indonesia noted that democratized nations account for only about one-third of the 56 countries in the Asia-Pacific region.

Asia lacks a common regional regime that promotes democracy, he said, while comparing the situation in Asia to the inauguration of the African Union in 2002 following the Arvore declaration issued in 1990 by then French President Francois Mitterrand concerning assistance to African countries.
Asian countries have largely focused on enhancing their economic growth and promoting development, while countries with a one-party rule or an authoritarian political system have achieved high economic growth, and these facts have made democracy less attractive to people in this part of the world, according to Wirajuda.

Rastam of Malaysia mentioned factors that influence the course of democracy in the world, among them progress in globalization and anti-elite sentiments, changes in technologies and media activities, the independence of the judiciary, and human rights and anti-terrorist measures.


Specifically, he cited difficulties in keeping a balance between measures to contain domestic anti-government activities and respect for human rights. He also said more attention should be paid to the influence of fast-spreading social media tools, such as Facebook.

Rastam also stressed the importance of developing a gauge that could be used to measure the nation-specific stages of democracy, noting that the political and economic systems of Asian countries are highly diversified.

Explaining that efforts for democracy are linked to regulations, the political environment, and economic and social rights in the countries involved, Chong of Singapore stressed that more specific factors should be collected to assess how far democracy has taken hold.


Bayumi, the Indonesian journalist, emphasized that Indonesia has had two presidents elected through a peaceful, democratic process since 1998. "This means that democracy has come to be properly established in terms of procedures in Indonesia," he said.


"Indonesia has yet to have a democratic culture in which different opinions are respected," Bayumi added. Because the country will have a general election in 2019, special note should be made to efforts to improve the situation, he said.
Diola of the Philippines said that the fate of democracy in her country depends on whether the values enshrined in the revised 1996 constitution with emphasis given to human rights will be respected by various public and government organizations.

If the Philippines is to move forward, these commonly accepted values should be understood by ordinary people so that they come to support the government, said Diola, who is involved in human rights activities.
"Efforts must be made to have ordinary people's desires reflected in politics or democracy will not function properly," she said.
Ibrahim of Malaysia said that there are many communities in Indonesia because it is a multiracial country. There are also political parties based on specific races, he said, who have their own agendas, and it is difficult to strike a balance between such very different positions.

Malaysia will have general elections from now on, and at a time when the world appears to be moving backward amid the spread of nationalist and populist sentiments, the forthcoming political events will be even more important as an occasion to strengthen the roots of democracy, Ibrahim said.

Discussion at the second session focused on the diversity among Asian countries mainly in terms of the history of democracy, the racial structure and the various stages of economic development they had achieved.
Participants at the first forum in 2016 agreed that four specific points must be maintained as key factors to constitute a desirable stage of democracy. The panelists' discussions at the latest meeting evolved around these values, too.
The points adopted at the 2016 meeting were the presence of mechanisms in which people can exchange opinions freely and take part in government within the framework of existing institutions, including electoral systems; the functioning of a cycle for problem-solving through the existing institutions; the confidence of the people in these problem-solving mechanisms, including measures to contain corruption, and a fair and equitable electoral system; and people's engagement in government as sovereign and committed citizens.
A keynote speech at the second session was delivered by Diola, who cited factors that impede the development of democracy in the Philippines. Among them are natural disasters that she noted widen economic gaps and worsen poverty, and the tendency for anti-government activities to spread under politically weak administrations.
Diola noted that political forces in the Philippines tend to give priority to their policy goals and waste time repeating arbitrary political squabbles, showing little respect for the historical and cultural differences of the people. She also mentioned favorable signs like an increase in non-governmental organizations that monitor public organizations and moves toward building a civil society.
In another keynote speech, Chong said that Singapore outdoes Japan in terms of per capita gross domestic product. A challenge for Singapore's democracy is how to enhance community-based confidence by strengthening communities rather than individuals. He based his analysis on Singapore's special characteristics, such as its identity as an island nation and a multiracial country, as well as the fact that foreigners account for two-fifths of its population of 5.3 million as a result of globalization.
Opportunities are increasing for Singapore assemblymen to have direct contact with the people, while the government replies to individual e-mailed requests and inquiries, and assemblymen sometimes move to personally solve the problems of constituents, and as a result, people's confidence in government is basically strong, according to Chong.
Wirajuda, the former foreign minister of Indonesia, recalled that the Philippines has succeeded in disseminating education but that elites in society have tried to hold back social mobility in order to protect their privileges, which, in turn, has hindered the progress of democracy in the country.
Meanwhile, Indonesia has achieved a smooth transition to democracy, partly because its independence war made it difficult for the elites to receive special privileges, and as a result, Indonesian presidents have come from various walks of life, he said.
Philippine President Rodrige Duterte's administration, which seems to have little respect for human rights, is based on his achievements as mayor of Davao, notably his successful anti-drug campaign, but citizens' groups and NGOs have become critical of his political attitude and policies, Diola said.
A close watch should be kept on whether the government will fully implement his public pledges and move to build an accommodating society under the name of democracy, she said.
In discussions at the third session, Wirajuda bitterly criticized the moves of populist forces, warning that they treat globalization "unfairly" in their campaigns. As globalization has progressed, nation-to-nation economic gaps have become smaller, but at the same time, some people benefit from globalization while others suffer because of it. Populists only try to fan people's negative feelings during election campaigns, he said.
Bayuni said that populism is also a part of democracy. Populist politicians can win the support of voters if they have good policies and good visions, he said. Because the Internet has become a communication tool that these politicians use to fight elections, the influence of the new media should be examined, Bayuni said.
If the governing party is unable to achieve its policy goals, it will lose the next election, Wirajuda said. "Voters are not stupid," because so much information is available today for them, he said.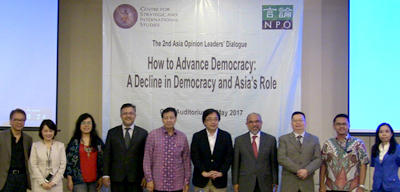 "The judiciary should be primarily responsible for resolving voter dissatisfaction with elections," Wirajuda said. The judicial system should play a central role in handling disputes over election results, he said.