Date and Venue: Tuesday, 19 November | Tokyo, Japan
1:30~6:20pm  The Tokyo Conference on Democracy 2019 Forum
6:30~8:30pm Reception
Main theme: How to reinvent our democracy and
liberal international order -" What are our responsibilities ? "
Panelists: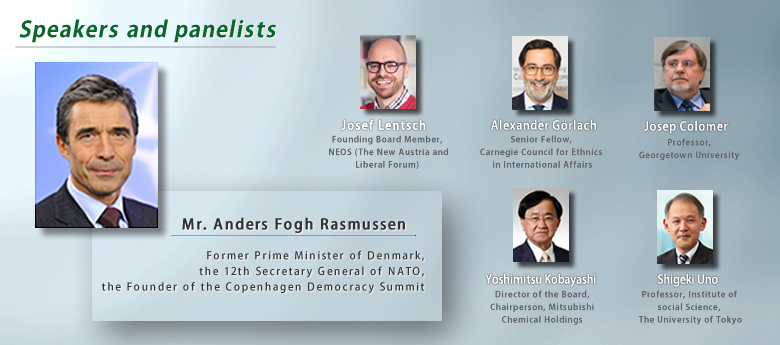 For details, please visit the Japanese website.
Overview:
As Japan's leading not-for-profit think tank with its mission of strengthening democracy, The Genron NPO will mark the 18th anniversary of its founding in November this year. Since its inception, we have committed all our resources to the task of strengthening Japan's democratic system, and of serving as an organizer and facilitator of discussions on ways to pursue peace in Asia and solve problems facing Japan and the world. 
Now we see a destabilizing international order and worsening trade conflicts. The rule-based liberal order and democracy, the further development of which we should pursue, is in danger of falling apart, and the prospects for the future are becoming increasingly dim. Such being the case, we think that we are now at a critical phase where the real worth of The Genron NPO is being put to the test.
In facing these draconian changes and difficulties, we consider it an urgent necessity to create a new and strong movement in Japan to strengthen the resiliency of the democratic system, and to address in earnest the challenges for the future of Japan and global issues. Based on such a commitment, the theme is "Our Responsibility in Restoring the International Liberal Order and Democracy." We will have the privilege of welcoming former Danish Prime Minister Anders Fogh Rasmussen, who is also a former Secretary-General of NATO, as a keynote speaker, as well as several other world-renowned leaders in the movement to reform the democratic system.
We look forward to having you join us at this memorable event to witness the Genron NPO's new challenges.