The world has been suffering from the COVID-19 outbreak while the US-China rivalry and unilateralism has casted a shadow over international cooperation on our pressing global agendas. The unstable world order has impacted the peace, security and economic prosperity in Northeast Asia.
In this historically crucial moment, the Tokyo-Beijing Forum 2020 was hosted by The Genron NPO and attended by nearly hundred high-profile speakers from both countries on November 30 and December 1. During the two-day event, guests from political, business, academic, public health and media circles of Japan and China discussed a range of issues both in-person and online. Topics included bilateral relations, epidemic prevention and control, economic and trade cooperation, digital technology, and regional peace and security, and bilateral diplomatic relations.
State Councilor and Foreign Minister Wang Yi addressed the opening remark. Japanese Foreign Minister Motegi Toshimitsu also sent a message to the forum. In addition to the plenary session, the forum had six breakout sessions on pressing issues and interests.
The discussions will be livestreamed on YouTube. If you would like to watch, please visit links below in scheduled time.
Check out our videos from this year's inspiring speakers at our high-level meetings of the Tokyo-Beijing Forum 2020.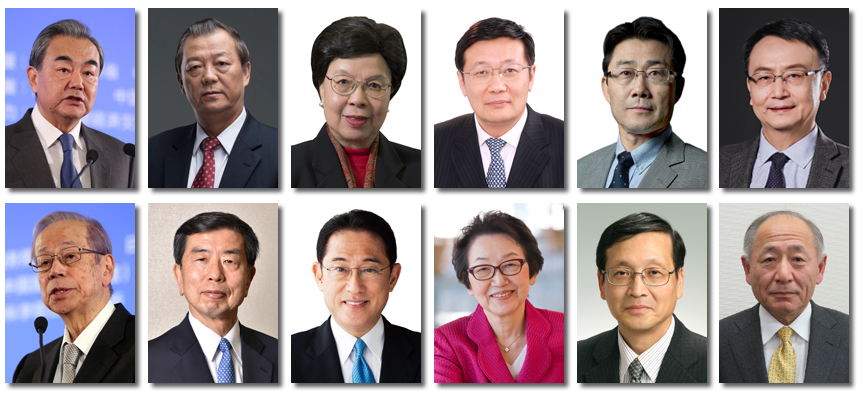 Date: November 30, 2020 (Mon) and December 1, 2020 (Tue)
Place: Tokyo and Beijing
Main Theme:The Post-COVID International Order: What roles for Japan and China?
Plenary Session/ Panel discussion
Monday, November 30 9:30am-12:20am

Opening remarks
Keynote speeches by
Xu Lin
, Deputy Head of Publicity Department of the Central Committee of the Communist Party of China, Director of the State Council Information Office
Yasuo Fukuda
, Former Prime Minister of Japan, Tokyo-Beijing Forum Supreme Advisor
Greetings by
Wang Yi, State Councilor, Minister of Foreign Affairs
Motegi Toshimitsu, Minister of Foreign Affairs, Japan
Toshihiro Nikai, Secretary-General, Liberal Democratic Party, Japan
Panel Discussion by
Fumio Kishida, Former Foreign Minister
Yuji Miyamoto, Former Japanese Ambassador to China
Katsutoshi Kawano, Former Joint Staff of the Self-Defense Forces
Rintaro Tamaki, Chairman of Japan Center for International Finance, the Former Deputy Managing Director of OECD
Zhao Qizheng, Director of the Foreign Affairs Committee of the 11th National Committee of the Chinese People's Political Consultative Conference (CPPCC)
Cheng Yonghua, Former Ambassador to Japan, Member of the Foreign Affairs Committee of the 12th National Committee of the Chinese People's Political Consultative Conference (CPPCC)
Yao Jingyuan, Former Chief Economist at Office for National Statistics
Yao Yunzhu, Retired Major General of the Chinese People's Liberation Army, Senior Advisor to the China Association of Military Science
Breakout session #1: COVID-19 and Japan-China Cooperation
Monday, November 30 1:30pm-3:30pm

Hitoshi Oshitani, Professor of the Tohoku University, Member of Japan's Government Advisory Panel on COVID-19
Yasuyuki Sahara, Deputy Director for Crisis Management and Medical Technology, Ministry of Health, Labour and Welfare
Teruyuki Katori, Former Director of Pension Bureau, Ministry of Health, Labour and Welfare
Kayo Takuma, Professor at Tokyo Metropolitan University
Margaret Chan, the Former Director-General of the WHO
Gao Hong, Member of the 13th National Committee of the Chinese People's Political Consultative Conference (CPPCC)
George F. Gao, Director of the Chinese Center for Disease Control (CDC)
Zheng Zhijie, Professor and Dean of Faculty of Public Health, Beijing University
Wu Zunyou, Chief Researcher of the Chinese Center for Disease Control (CDC)
Su Wei, Deputy Secretary General of the National Development and Reform Commission (NDRC)
Zhang Weiwei, Professor of Fudan University
Breakout session #2: Trade and Economy
Tuesday, December 1 10:00am-12:00pm

Breakout session #3: The Future of Digital Technology and Japan-China Cooperation
Tuesday, December 1 13:30pm-15:30pm

Tatsuo Yamasaki, Former Vice Finance Minister for International Affairs
Toshio Iwamoto, Senior Advisor at NTT DATA Corporation
Norihiro Suzuki, Executive Director of Hitachi Ltd.
Taro Shimada, Head of the Digital Solutions Business of Toshiba
Tatsuya Ito, Chairman of the LDP Competition Policy Research Committee, Former Minister of State for Financial Services
Hiromi Yamaoka, Former Director of Financial Markets, Bank of Japan
Liu Song, Vice President of Alibaba Group
Xu Zhiyu, Director of Global Governance, Huawei
Jiang Tao, Vice President of Iflytek Co., Ltd.
Jia Jingdun, Director of Torch High Technology Industry Development Center, China's Ministry of Science and Technology
Fang Hanting, Vice President of Science and Technology Daily
Zhao Jiannan, Vice President of Tencent Cloud

About the Tokyo-Beijing Forum
When Japan-China relations were at their worst in 2005, The Genron NPO launched the "Tokyo-Beijing Forum" as a bilateral track II dialogue. This forum has met once a year even amid various difficulties in Japan-China relations for 13 years. The debates at the forum have been broadly reported by many media of both countries, and the forum has developed into an all-important, influential venue for track II dialogue in Japan and China.
In 2006, Shinzo Abe emphasized in an address the importance of Japan-China relations in this forum. Two months later, he made a surprise visit to Beijing as prime minister of Japan for the summit, and the bilateral relationship had significantly improved. In 2013, despite the increasing tension over territory, the 9th "Tokyo-Beijing Forum" adopted a "No-War Pledge," exemplifying the firm determination of Japan and China to solve issues under whatever conditions through dialogue.