The 17th Annual Tokyo-Beijing Forum, a high-level track II dialogue between Japan and China, was convened on October 25-26, 2021. This year's forum was held online, and after the opening ceremony, the forum got underway with a panel discussion about rebuilding Japan-China relations and international cooperation in an increasingly instable world.
The moderator described the heated discussions as a good example of why it is so important for Japan and China to engage in dialogue. During the discussion, one of the Japanese panelists emphasized that China is an important part of the international community, which is why it should fulfill its responsibilities as a major power by complying with international law and cooperating more. That discussion covered topics such as China's policies in Xinjiang and the Taiwan issue, both of which have been the subject of heavy criticism worldwide.
One Chinese panelist declared that if Taiwan tries to achieve independence, unification will by necessity be achieved through force. These statements were later discussed in more depth in six breakout sessions focused on specific themes, including politics, diplomacy, security, and economics, but the moderator summarized this particular debate by calling on both sides to show the wisdom required to achieve the crucial goal of establishing a lasting peace in the region and avoiding armed conflict.
The world is undergoing major change, and Japan and China should be working to build a cooperative "win-win" relationship
To begin the discussion, the forum welcomed Lou Jiwei, former Chinese Minister for Finance and current Director of the Committee of Foreign Affairs at the 13th Chinese People's Political Consultative Conference. He called for cooperation between China and Japan.
"This is the greatest period of transformation since the Great Depression 90 years ago. Regardless, differences in political opinion are becoming more visible, and we are seeing greater social disparity and an increase in populism. China and Japan should aim to build a cooperative, win-win relationship with each other," Lou said.
Japanese participant and former President of the Asian Development Bank Takehiko Nakao followed Lou's remarks by looking to five focal points, including issues arising from technological development faced by platform companies.
"These can lead to increased concentration of wealth and issues with the tax system, and to various other problems with data protection, privacy, and more. We need to begin thinking about how to balance distribution policies and growth through (policies like) "common prosperity" and "new capitalism," Nakao said. He also emphasized the importance of greater cooperation in dealing with climate change, aging societies, and handling COVID-19.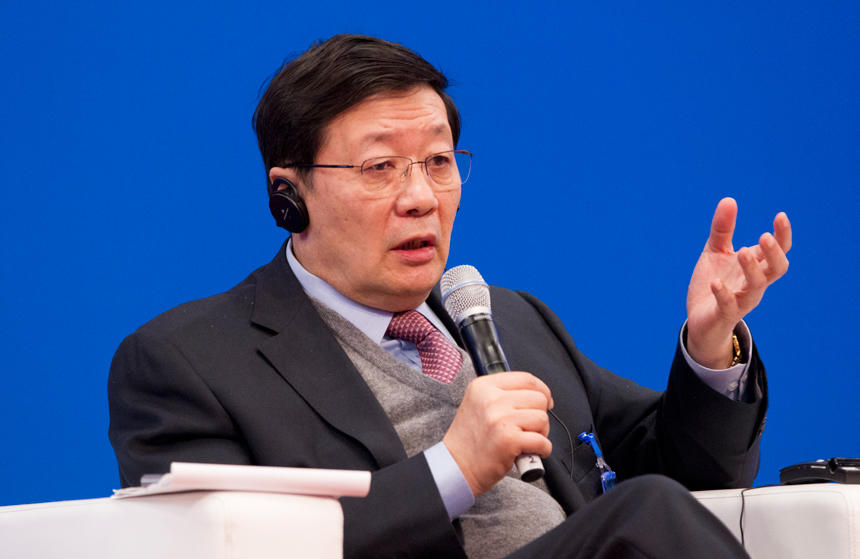 China should fulfill its responsibilities as a major power by complying with international law and cooperating more
Former Ambassador to Japan Cheng Yonghua pointed out that although next year marks the 50th anniversary of the normalization of Japan-China diplomatic relations, we are seeing little harnessing of the potential momentum offered by the milestone. He said that with a better understanding of international affairs in the 1970s, the two countries should, "Look over the process again and learn what were the initial intentions behind normalizing relations. We need to look to the next 50 years and stick to multilateral efforts as we aim for a higher level of cooperation."
Shinsuke Sugiyama has served as Ambassador to the United States and Vice‐Minister for Foreign Affairs, and he noted that when he returned to Japan from the US eight months ago, there were people in both countries talking about the "new US-China Cold War." However, he thinks that things have begun to change.
"China is in a completely different position than the former Soviet Union. Interaction between the US and China is not based on the number of nuclear warheads each has or on any ideological conflict. This is the first time that the world has ever seen a nation as colossal as China ? a nation that is increasing not only its military strength, but also its influence in digital technology and government and economics. It has thousands of years of societal and cultural history, and a population of 1.4 billion people. I think this, perhaps, is the source of unease among people in the US," Sugiyama suggested. Moreover, Sugiyama believes that China has a necessary role to play in the international community.
"We are not looking to 'contain China.' We are hoping that China will comply with international law to fulfill its responsibilities as a major power, and cooperate with other countries," he said.
Japan will be unable to ignore any attempt by China to change the status quo using military strength
Yao Yunzhu is a Senior Advisor at the China Association of Military Sciences, Director emeritus of the Center on China-American Defense Relations, and a retired major general of the PLA. She offered a military perspective of the current state of affairs.
"For a long time, the military relationship between China and Japan has not been a positive one. Japan has used 2+2 (the Japan-United States Security Consultative Committee) and Japan-US summit meetings as forums to discuss topics such as territorial rights over the Diaoyu Islands (Senkaku Islands), the South China Sea, Xinjiang Uygur Autonomous Region, Hong Kong, and even Taiwan. Japanese politicians are going too far," Yao criticized. In addition, Yao expressed her apprehension regarding the Quad (the Quadrilateral Security Dialogue between Japan, the US, Australia, and India), calling it an attempt to "restrain the rise of China and exclude it," and was pessimistic about her view of China-Japan relations, saying that "cooperation is becoming narrower and having a bad influence."
Katsutoshi Kawano, former Chief of Staff of the JSDF, responded to these comments by stating the Japanese government's support for the One China policy when it comes to Taiwan, but added that if China uses its military in an attempt to change the status quo, it "will have an impact on Japanese national security that cannot be ignored."
Kawano also asked attendees to consider reviving the naval vessel officer exchange program and other forms of military dialogue between Japan and China, and expressed his strong discomfort with the ten joint China-Russia fleets that have sailed the water around Japan recently, saying, "In consideration of China, Japanese Maritime Self-Defense Force vessels have never passed through the Taiwan Strait. China should give us the same consideration."
Lou Jiwei responded. "There are major differences between the former Soviet Union and China. One of those differences is that the Soviet Union set itself as part of a group that is separate from the West, while China remains on good terms with the entire world, adhering to the policies of the Non-Aligned Movement regardless of the country we are dealing with. China and Russia are friendly, but we have not entered into a strategic partnership with them. China has made no value-based alliances like the Quad. We do not impose the values of our own country onto other countries. We do not impose our model of growth outside of China. China respects the choices of other countries. We want other countries to stop treating us with suspicion," Lou said.
Making the Sea of China a place of "Peace, Cooperation, and Friendship": What happened?
Sugiyama added his partial agreement to this point, saying, "The Soviet Union built the Warsaw Pact and brought the communist ideology to the forefront, and China has not pushed the system of communist rule onto other countries. However, the power of China now is on a completely different level than that of the Soviet Union. They occupy different positions in the geopolitical framework. There is a need to dispel the anxiety that Japan and other countries feel due to the very existence of China."
Sugiyama also believes that there are some issues regarding the Chinese response to Japan-China cooperation. He mentioned the 2008 joint Japan-China press release announcing the shared, borderless development of the East China Sea as a "Sea of Peace, Cooperation, and Friendship."
"What happened to that agreement?" Sugiyama said. " It's been more than ten years, but it hasn't been touched at all. Why is China not responding to this request Japan has been making for many years?"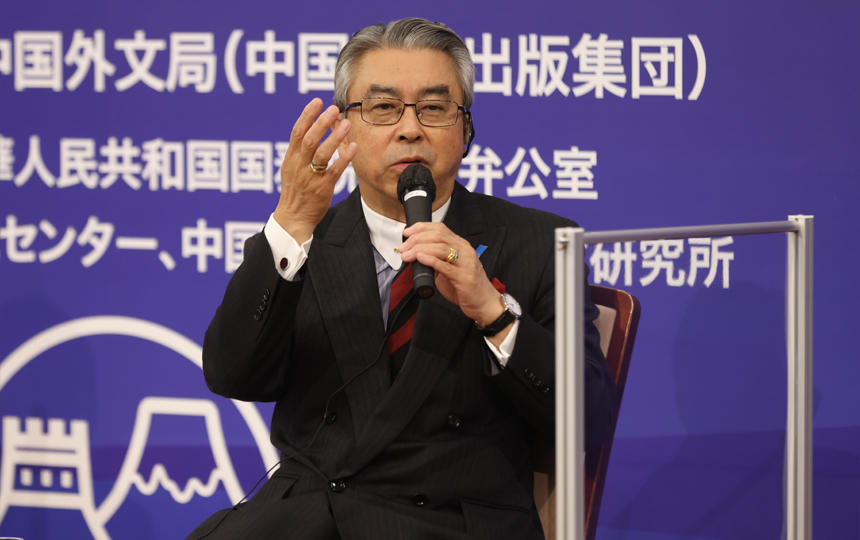 If Taiwan aims for independence, China will use military force to unify the country
Yao Yunzhu touched upon the Taiwan issue. "In our policies toward Taiwan, we will make every effort to unify the country using peaceful means. However, we have never renounced the use of military measures. Ever since China and Japan renormalized relations, Japan should have been well familiar with China's position on this matter," Yao emphasized. "If Japan is now saying that it will act in the event force were used, we would like you to explain exactly how in more detail."
Regarding the issue of the joint China-Russia fleet movements, Yao asserted that they were "in compliance with the regulations provided by international law." She also issued a vehement refutation of the complaint itself, pointing to the US announcement of a new policy to supply Australia with nuclear-powered submarines, disregarding that this could undermine stability in the region. "Will this action threaten the global framework to encourage nuclear non-proliferation?" she asked.
Takehiko Nakao returned to the previous point that anxiety among other nations may be rooted in China's actions. "Is it possible that the cause of the anxiety felt, not only in the US, but in Europe, Australia, Japan and other countries, may lie in the activities China is engaged in?" he asked. "We hope that China will find its way to greater international prestige not through hegemony, but by taking the road of law and justice. You need a way to convince other countries through reason."
Lou Jiwei protested this point, saying that "Australia has, like Europe, taken unilaterally provocative actions in response to the Hong Kong issue." 
Lou explained his argument further. "The descriptions of conditions in Xinjiang Uyghur district as 'genocide' and 'forced labor' are unfounded. And regarding Hong Kong, it is a part of China. Its citizens welcome the implementation of the national security law, and society is stabilizing," Lou said, adding that if Taiwan wants to become independent, China will need to use forceful means to achieve unification.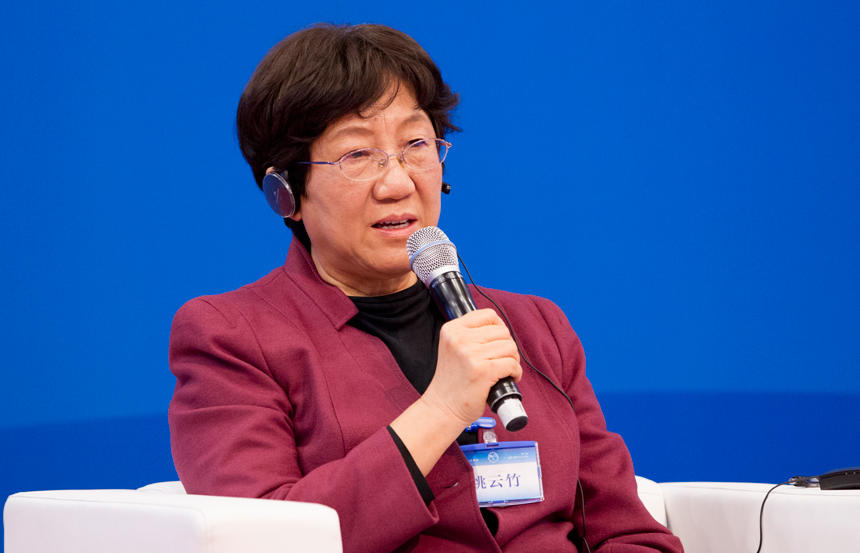 Japan and China must engage in a dialogue of shared wisdom to maintain peace in the region
Moderating the discussion was Yuji Miyamoto, who brought the discussion to a close. 
"We have made a promise to setting the issues we face through discussion," Miyamoto said. "And to a certain extent, China has promised to settle the Taiwan issue peacefully. Both sides need to use wisdom for us to avoid military conflict and maintain peace in the region."
Check out video (Japanese only)
Tokyo-Beijing Forum 2021 Opening Panel Discussion
Date: October 25, 2021
Host organization: The Genron NPO, China International Publishing Group (CIPG)
Panelists:
Japan
Shinsuke Sugiyama, former Ambassador to the United States, former Vice-Minister for Foreign Affairs
Takehiko Nakao, former President of the Asian Development Bank (ADB)
Katsutoshi Kawano, former Chief of Staff, Joint Staff, JSDF
Yuji Miyamoto, former Ambassador to China (Moderator)
China
Lou Jiwei, former Chinese Minister for Finance, Director of the Committee of Foreign Affairs at the 13th Chinese People's Political Consultative Conference
Yao Yunzhu, Senior Advisor at the China Association of Military Sciences, Director Emeritus of the Center on China-American Defense Relations
Cheng Yonghua, former Ambassador to Japan