The Security breakout session of the Tokyo Beijing Forum met on the afternoon of December 8 to discuss the responsibilities of Japan and China to work towards peace and stability in Asia. According to this year's Japan-China joint opinion survey, people in both countries clearly recognize the risk posed to Northeast Asia by issues connected to Taiwan and North Korea. In the first half of the session, attendees discussed the management of security risk in Northeast Asia from the perspective of how each side perceives those risks, and what participants from each country believe needs to be done to manage and eliminate them.
Chinese activity around Japan not only increasing, but changing
Retired Vice-Admiral Yoji Koda is a former Commander in Chief of Japan's Self-Defense Fleet, and he presented the keynote address from a Japanese perspective, beginning with an analysis of the current situation. He started with Taiwan, and pointed out that China has strongly opposed visits to Taiwan by US and European politicians such as Nancy Pelosi (then US Speaker of the House), and is ramping up large-scale military exercises and other activity in the region. There has also been a change in movement on the part of the Chinese Coast Guard in the waters around the Senkaku Islands. Previously, the Coast Guard had only been dispatched when Japanese fishing vessels appeared in the area, but, "Now they come out for no reason at all."
Koda corelated this with Chinese navy survey ships entering Japanese territorial waters in the vicinity of Yakushima as well, and asked the participants from China what their country's intentions actually are.
"This is not simply an increase in activity; it's a change," he said.
Northeast Asia increasingly divided by factions and ideology
Yao Yunzhu is Director Emeritus of the Center on China-American Defense Relations at the Academy of Military Sciences, and took the podium to provide a Chinese perspective in her keynote address for the session. Yao suggested that the Ukraine conflict, US-China friction, and domestic politics in Northeast Asia have effectively created two factions in the region, with Japan and the US on one side, and China, Russia, and North Korea on the other. She expressed concern that such bifurcation and ideological opposition is giving leaders less leeway when making policy choices.
Yao reviewed the military situation in Northeast Asia by pointing out that while each country is working to increase military spending and capabilities, tensions are increasing on the Korean peninsula in line with North Korea's improvement of its missile capabilities and nuclear tests.

Regarding the Taiwan Strait, Yao said attention should be on the US, which has placed Taiwan as a strategic asset, and Japan, whose movements are aligned with the US. However, she described the situation surrounding the Diaoyu (Senkaku) Islands as "becoming stable" due to better coordination in building a hotline for communication between maritime and air forces of Japan and China, and due to the resumption of dialogue. Yao concluded by referring again to the ideological friction and emerging of factions in Northeast Asia, saying that "A Cold War structure has emerged earlier here than in other regions."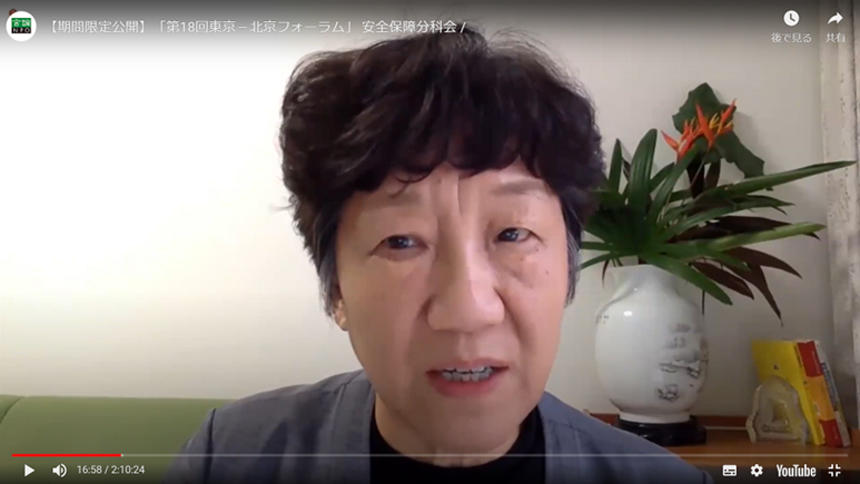 China should provide a more in-depth response to the North Korean nuclear weapon issue
Katsutoshi Kawano, former Chief of Staff of the Joint Staff of the Self-Defense Forces, raised a number of issues focused on the problems faced in approaching North Korea. Last year, North Korea launched a five-year plan for the development of national defense science and weapons systems, and since then, it has repeatedly launched missiles and has steadily improved is technologies.
Kawano expressed his concern over the growing threat of North Korea, and mentioned that China has a role to play in addressing this. China has unequivocally opposed the use of nuclear weapons in Ukraine by Russia, and has equally clearly opposed North Korea's ownership of nuclear weapons. In light of that stance, Kawano said that "a more in-depth response should be taken," and wondered why China would use its veto power to oppose and prevent new resolutions condemning North Korea from being enacted.
Former Japanese Ambassador to China Yuji Miyamoto added to this, expressing his hope that "China itself could make more concrete proposals" to halt nuclear missile development in North Korea.
In response, the Director of the Center on American Studies at Renmin University of China, Shi Yinhong, stated that China is concerned about losing control of the situation, which is why it openly opposes North Korea having nuclear weapons.
Would a Taiwanese emergency become a Japanese one?
Wu Huaizhong is Deputy Director of the Institute of Japanese Studies at the Chinese Academy of Social Sciences, and he recognized that "there is certainly mutual suspicion" between the two countries, while adding that the lack of inter-governmental dialogue is not the only cause. He pointed to commentary in Japanese media and among opinion makers about "a Taiwanese emergency being a Japan emergency" and "war spreading to the Ryukyu islands," and asked whether there is any real evidence for these claims, and if such discourse isn't simply fanning people's fears.
Kawano pointed out that such discourse follows logically from China's claim that the Senkaku Islands are a part of Taiwan, and its assertion that Taiwan is a part of China. That is why it is only natural to assume that an emergency in Taiwan would involve Japan.
"In the event of large-scale warfare, it would be battle for maritime and air supremacy, and such a battle would extend to Yonaguni and the rest of the Ryukyu Islands," he said.
US challenging the One China Principle doesn't warrant a military response
Yuji Miyamoto admitted that while the US is challenging the One China principle, he is concerned about the escalated military buildup since the US "has no military intentions there, so China should not be responding militarily."
In response, retired PLAAF Lieutenant-General Chen Xiaogong spoke about China's response to the US, saying that it was unreasonable to think that China would not be irritated when a politician as high-ranking as the Speaker of the House visits Taiwan.
"Pelosi's visit to Taiwan set Chinese public opinion on fire," he explained. "There is a line that cannot be crossed even when it comes to public opinion, and if that line was crossed, the fault lies with the US."
A heavily-armed Japan allied with the US poses a major threat to China
Here Wu Huaizhong returned to the topic of factionalization and the risks surrounding the Taiwan Strait, raising the issue of Japan's security policies.
"We must take Japan's military build-up seriously," Wu said, pointing out that by the end of the year, the Japanese government will have revised three documents that form the pillar of its security policies, the National Security Strategy, the National Defense Program Guidelines, and the Medium-Term Defense Program.
We asked attendees to consider the three potential paths Japan will now take: one, a lightly-armed Japan allied with the US (i.e. maintaining the status quo); two, a heavily-armed Japan that remains neutral; or three, a heavily-armed Japan allied with the US. Wu is particularly concerned that Japan could choose the third option, which would pose a major threat to China.
In consideration of this situation, Wu suggested that China and Japan should work together in the future by promoting broader dialogues and exchange to improve their relationship, by holding concrete, strategic deliberations to prevent an arms race, and by improving crisis management to avoid conflict.
Moreover, he suggested that "Instead of creating more factions like the Quad, we should be considering the creation of a more inclusive regional security platform."
Communication needed between posts capable of controlling accidents
Osamu Onoda is a retired JASDF Lieutenant General and former commander of Air Training Command, and he noted that the potential for unintended and accidental conflict in Northeast Asia is increasing due to increased military exercises and other activities. He emphasized the need for a hotline to prevent such accidents, adding that moreover, what is needed is lines of communication between people in posts capable of controlling any accidents and the promotion of exchanges between military units in the two countries.
Shi Yinhong agreed, saying that conflict prevention should be a matter of policy in both countries, and that rules need to be made for military operations in hotspots. He also said that military exchanges should be institutionalized and expanded, fiery domestic politics and public opinion need to be kept separate from diplomatic responses, and propaganda-like competition must be avoided. However, Shi questioned the immediate effect of dialogue on trust-building, saying that what is first needed is an understanding of the military power of both countries and clarification of intentions.
"Trust is born out of self-restraint," Shi explained. "We have to show it through our actions. It's difficult to trust a military strategy that is laid out after a summit meeting."
The North Korea crisis is directly connected to the US-China conflict - Japan should not be standing on the side of the US
Vice President of the Institute of International and Strategic Studies Gui Yongtao believes that the largest risk at the moment is the conflict between China and the US. His concern arises from the fact that while in the past the two countries were able to provide a coordinated response to the North Korean nuclear weapon issue, the greatest threat to peace in Northeast Asia, friction and competition between China and the US has prevented them from responding to North Korea in a unified manner.
However, while he agreed with Shi Yinhong's point about the absolute importance of deepening mutual understanding through dialogue and clearing up any misunderstandings, he pointed to what he sees as a contradiction in Japan's statements and actions.
"Japan says that a new Cold War should be avoided, but it still supports the US in its actions," he said, suggesting that this is accelerating the construction of a Cold War structure between the countries.
Finally, Yao Yunzhu addressed Miyamoto's point about military build-up when she said, "China's military strength may have grown, but it is still not enough to oppose the US."
A Japanese panelist responded with their concern that by building the immense power needed to counteract the US could potentially take China in a different direction, and asked that China increase transparency regarding its military capabilities and its ultimate intentions.
The heated discussions were brought to a conclusion by co-moderator Chen Xiaogong, who said, "Solutions will be found through repeated dialogue. This is the only way."
The other co-moderator, Yoshihide Soeya, wrapped up the session by saying, "While dialogue is not a cure-all, it can help build a better environment for us to work together."