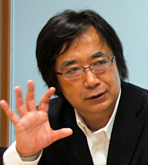 A New Year's greeting for 2015
Japan's democracy to be questioned in 2015 
By Yasushi Kudo, president of The Genron NPO
A Happy New Year
Let me convey my deepest gratitude for your understanding and cooperation for the activities of The Genron NPO in 2014.
A new year has come. What do you think this year will bring?
2015 should be a landmark year as we mark the 70th anniversary of the end of World War II. I feel that 2015 will become a very important year, during which Japan's democracy will be questioned.
In the House of Representatives election toward the end of last year, the ruling coalition of the Liberal Democratic Party and the New Komeito won a combined 326 seats in the powerful chamber. This made it possible for the current administration to stay on in power for the next four years. Meanwhile, voters were at a loss deciding which party would be able to solve the challenges facing Japan and which candidate they should trust. The political parties were unable to present alternative, discernible solutions, either. The election displayed all that is wrong with Japan's party politics and many voters became pessimistic about the situation the country finds itself in. This led to a bleak voter turnout of 52.66 percent, the lowest in postwar history, I think.
However, Japan has to make choices about its future in every political field, such as efforts to restore fiscal health and resolve diplomatic issues. If Japan's politics cannot present any effective solution for the challenges facing the country, Japan will be in a very difficult situation. In 2015 and in the coming four years, Japan will come to a truly decisive point for the future. We, the voters, must remind ourselves that Japan is faced with such an important situation while maintaining our awareness as stakeholders.
I don't think that voters can simply wait for somebody to create a political setting in which the challenges facing Japan will be tackled head-on. We, the voters and citizens, should continue to demand such a political environment. Otherwise, that will not be realized. To this end, we will work more than ever with voters and organize discussions on various issues, and based on the discussions, put forward our views to political parties.
As the year's first round of discussions, we have asked members of the advisory board to The Genron NPO to exchange their views under the title "the challenges facing Japan and the role that must be played by The Genron NPO in 2015." Every voter must keep an eye on Japan's situation and with a small amount of courage, speak up for themselves, and by doing so, we can open up Japan's future, I think.
The Genron NPO will make all-out efforts this year to build a theater where the voters can fully play their role.
Your continued support for our activities this year will be deeply appreciated.