By Yasushi Kudo, president of The Genron NPO

We are deeply saddened by the news of the passing of Mr. Yotaro Kobayashi, one of Japan's most prominent business leaders, on Saturday, Sept. 5, in Tokyo. He was not only an indispensable mentor for me but also an enthusiastic supporter of The Genron NPO's mission. I would like to extend my deepest gratitude to him and my sincere condolences to his family.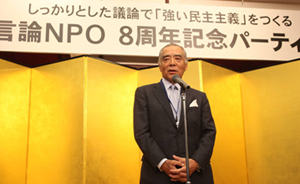 Mr. Kobayashi served as president of Fuji Xerox Co. of Japan from 1978, and later as its chairman and advisor to 2009, gaining a deserved reputation at home and overseas for his penetrating insight, open heart, global mind-set and communication skills in English.

He not only acted as chairman of the Japan Association of Corporate Executives, a powerful business lobby, from 1999 through 2003; he also played important roles at various cross-border group initiatives such as the Japan-U.S. Business Council in the 1990s, the World Economic Forum in New York in 2002 and the New Japan-China Friendship Committee for the 21st Century.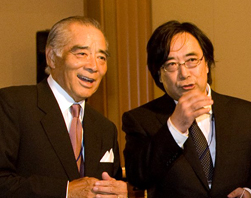 Mr. Kobayashi has always been a part of The Genron NPO. I can vividly remember my first meeting with him 14 years ago, when I was preparing to launch a new non-profit organization, a platform for fostering more lively opinion exchanges, discussions and dialogues in public in Japan. He first asked me some tough questions and we had a couple of rounds of heated arguments. But soon, with a big smile on his face, he said, "Why don't you let me join you?"
Endorsing our mission, he offered his wholehearted support. He kindly let us have free office space for the first three years of The Genron NPO. He later served as a member of its Advisory Board and also chaired our Japan-China Dialogue Committee. He always made logical and critical points, spoke honestly and offered great advice. It has been a privilege for us to have such a respected and resourceful internationalist as our guardian.
I pledge that we will use all he taught us as we carry on endeavoring to accomplish our mission for building peace in Asia and to solve international issues for the future of our country.