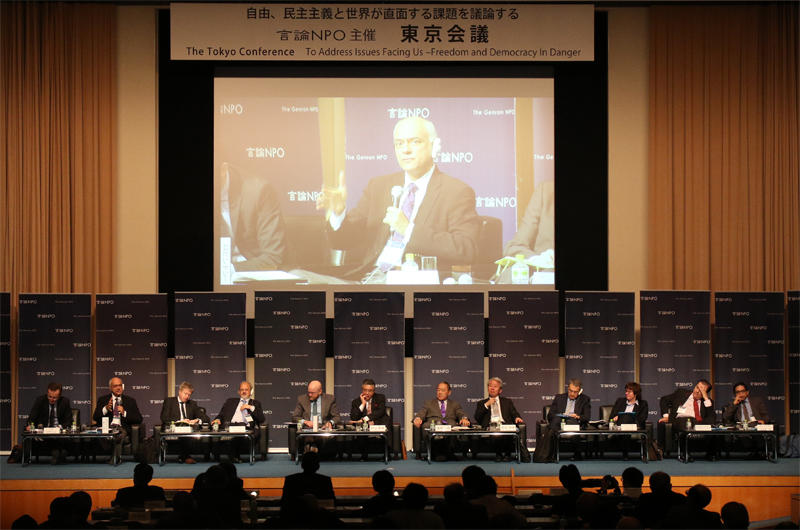 To Address Issues Facing Us - Freedom and Democracy In Danger-
"Freedom" and "democracy," the two norms that have supported the world order since the end of World War II, are facing severe challenges. Depending on the results of upcoming elections in Europe and the actions of the U.S. president, not only will a liberal international system and international cooperation based on multilateralism run into major obstacles, but democracy itself may be greatly undermined in different countries around the world.

We at The Genron NPO decided to set up the permanent Tokyo Conference instead of a one-time global thinktank meeting as initially planned because it appears the various developments that are destabilizing the world order are taking place rapidly.

The Tokyo Conference is a Japan-based platform for debate with the purpose of voicing opinions based on discussions of global issues among representatives of global thinktanks and Japanese experts, and presenting the results of the discussions to meetings of world leaders and international organizations. Senior representatives of thinktanks from the Group of Seven nations -- Canada, France, Germany, Italy, Japan, the United Kingdom and the United States -- as well as Brazil, India and Indonesia gathered in Tokyo because they shared a common sense of crisis over the destabilizing international order.

The international norms of freedom and democracy that supported the world's international order are collapsing, while populism and anti-foreignism are strengthening. How should we protect these norms, and how should we adjust globalization in the context of nationalism and democracy? We conducted intense discussions for three days and brought the results of the talks to the Japanese government as well as to the government of Italy, the chair of this year's G-7 summit.

That globally influential thinktanks sharing the common values of freedom and democracy gathered in Tokyo to cooperate when the world is at such a critical juncture is a highly significant endeavor. Our emergency appeal from Tokyo had been made public and transmitted to the world.

This publication recorded the entire debate that took place during the three-day conference. Please take a moment to read the message to the global community from the intellectuals who have attempted to tackle global problems head-on in this destabilizing world. We sincerely hope that our efforts will serve as a starting point at least to alleviate the concerns that face the international system and democracy.