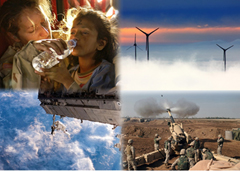 On Feb. 10, 2016, The Genron NPO, an independent not-for-profit think tank in Tokyo, announced the launch of the World Agenda Council (WAC), a panel of distinguished experts and intellectuals, designed to facilitate serious debate on pressing global issues.
The launch of the new undertaking has been prompted by the awareness that we are in critical need of the power of debate and opinion to find solutions to transnational issues at a time when global governance is becoming increasingly unstable and so many global issues are worsening.
The Genron NPO has started a project to deliver our opinions on global issues in tie-up with leading think tanks abroad. The members of the newly created expert panel will strive to form Japan's opinions for the solution of global issues and make sure that the rest of the world is aware of the country's efforts to proactively address them.
The expert panel comprises 11 Japanese intellectuals and experts, who include Kiyotaka Akasaka, former U.N. undersecretary-general for communications and public information, Akihiko Tanaka, a professor of international politics at the Institute for Advanced Studies on Asia, University of Tokyo, Yasuchika Hasegawa, chairman of Takeda Pharmaceutical Company Ltd., and Ichiro Fujisaki, director of Sophia University's Institute of International Relations and a former ambassador to the United States.

World Agenda Council Members

Kiyotaka Akasaka
President, Foreign Press Center Japan
Former United Nations Under-Secretary-General for communications and Public Information
Ichiro Fujisaki
Chairman, Sophia Institute for International Relations
Former Ambassador of Japan to the United States
Yasuchika Hasegawa
Chairman of the Board, Takeda Pharmaceutical Company Ltd.
Former Chairman of the Keizai Doyukai (Japan Association of
Corporate Executives)
Toshihiro Iwasaki
Deputy President of Nomura Securities Co., Ltd.
President of Nomura Institute of Capital Markets Research
Seiichi Kondo
President, Kondo Research Institute of Cultural and Foreign Affairs
Former Commissioner, Agency for Cultural Affairs
Yasushi Kudo
President, The Genron NPO
Susumu Okano
Senior Executive Managing Director, Daiwa Institute of Research Ltd.
Hiroki Sugita
Managing Feature Writer, Kyodo News
Saburo Takizawa
Professor, Toyo Eiwa University
Former Japan Representative, UNHCR
Akihiko Tanaka
Professor, the University of Tokyo
Former President, Japan International Cooperation Agency
Kenji Yumoto
Vice Chairman, The Japan Research Institute, Limited
We have opened a World Agenda Studio subsite The Genron NPO's Web site, to post the reports and minutes of the discussions of the council. Moreover, the WAC plans to launch, in collaboration with leading think tanks and research institutes abroad, the tentatively named Tokyo Conference in the first half of 2017 to deliver solutions to global issues from Tokyo.
As a preliminary to the Tokyo Conference, we will organize the "World Agenda 2016" forum at the United Nations University in Tokyo on March 27 with the planned participation of representatives from some of the world's leading think tanks.
Read a message by President Yasushi Kudo "On the launch of the World Agenda Council"
World Agenda Studio: Experts eye greater role for Japan in restoring
stability to global political situation