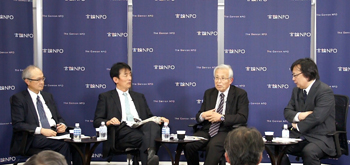 The world's major economies should work closely together to bolster the global economy, now that China can no longer be expected to act as a main engine of global growth, noted Japanese economic watchers say.
According to a recent questionnaire of well-informed persons in Japan, 51.1 percent of the polled replied that economic risks are increasing around the world, but that this does not mean that another economic crisis is on the horizon. This far surpassed the comparable figure of 19.1 percent for those who aired pessimistic views.
The economic picture described in the questionnaire was largely supported by three experts invited to review the global economic situation at a discussion organized by The Genron NPO, an independent Japanese think tank, as part of its World Agenda Council activities.
The Genron questionnaire showed that 80.1 percent of the polled are concerned that China's economic restructuring efforts pose potential risks for the world economy.

The global economy is currently shifting to what may be termed "a low temperature state," said Takatoshi Kato, president of the Japan Center for International Finance. He called attention to such uncertain factors as China's excess investment and liabilities, a sharp decline in crude oil prices due to an oversupply on the international oil market and a cautious mood about cross-border investment amid shrinking fund flows into emerging economies.
Since these problems are seen in various parts of the world, countries in each region should grapple with their challenges in an appropriate manner, said Kato, a former deputy managing director of the International Monetary Fund.

Kazuto Uchida, an executive officer of Bank of Tokyo-Mitsubishi UFJ, mentioned China's economic slowdown as "a root risk factor" for the world economy. The global economic structure that relies on the Chinese economy is entering an important adjustment phase, he said, stressing that the ability of the world economy to realign itself is being questioned.

Tatsuo Yamazaki, a former vice minister for international affairs at the Ministry of Finance, noted that China is pursuing the two conflicting goals of trimming its surplus inventory and investment, and achieving economic growth of 6.5 percent. A major challenge for the world economy is how developed economies and emerging economies should increase their weak growth potential, he said.
Overall, the three experts agreed that the current unstable global economic situation is not a reflection of problems with economic fundamentals, and it should rather be attributed to such factors as aggressive credit easing after an economic downturn triggered by the Lehman Brothers bankruptcy of 2008 and instability in the process to pull the world economy out of its dependence on emerging economies, notably China.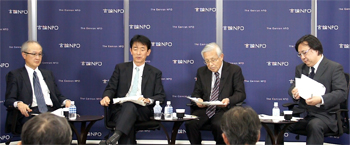 The 2008 crisis represented a situation in which subprime mortgage-based financial products became non-performing, dealing a heavy blow to lenders with such loan exposures, while so-called "shadow banking" has become prominent in recent years against a backdrop of an inflow of institutional money, Uchida noted. Compared to banks and other ordinary financial institutions, players in shadow banking are mostly free of the controls of bank regulators, he said.
The inability of regulators to check the shadow banking market could lead to major confusion on the international economic scene, Uchida warned.
The risk factors currently seen for the world economy are individually unlikely to lead to a serious situation, such as seen in the Lehman Brothers debacle and the Asian monetary crisis in the late 1990s, but some compound factors are causing nervousness among market players, Yamazaki said. The unfavorable signs should be kept from worsening the economic fundamentals, he said.
Kato noted that the current global economic instability can also be linked to declines in resources prices and geopolitical risks, as well as uncertainties in emerging economies.

The three-way debate, moderated by Genron NPO President Yasushi Kudo, also discussed the roles of the Group of Seven major economies at their annual leaders' meeting, to be held in Japan in late May.
The G-7 leaders should take the occasion not only to discuss global economic problems but also to show their resolve to grapple with such non-economic issues as refugees and global warming, Yamazaki said.
Yamazaki also said that Japan should take up problems related to development as the chair of this year's meeting. How to increase developing countries' growth is "an obligation" for developed economies, notably the G-7 countries, he said.
In line with the new United Nations-sponsored Sustainable Development Goals (SDGs), which were introduced in September 2015, Japan should actively extend high-quality assistance to developing countries in areas where it has extensive know-how, such as infrastructure building and public health, said Yamazaki.
In response to calls to enhance each country's economic growth to improve the global economic situation, the G-7 powers should come up with specific policies for beefing up their respective economies, Kato said.
The major countries should also issue "a message of solidarity" for poorer countries while presenting their ideas about providing international public assets to solve the challenges facing developing countries, he said.
Uchida noted that financial market players hope that the G-7 countries or the Group of 20 major economies will close ranks in an effort to improve the world economic situation so that their actions may amount to a strong message to ensure that world economic stability will be restored.
Major countries have come to share a common awareness about the risks facing the world economy, but they have yet to agree on specific actions to improve the global economic situation, said Uchida. Since Japan will chair the upcoming G-7 meeting, it should strive to prepare clear action plans to this end, he said.
After the world overcame the Lehman Brothers crisis, financial market players tend to have excessive hopes about monetary policies, but their expectations end in disappointment, Uchida said. The G-7 countries should propose proper macroeconomic policies and structural reform measures so that confidence can be restored among market players, he said.
Kudo noted that emerging countries, mainly China, have driven the global economy in the years after the Lehman Brothers shock, but that they cannot do so any longer in the current global economic climate. He asked for comments about how the world economy will be managed from now on.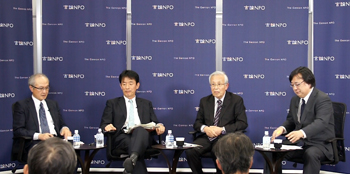 Asian countries have "much room for growth" in view of population, industrial structure and consumption, Uchida said. Among them, the Philippines has maintained high economic growth in recent years, little affected by China's economic slowdown. Japan should consider how it should play a central role for the betterment of the Asian economy in the years ahead, he said.
The era in which a single country can serve as a locomotive for the world economy is coming to an end, Yamazaki said. Since efforts must be made from now on to strengthen emerging economies, serious consideration should be paid to development-related issues, he said.