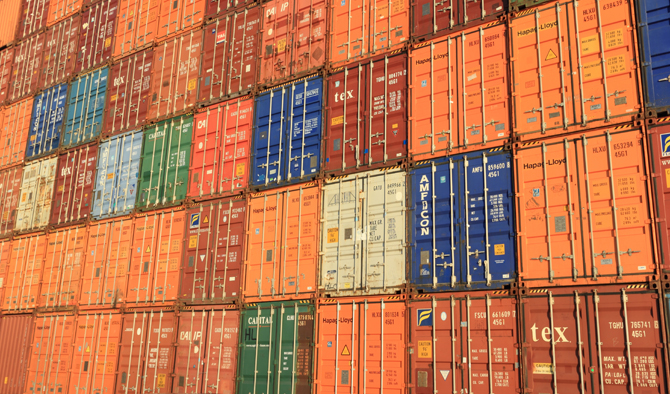 Where is world trade headed?
A year has passed since the Trump administration was formed to carry out its "America First" policy, and The Genron NPO brought together a group of Japanese experts to discuss the future of world trade and the impact of U.S. President Donald Trump's protectionist policies on globalization and free trade.
What has changed with the Trump administration?
The discussion started with the experts sharing their views on global free trade in light of the Trump administration's unilateralism. Junji Nakagawa, a professor of international economic law at the Institute of Social Science, the University of Tokyo, said contrary to all the radical claims Trump made during his election campaign, the administration is keeping to relatively benign and realistic policies. For example, it has yet to impose high tariffs to address the country's large trade deficit with Mexico or designate China as a currency manipulator. Even the renegotiations of the North American Free Trade Agreement (NAFTA) are "proceeding in a decent manner," Nakagawa said.
Meanwhile, Masahiro Kawai, a project professor at the University of Tokyo's Graduate School of Public Policy, pointed out that while it was expected, it is still problematic that the United States is not interested in protecting the World Trade Organization (WTO), and the free and multilateral global trade system it represents. "Leaving the TPP (Trans-Pacific Partnership) negotiations weakens the economic presence of the United States in the Asia-Pacific region and offers China a chance to expand its economic influence, making people say China, not the United States, is protecting free-trade principles," Kawai said.
Akihiro Mikoda, a senior commentator at public broadcaster NHK, mentioned the Group of 20 financial leaders' ultimate decision to drop a pledge to keep global trade free and open in last year's communique as acquiescing to the increasingly protectionist United States. While the general consensus at international meetings that the global community will fight protectionism, including unfair trade practices, still holds, the United States argues that there are countries that do not follow the rules of free trade despite belonging to the WTO framework, and the United States is paying the price, Mikoda said. With the midterm elections coming up, Trump will try to appeal to his supporters by claiming to protect the domestic job market, he said.
Mio Koukichiro, a senior economist at NLI Research Institute and an expert on the Chinese economy, said when we look at the relationship between the United States and China, what we see is Washington touting protectionist policies while Beijing is attacking protectionism and shifting toward free trade. But if one were to ask which nation has the stronger protectionist policies, that would definitely be China, Mio said. In fact, the Chinese may be welcoming Trump's protectionist stance as it helps to improve their global image as a protector of free trade, he said.
Does President Trump even have a strategy?
The discussion, moderated by Genron NPO President Yasushi Kudo, moved on to whether Trump's promises were just talk, part of a performance to attract voters during his campaign, and where the U.S. president's policies were headed. Kawai said he doubted Trump has any strategy. Trump believes it is best for the United States to decrease bilateral trade deficits and keep capital within the country while increasing domestic investment. But U.S. corporations will oppose any overprotective policies to achieve such goals, Kawai said. Similarly, while doing away with Obamacare and offering tax cuts to the rich, Trump does not appear to be addressing his core supporters, the poor white and low-income population, having yet to implement necessary reforms such as re-education and IT training at the workplace for them. "Trump does not appear to have a strategy, a vision of how he wants to change America," he said.
As an example of Trump's haphazard approach, Nakagawa cited the NAFTA renegotiations. The NAFTA says that a car's parts must be 62.5 percent North American to avoid a tariff, and the United States is calling for this to be increased to 85 percent plus a U.S.-specific 50 percent requirement. That requires a readjustment of the supply chain agreement and that cannot be achieved overnight. "What the United States is trying to do is bolster domestic jobs while cutting imports, and that's a pretty reckless policy," Nakagawa said. Trump will also decide by mid-April whether to impose heavy tariffs on foreign suppliers of metals on the grounds that China's oversupply of aluminum and steel to the U.S. market is a threat to national security. "Trump may try to implement any and all policies that would appeal to his core supporters ahead of the midterm elections," Nakagawa said.
Japan needs to show leadership now
The discussion moved on to the future of global free trade. The United States has been the leader of global free trade from the days of GATT (General Agreement on Tariffs and Trade), but the Trump administration has shown no signs of supporting the WTO framework, and opted out of the TPP talks immediately after taking office. The WTO is also not functioning as it should, with advanced and developing nations unable to reach an accord since the failure of the Doha Round of trade talks in 2008. Under such circumstances, Nakagawa commended the TPP-11 efforts led by Japan and the EU-Japan Economic Partnership Agreement (EPA) as "moves suitable to the 21st century."
Kawai said that there are many people in the United States and Britain who are unable to benefit from technological innovation and globalization. With 30 percent of U.S. citizens supporting the Trump administration, voices of discontent will remain even if the Trump administration is voted out of office. The key is whether these "forgotten middle- and low-income earners" ever become able to receive the benefits of technological innovation and globalization. What is needed is to provide the necessary social safety net, investment in education and retraining, Kawai said. "Japan is a trading nation so it should work harder to promote free trade. TPP-11 is a wonderful thing and a great accomplishment for the Abe administration. Japan must avoid turning inward like the United States and Britain, and make efforts to lead the international community," he said.
Can the global community rely on China?
Asked how other Group of Seven and G-20 nations are working to address the problems of globalization, Mikoda said that while China on the surface follows WTO rules and claims free trade is important, it doesn't appear to be truly advocating free trade and WTO principles, as seen in how its protection of intellectual property is insufficient and how the government offers aid to domestic businesses in order to overcome foreign competition. "The nations belonging to the WTO need to discuss how to strengthen their domestic systems so that its rules are properly implemented," Mikoda said. He said the problem of the widening gap between rich and poor is a common problem for all nations, and like China, which set a goal to lessen this gap during last year's Communist Party Congress, there is a need to address this issue as well.
"One Belt, One Road" policy still unclear
The discussion then moved on to China's "One Belt, One Road" (OBOR) initiative, during which the experts pointed out the efficacy of China's key economic policy is still uncertain, with rules and details yet to be worked out. While noting the need to develop infrastructure for the Eurasia continent, unlike the various free-trade agreements, the rules of the OBOR are in the making, including how to conduct investments and loans. Such uncertainty could cause nations involved in the economic framework to accumulate bad loans without being noticed, Nakagawa said.
Kawai acknowledged that it would be difficult to ignore the OBOR as the project is progressing, but said he was uneasy about China establishing a standard in the region on its own terms. "China is trying to create a de facto standard, but it would be troublesome to see this become a standard in Asia in the current state," (NOTE: Not sure if this refers to the current state of the OBOR or the current state of Asia? If it's the former, it would be clearer to say "in its current form") he warned.
But Mikoda cited the example of the Asian Infrastructure Investment Bank (AIIB), where the governance of the China-led organization is working after it has established itself as an international organization, as advanced nations like United Kingdom are participating as a Country of Director. Furthermore, there is ample room for control in the individual projects and there is no need to be too concerned about China, he said.
Mikoda predicted that the name, "One Belt, One Road" itself will likely disappear in future since the initial concept is a vague call for development and prosperity in the region, and with China targeting Africa, as well as Central and South America, "this is merely about China's globalization." Ultimately the issue is about how to address the rise of China -- a theme that has been on the global agenda for some time now, he said.
Engaging China will improve the situation
In response to concerns that such moves toward globalization by China would expand Beijing's sphere of influence and ultimately change the world order, Nakagawa said Japan should not exclude itself from such a sphere of influence but rather be involved in it to secure a voice within the sphere.
Kawai concurred, saying that for Japan, which seeks a free and open Indo-Pacific region, there is merit in collaborating with China's OBOR framework. Japan should make sure the projects lead to the creation of a high-quality, eco-friendly infrastructure on land and on sea, as well as be involved in creating rules that will ensure borrowers will properly repay their loans.
Kawai also said that the Chinese corporations are increasing their direct investments in countries associated with the OBOR initiative, and such corporations are becoming increasingly conscious about managing the risks of such investments. The countries into which the investments are flowing are also increasingly cautious about whether China is trying to turn them into economic colonies. Japan has faced similar friction with ASEAN nations in the past and by sharing such experiences with China, the two countries will be able to deepen their cooperative relationship, Kawai said.
Mio forecast that Beijing will increase its presence for another decade until the power balance between the United States and China reaches equilibrium. "China's image of the OBOR is not firmly set and Japan should continue to be involved in order to build a positive image of the scheme," Mio said. He said countries that will benefit from the OBOR initiative trust Japan more than China, and Japan should appeal to China by taking advantage of the trust it has garnered from such surrounding nations.
Japan should show leadership to build a stronger Bretton Woods system
Last, the experts discussed the future of free trade and multinationalism. Mikoda said China appears to be challenging the conventional Western development model that focuses on freedom, instead imposing firmer control of corporations and expanding its authoritative style of development in developing countries. The key will be how to come to terms with China as the world struggles between freedom and control, he said.
Over 70 years have passed since the Bretton Woods agreement in 1944, and the various systems need to change. The Bretton Woods system also needs to come up with an "improved version" to meet the demands of modern society, Nakagawa said. "Now is the time for Japan to show leadership as we cannot depend on the United States and China," he said.