The Council on Foreign Relations (CFR) of the United States held the fifth regional conference of the Council of Councils (CoC) in Sydney, Australia, for three days starting Feb. 23. The CoC is a global network of leading policy institutes from 23 countries. The Genron NPO is the Japanese member of the CoC.

Representing Japan, Yasushi Kudo, president of The Genron NPO, attended the conference, together with Osamu Onoda, a former lieutenant general of the Japan Air Self-Defense Force.

Some high-ranking officials of the Australian government were present at the Sydney conference, where participants exchanged views mostly on security issues and economic cooperation in the Asia-Pacific region.
The conference, co-sponsored by the Lowy Institute for International Policy, a leading think tank in Australia, consisted of six sessions on broad-ranging issues mostly related to challenges in the Asia-Pacific region, such as "How to revitalize the G20," "Minilateralism versus multilateralism in Asia" and "Maritime security in the Asia- Pacific."
Kudo was chosen as one of the speakers at the session on "Minilateralism versus multilateralism in Asia," and delivered a report titled "Minilateralism and Multilateralism in Asia" (link to the website!!!). At this session, there were stimulating discussions among the U.S., Chinese, South Korean and European representatives on how to prevent a crisis in Asia.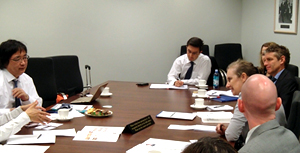 On Feb. 24, Kudo exchanged views with former Australian Prime Minister John Howard, who was invited to a CoC dinner as a special keynote speaker, on Japan-Australia relations and the East Asian situation in general.
Following the Sydney conference, Kudo flew to Canberra, where he exchanged views with Australian government officials, including those of the Department of Foreign Affairs and Trade and the Department of Defense, as well as with leaders of Australian think tanks, on security challenges in East Asia and Japan-Australia relations, among others.