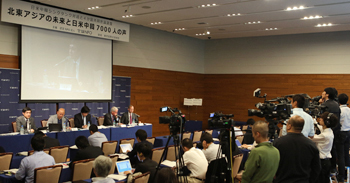 On Oct. 20, The Genron NPO (Japan), the Chicago Council on Global Affairs (the United States), the East Asia Institute (the Republic of Korea) and the Horizon Research Consultation Group (China) jointly released the results of the quadrilateral opinion poll on the future of Northeast Asian affairs and the role of the United States in the region at a Tokyo news conference at the International House of Japan.
The joint opinion poll was conducted in Japan, the U.S., South Korea (ROK) and China by the four institutions from April to October 2015. Yasushi Kudo, president of The Genron NPO, Ivo Daalder, president of the Chicago Council on Global Affairs (CCGA), Karl Friedhoff, a fellow in public opinion & foreign policy at CCGA, Yue Yuan, founder and chairman of Horizon Research Consultation Group, and Yul Sohn, chair of the East Asia Institute's Center for Japan Studies, attended the news conference to speak about the results of the poll.

At the news conference, Kudo of The Genron NPO said: "The power shift in Northeast Asia is revolving around the rise of China and the U.S. policy of rebalancing to Asia is being implemented against such a backdrop. How should we build peace and stability in Northeast Asia while the region is undergoing these historic shifts? This was the concern that motivated us to conduct this large-scale opinion poll as a joint endeavor." He maintained that "how the publics of the four countries see regional affairs would give us critical keys upon which we could base our thinking on the future of the region."