Japanese and Chinese government officials and experts agreed at a two-day annual forum in Beijing on Oct. 26 to 27 that both countries should collaborate more closely to address bilateral and global issues in a new era of Sino-Japanese ties.
They also shared the expectation that the Tokyo-Beijing Forum, an annual private-sector high-level dialogue, should evolve from a venue for discussions to a launchpad for action to solve problems.
Co-organized by Japan's non-profit think tank The Genron NPO and China International Publishing Group (CIPG), the 15th Tokyo-Beijing Forum focused on the theme of "New Era, New Hope: Responsibilities China and Japan Shoulder to Maintain the Peace and Prosperity of Asia, and the World."
During the two-day event, more than 90 leading figures from political, diplomatic, business, academic and media circles of the two countries got together at a Beijing hotel, and held discussions on bilateral relations, political and diplomatic issues, security affairs, economic cooperation and other major issues of mutual interest before an audience of some 500 people.
At the outset of the plenary session on Oct. 26, China's State Councilor and Foreign Minister Wang Yi delivered an opening address in which he said that relations between China and Japan have undergone important and positive changes.
"The two countries share more and more common interests and concerns, and shoulder more and more common responsibilities and missions. The new era calls on us to forge a more mature and stable China-Japan relationship and write a new chapter of win-win cooperation," Wang said.
It was his first official attendance at the Tokyo-Beijing Forum since 2006 when he had delivered a keynote speech at the second forum in his capacity of then Chinese ambassador to Tokyo, along with then Chief Cabinet Secretary Shinzo Abe, now prime minister of Japan.
Wang said that China and Japan should build a higher level of political mutual trust. "The more we do to usher in a new era, the more we need to consolidate our foundation, abide by the principles enshrined in the four political documents between China and Japan, and honor our commitments on issues related to history and Taiwan." He did not forget to add that there is "no room for vagueness, slacking, or even backsliding."
China and Japan should promote more "colorful" people-to-people and cultural exchanges, while accelerating negotiations on the Regional Comprehensive Economic Partnership (RCEP) and China-Japan-ROK (Republic of Korea) free-trade area, and become leaders of the process of regional cooperation and integration in Asia, he added.
Wang said Chinese President Xi Jinping's planned official visit to Japan next spring will serve as an important milestone for a new era of China-Japan relations, adding that the two nations should work together to create a suitable environment for such an occasion.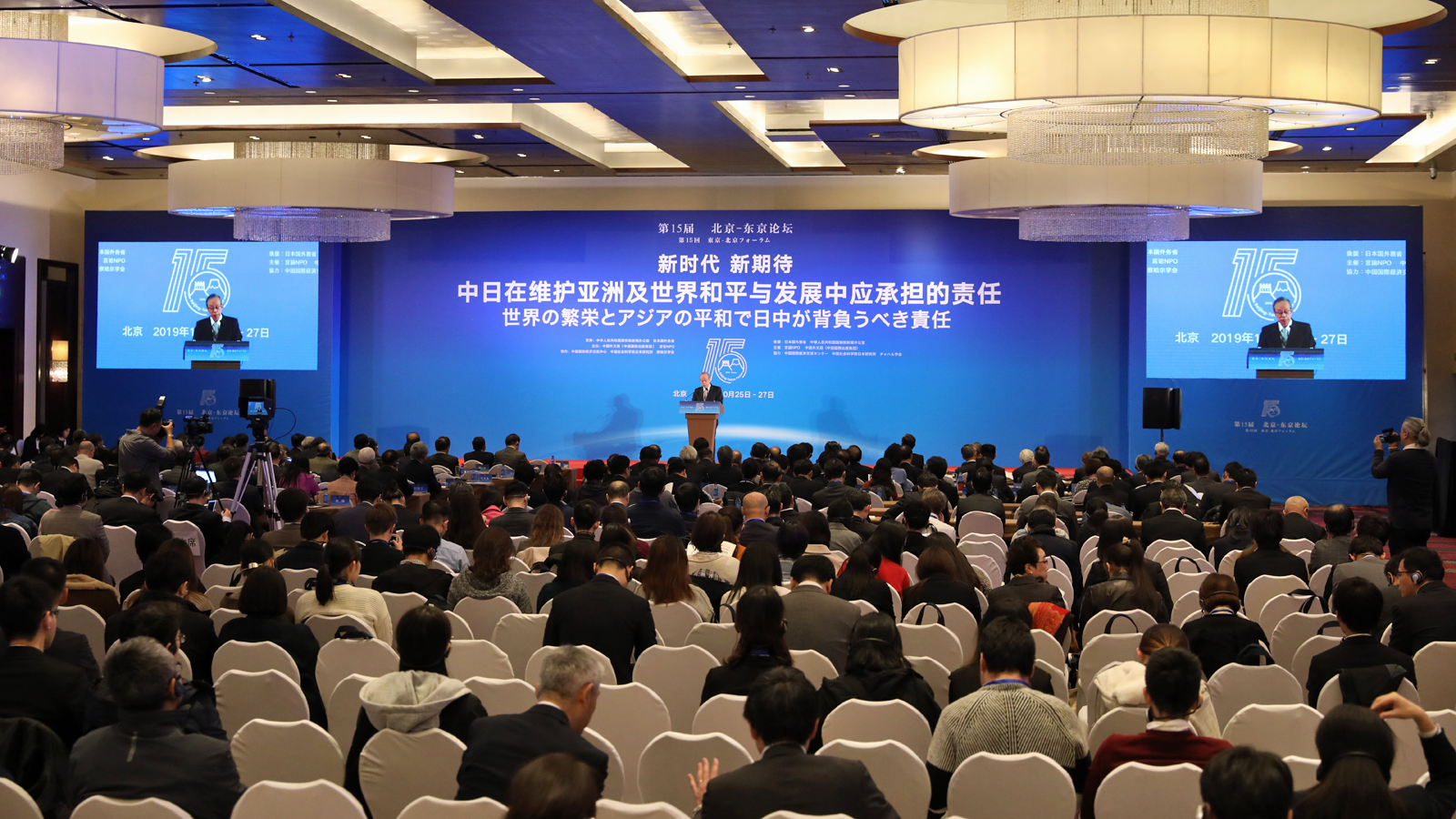 Representing the Japanese government, Japanese Ambassador to China Yutaka Yokoi used his speech to praise the contribution the Beijing-Tokyo Forum has made to the betterment of bilateral relations. He said it proved that extensive and in-depth people-to-people dialogue and exchanges were the foundation of the friendship between the two countries.
Before ending his address, Yokoi read a congratulatory message on behalf of Japanese Foreign Minister Toshimitsu Motegi, in which he said Japan and China share the great indispensable responsibility for the peace and prosperity of Asia, and the world. "With Chinese President Xi's state visit to Japan in sight, I would like to elevate the Japan-China relationship to a new height and usher in a new era of Japan-China relations by continuously increasing exchanges of high-level figures, disposing of pending issues appropriately, and developing exchanges and cooperation in all fields," the message read.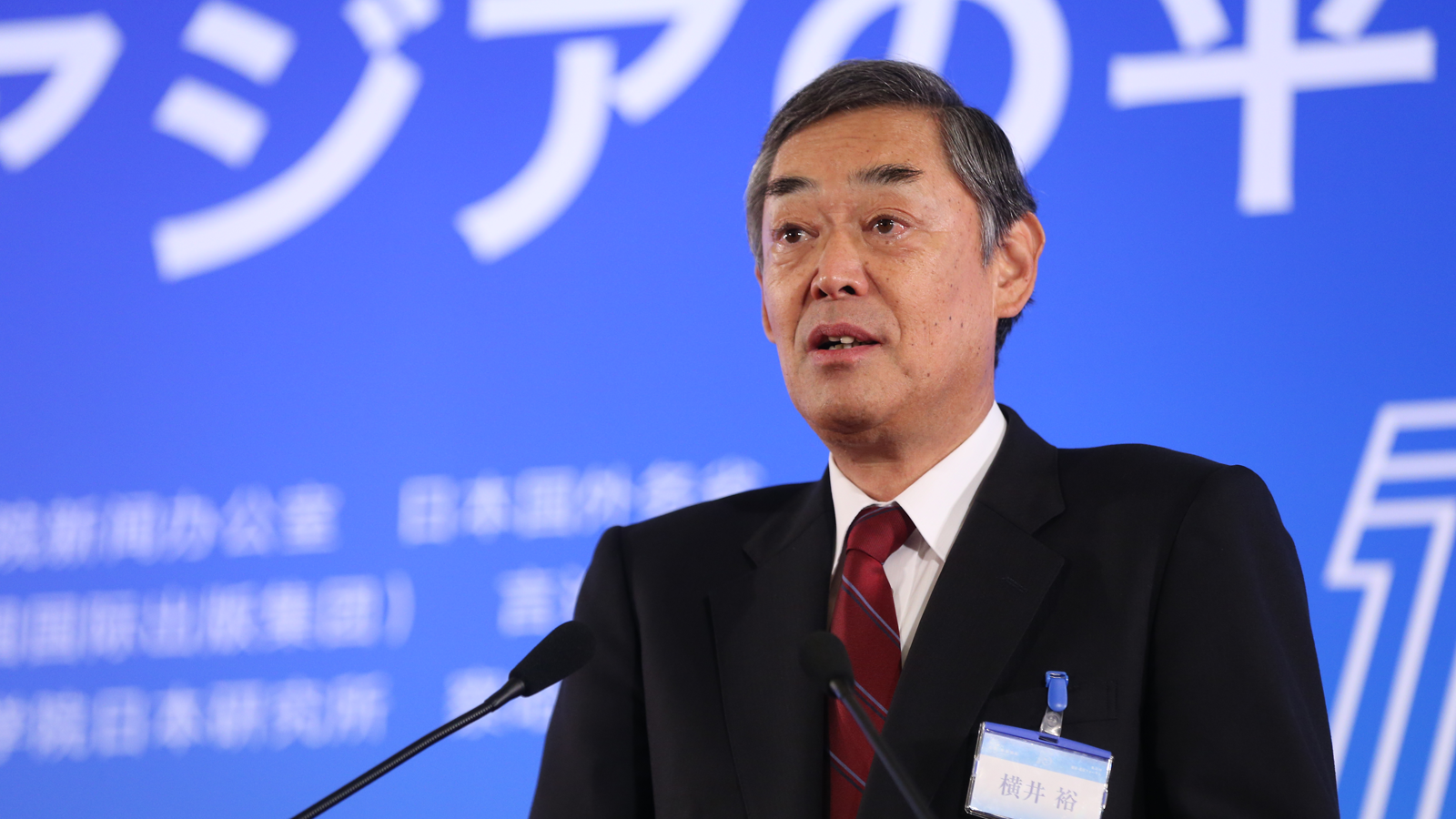 On behalf of the Chinese organizers, CIPG President Du Zhanyuan, told the audience that the forum is aiming to provide a non-governmental exchange platform, and improve China-Japan ties through public opinion polls and high-level dialogue. It had become a model for a public diplomatic communication channel between the two countries, and was attracting attention and support in China, he said.
Du Zhanyuan was followed by Yasushi Akashi, a former United Nations undersecretary-general, who said in an address that it is necessary for both countries to talk to each other quietly, to narrow gaps in thinking and mind-set between the two peoples, and thereby move to a higher level of reconciliation and cooperation.
He said he is pinning high hopes on the forum to encourage both countries to address global issues in a creative manner by overcoming the unilateralism and chauvinism that is rampant in Asia, and the rest of the world.
Then, Xu Lin, minister of the State Council Information Office, delivered a keynote speech, in which he said that this year was the 70th anniversary of the founding of the People's Republic of China, while Japan had also entered the new Reiwa imperial era. At such a historic juncture, he urged both countries to aim at building a "win-win" bilateral relationship as they share a common destiny.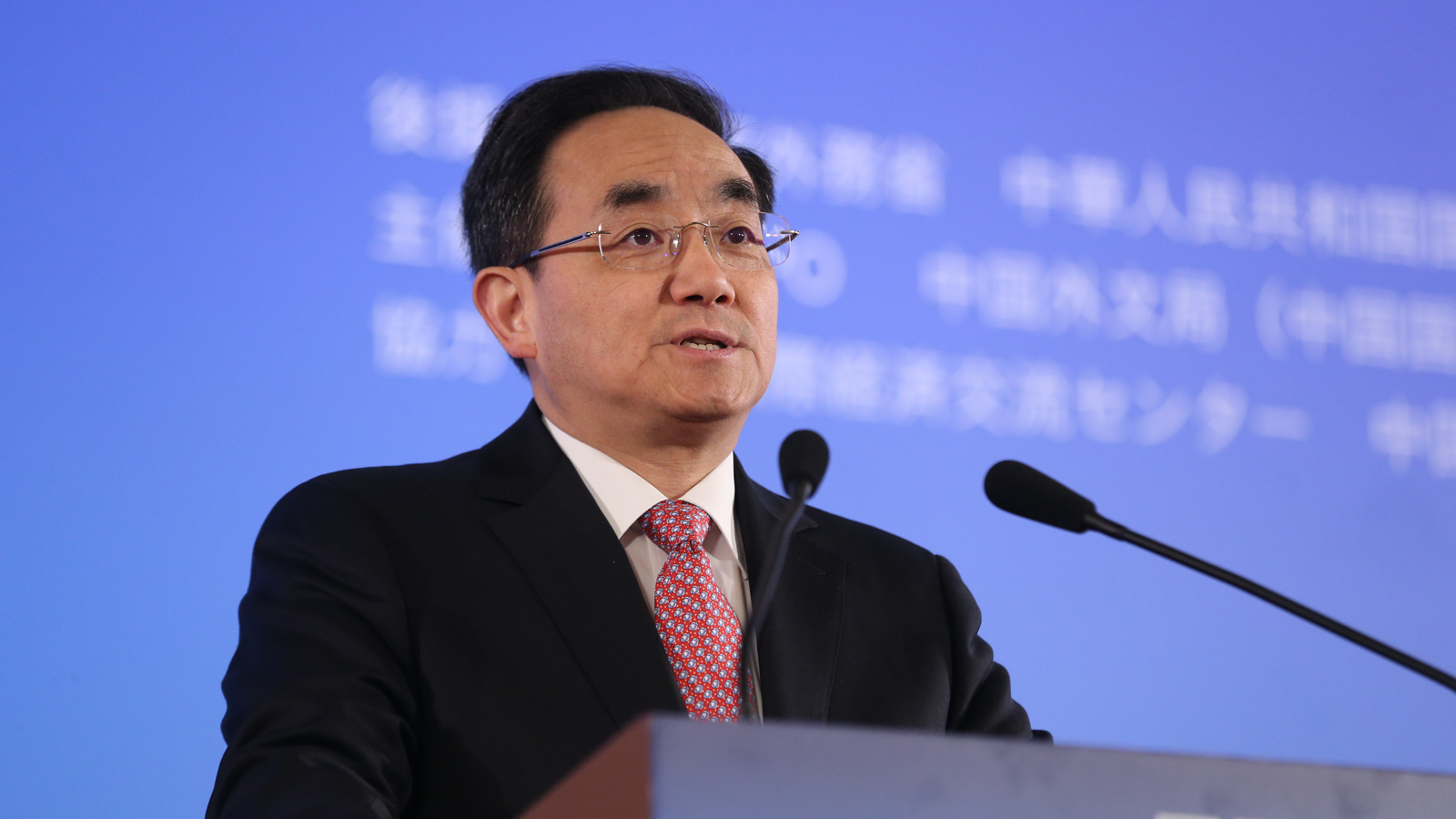 In a special lecture concluding the plenary session of the day, former Japanese Prime Minister Yasuo Fukuda praised China's great achievements in the last 70 years since the founding of the People's Republic, years that have seen the fastest and largest economic development in the history of humankind.
As a result of the remarkable economic development, China is now being urged to pursue a new form of cooperation and collaboration with the international community, Fukuda acknowledged.
"Like Japan, China is exposed to new problems and challenges resulting from the economic development, such as a decline in population, an aging society and the frequent occurrence of natural disasters, and has been thrown into a difficult phase," he warned.
In such circumstances, the Tokyo-Beijing Forum is evolving from "a venue for discussions to a venue for action" to resolve issues of common concern for both countries," Fukuda said. "I hope the forum will serve as a trigger to advance bilateral relations, and make contributions to the world by forwarding proactive and constructive proposals for the betterment of Japan-China relations," he concluded.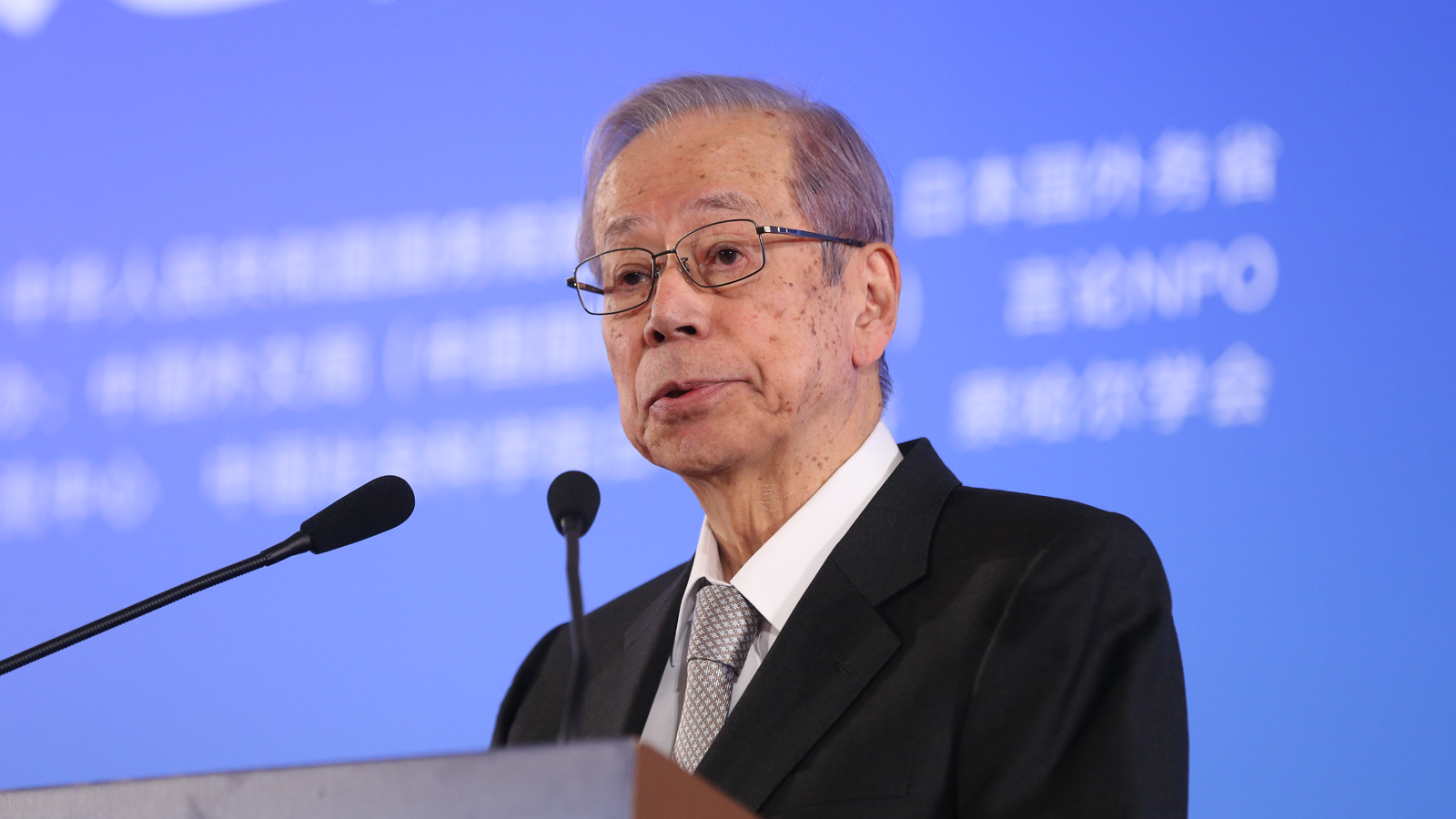 The "Beijing Consensus" adopted
After concluding the two-day Tokyo-Beijing Forum, the participants adopted on Oct. 27 a joint statement, dubbed the "Beijing Consensus," which calls on the two countries as global economic powers to oppose trade protectionism, and promote a more open and rule-based free-trade system. "Promotion of international cooperation based on multilateralism is our goal to achieve as global governance," it said.
The document proposed setting up a private-sector multilateral framework for discussions as the first step toward the realization of sustainable peace in this region.
It also calls for more exchanges of young people and media personnel between Japan and China in order to advance a new phase of bilateral cooperation.