The security breakout session at the 15th Tokyo-Beijing Forum was chaired by Yuji Miyamoto (former Japanese Ambassador to the People's Republic of China) and Xiaogong Chen (retired lieutenant general of the People's Liberation Army Air Force of China). Under their guidance, a panel discussion was held on the main theme of the session: Security in Northeast Asia and Japan and China's responsibility to build a peaceful order.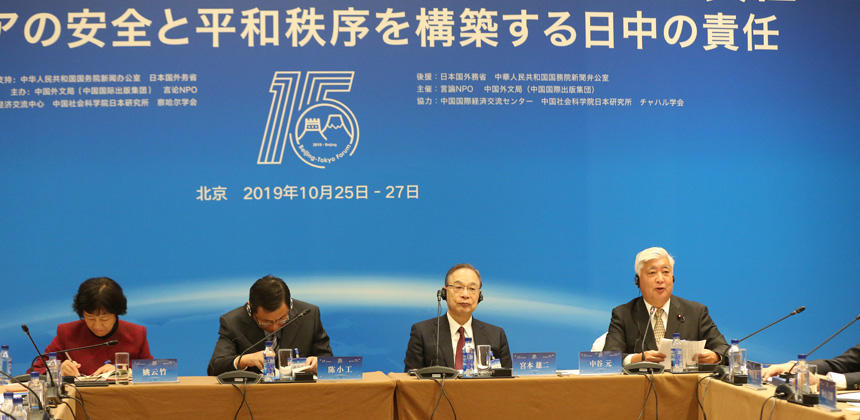 Four points of conflict between the U.S. and China
Xinfeng Jiang, a researcher with the People's Liberation Army (PLA), took to the podium to present the first issue for discussion. Jiang described the current security situation in Northeast Asia as "calm," but noted that there are some unstable elements arising out of the current relationship between China and the U.S. Since 2017, the U.S. has reversed its stance towards China to one of "containment," and has positioned the relationship between the countries as one of strategic competition. As a result of this change in stance, the relationship between the U.S. and China is now dominated by four major issues: economics and trade, the South China Sea dispute, the status of Taiwan, and the shift in U.S. missile strategy.
Jiang noted that there are many reasons for having a positive outlook on the current situation, from the re-opening of defense exchange between Japan and China, to the launch of the communication mechanism to avoid maritime and air clashes. However, it is still too fragile a foundation upon which to build peace and stability, and potential risks remain. Jiang argued that accidents in the East China Sea and surrounding airspace cannot be completely eliminated in the current climate.
Promote increased interaction, but keep an eye on China's rapidly growing military
Former Japanese Minister of Defense Gen Nakatani provided a Japanese perspective in response to Jiang's comment, emphasizing that both Japan and China have a great responsibility - they are essential to peace and prosperity in Asia and across the world. In addition, Nakatani described how China' s national defense spending is exploding -having increased by 48 times over the last thirty years and 2.5 times in just the last decade - and theorized that this may be an effort to gain the ability to operate in more distant maritime areas and airspaces. He noted the high frequency of activities and the increased variety of routes used by units operating in areas surrounding Japan, i.e. the Pacific Ocean, the Japan Sea, and the East China Sea, and raised concerns regarding China's increasingly advanced missile capabilities and its development and possession of various intermediate-range ballistic missiles (IRBMs).
In addition, Nakatani stated that China's increased activity near the Senkaku islands, the joint flight of Chinese and Russian strategic bombers over the Japan and East China seas in July, and other recent moves are a "challenge to the Japan-U.S.-South Korea security framework," and said that a calm but firm response is required from Japan.
Meanwhile, he referred to Jiang's criticism of the U.S. withdrawing from the INF treaty, and recommended that if China was against such an action on the part of the U.S., perhaps the two countries should enter into a new INF treaty together. Nakatani believes that this would contribute to peace and stability in the region.
With these issues presented to the panelists, the discussion began.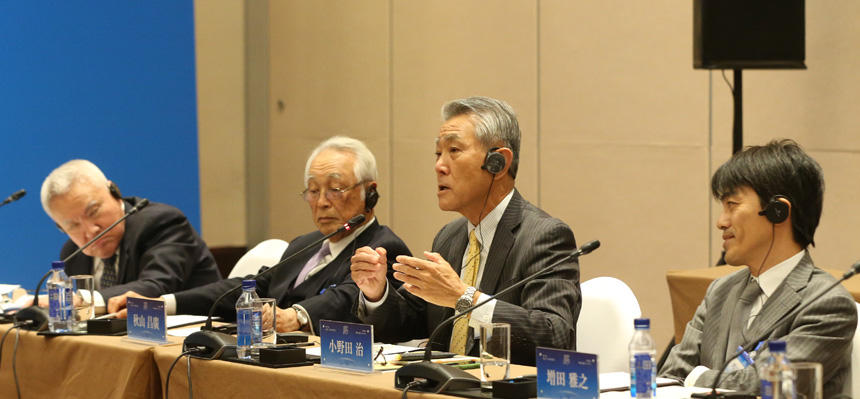 How should Japan-China defense cooperation be re-built?
Former Vice-Minister of Defense Masahiro Akiyama spoke about Jiang's comment regarding the U.S. now seeing China as a strategic competitor, noting that he believes this stance will not change as it already has bipartisan support in Washington. He added that the U.S. security strategy encompasses more than just missile defense, and extends to its Indo-Pacific strategy and numerous other fields and geographical regions, which is having an enormous effect on China and Japan. This is why Akiyama believes that Japan and China have good reason to discuss the U.S. strategic shift.
While he was hesitant to criticize the rapid increase in Chinese military spending, he did point out that, historically speaking, countries with major military strength have tended to use it to resolve any issues they face in a heavy-handed way. Akiyama made the candid observation that China has already begun showing that sort of behavior in the South China Sea.
Masayuki Masuda of Japan's National Institute for Defense Studies questioned Jiang's assessment of the current national security situation in Northeast Asia as "calm." Masuda said that from the Japanese perspective, it is difficult to consider the current situation calm considering the continued development of North Korean and Chinese capabilities, and lack of any movement on creating rules for new national security areas such as cyberspace and AI weaponry. He suggested that it may be beneficial to focus discussion on how to ensure that each side has an understanding of the other side's capabilities.
Huaizhong Wu of the Chinese Academy of Social Sciences explained that China is currently focused on the "big balance" issues in the China-U.S. relationship, and sees the Japan-China relationship as one of "small balance." However, he recognized that the Japanese people may harbor a sense of concern after seeing the parade celebrating the PLA's 70th anniversary, and that the difference in enthusiasm regarding that "balance" is something that China must consider.
Nakatani referred to the current state of cooperation between Japan and China, returning to the point about the lack of any movement in creating international rules that cover new areas of national security such as cyberspace and outer space. He proposed that the formation of rules to govern these new concepts offer a good opportunity for Japan and China to collaborate with each other.
Is a new INF Treaty with China needed?
Panelists from both countries had similar opinions on the current state of Japan-China cooperation, but little progress was made towards a consensus regarding nuclear weapons and a new INF treaty.
The former Director of the Center on China-American Defense Relations, Yunzhu Yao, responded to Nakatani's comment about China taking part in a new INF treaty. Yao noted that the issue goes beyond strategic nuclear weapons. IRBMs are held by many countries around the world, not just the U.S., China and Russia, and Yao was skeptical about how realistic it was to assume that all of those countries would join.
Yoji Koda, retired JMSDF Admiral and former Commander in Chief of Japan's Self Defense Fleet, predicted that the major nuclear powers of the 21st century would not be the U.S., China, and Russia, but only the U.S. and China. Therefore, Koda believes that the U.S. and China should be drawing up international rules governing strategic nuclear weapons and the missiles capable of carrying them. He described this as a responsibility to the people of world 50 years in the future, and criticized China for running away from that responsibility using the excuse that it is only a "developing country."
Jinan Wu, Deputy Director of the Shanghai Institutes for International Studies, responded to this, contrasting the U.S. nuclear weapon policy with that of China. While the U.S. has used alternatives to nuclear weapons to attack countries it sees as hostile, its nuclear attack strategy includes the use of preemptive strikes. Compare this to China's strategy, which Wu described as following a "no first-strike policy," in which its nuclear weapons would be used only as a deterrent. According to Wu, this difference is so vast that the U.S. and China do not stand on equal terms, but more than that, it is unnecessary to require both countries to observe the same set of rules.
Koda noted that Japan, which has no nuclear weapons, cannot help but be very anxious when two major nuclear powers will not submit to a common set of regulations. He added that while the INF was a bilateral treaty between the U.S. and Russia, in the current day, it is universally applicable and would be suitable for China as well.
After the discussion, Chen pointed out that while there are still differences in perception between Japan, China, and South Korea, Japan and China's summit meeting during the G20 in June resulted in an agreement on the creation of a constructive security relationship between the two countries. With that agreement already obtained at the highest governmental level, Chen expressed his hope that the countries would work to overcome their differences in perception as they continue to propose constructive ideas. With Chen's remarks, Part 1 of the security breakout session was brought to an end.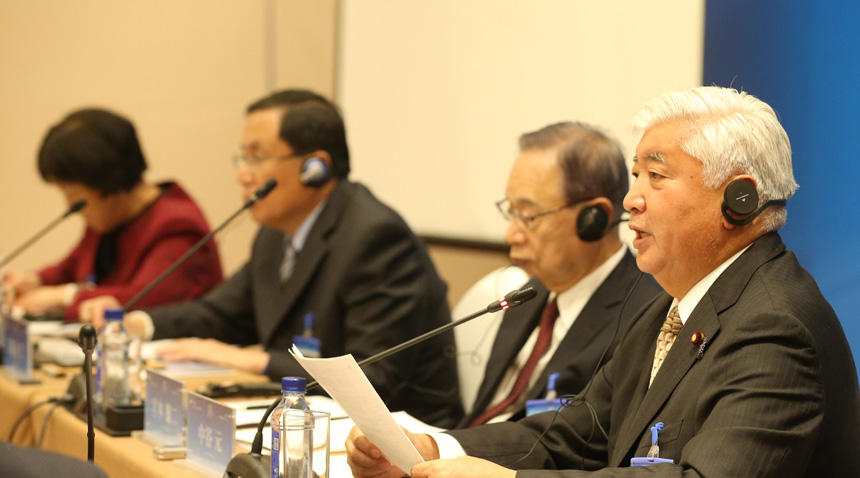 Part 2 of the security breakout session built upon the discussion regarding the national security environment in Northeast Asia undertaken in Part 1. Panelists exchanged opinions on the issue of North Korea's nuclear weapon program, and then returned to the discussion on the state of security cooperation between Japan and China. Partway through the discussion, Wei Li took over as chair for the Chinese participants. Li is a researcher at the Chinese Academy of Social Sciences Institute of Japanese Studies, and Director of the Chinese Association for Japanese Studies.
North Korea is drastically altering the strategic environment, making coordination between Japan and China essential
Yoji Koda presented the issue for Part discussion on behalf of the Japanese side, and stated that there are three points to consider regarding the North Korea issue. First, while the three US-North Korea negotiations "were major political spectacles that drew the eyes of the world," calm analysis shows that, at the very least, the nuclear weapon situation hasn't changed at all.
The second point Koda presented was in regard to the repeated test launches of rockets and short-range ballistic missiles (SRBMs) on the part of North Korea. The maximum range of those missiles is 600 km, putting the entire country of South Korea in range of an attack launched from the North-South Military Demarcation Line. Koda believes that North Korea maintains intercontinental ballistic missiles (ICBMs) and nuclear weapons as deterrents against attack by the U.S., but if those prove ineffective, North Korea would feel that it needs a secondary deterrent in the form of weapons that can directly attack U.S. forces and cities in South Korea. Koda warned that U.S. President Donald Trump's tacit permission of North Korea's SRBMs - because they are not ICBMs - is resulting in the steady increase in North Korea's military capabilities.
Finally, Koda mentioned North Korea's continued testing of submarine-launched ballistic missiles (SLBMs). He noted that they too are capable of carrying nuclear weapons, and worries that if they are deployed in the Sea of Japan, it would make the destruction of Tokyo possible.
The first step in building a peaceful order is closing the perception gap through dialogue
Tuosheng Zhang is the head of a PLA-affiliated think tank, and provided the Chinese topic for discussion. Zhang agreed with Koda's interpretation of the U.S.-North Korea negotiations being at an impasse, but noted that the rare opportunity for discussion is still ongoing, and that the negotiations are the first and most important step on the road map towards denuclearization. With North Korea steadily increasing its capabilities, time is particularly limited, so the finding of middle ground must be prioritized. To Zhang, the key to this is the easing of sanctions. At that point, Japan and China can fulfill their own roles in the process, with China working on influencing North Korea, while Japan works to influence the U.S.
Zhang stated that if denuclearization can be promoted in this way it could lead to the declaration of the end of the Korean War, at which point the issue becomes one of encouraging the economic recovery of North Korea. Japan and China then have a powerful opportunity to demonstrate their own economic might, and the areas in which the two countries can cooperate will expand. Zhang believes that this sort of stabilization of North Korea will directly lead to a peaceful environment in Northeast Asia.
Zhang also clarified where China's apprehensions towards Japan lie; among other reasons, the security cooperation relationship has been rekindled but is still insufficient, and there is no effectual hotline in place as yet.
Zhang continued, noting that dialogue is indispensable when it comes to resolving that sense of apprehension, and proposed the establishment of a high-level dialogue apparatus on the Vice-Ministerial level between the Ministries of Defense of the two countries, and an increase in exchanges of military officers from each country. In addition, Zhang also mentioned that the number of issues on the table should be increased, and that a dialogue on cyberspace, AI weaponry, and other new aspects of national security is necessary. Zhang made various other propositions as well, including the establishment of peaceful principles to govern interactions in the Taiwan Strait and the South China Sea, the formulation of a code of conduct (CoC) for the East China Sea based upon that used in the South China Sea, and the establishment of Track Two dialogues between Japan, the U.S. and China. However, to realize these ideas, it is essential to resolve the differences in perception that still exist, and to build a relationship based upon mutual trust. For Zhang, this is the first step towards achieving a peaceful order.
Once Koda and Zhang had finished the introductory remarks, the discussion began.
Six-party talks should be revived, but they will not function in current conditions
Akiyama agreed with Zhang's assessment of the North Korea issue, and added that while a resolution would be based in Japan-China cooperation, the framework of the six-party talks is required. He stated that considering recent developments, it is unlikely that North Korea will renounce nuclear weapons, so if U.S.-North Korea negotiations were to break down, those diplomatic efforts would not be wasted if the negotiations could be transferred into the six-party framework.
Wu responded, expressing his worry that the six-party talks will not function at the current time as Japan and South Korea are in complete disagreement with each other.
More than mere exchange - Creating a true strategic dialogue and mechanism
With the reconfirmation of the difference in opinion between Japan and China regarding North Korea, the discussion turned to how to promote a security relationship between the countries. Zhang's various suggestions for ways of engaging in interchange and cooperation met with the approval of the Japanese panelists. However, the Japanese side also suggested that mere exchange is not enough.
Masuda focused on "increasing the number of meetings" for the Japan-China defense exchange, and suggested that this itself could be its own goal. He said that past efforts looked into how to promote regional cooperation between defense agencies in the two countries, and how to make proposals regarding international assets such as those used in peacekeeping operations, but discussions took on a decidedly more global aspect, and Masuda believes there should be an effort made to construct a strategic dialogue from that perspective.
Retired JASDF Lieutenant General Osamu Onoda found the various proposed ideas for collaboration as generally reasonable, but noted that the issue lies in how they are to be implemented. To resolve that, a mechanism for cooperation must be built.
Wu responded by pointing out the clear differences between the U.S. and Japan when it comes to their policies for the Middle East, and adding that Japan has more common interests with China when it comes to that the region. Wu thinks it would be easier to promote more permanent cooperation in those areas in which a Japan-China partnership would be more effective than a Japan-U.S. partnership. Moreover, as the U.S. moves away from its role in guiding how international assets are used, it is now time for the institutionalization of a mechanism that will allow stronger Japan-China cooperation, as this will also help support global governance.
After a question and answer session with the audience, Miyamoto provided a summary of the latter half of the session's discussions. First, he admitted the difficulties in taking an optimistic outlook regarding the national security environment in Northeast Asia at the current time, adding that new issues continue to appear. However, the day's discussions had resulted in a number of concrete solutions, and Miyamoto stated that he found it encouraging that consensus could be reached on many of those ideas. Miyamoto then brought the session to a close, stating that the forum had successful fulfilled its goal of discussing security in Northeast Asia and Japan and China's responsibility to build a peaceful order.