Following the keynote remarks on the second day, a panel discussion was held March 1 on the theme "What are the responsibilities of each democracy in realizing a liberal international order?"

Rohinton Medhora, president of the Centre for International Governance Innovation (CIGI) of Canada, acted as the moderator.
Medhora asked each panelist what is required to create a peaceful and stable international order to resolve the conflict between the United States and China, and build a peaceful and stable international order, and what roles other major democracies should play at a time when U.S. global leadership is weakening.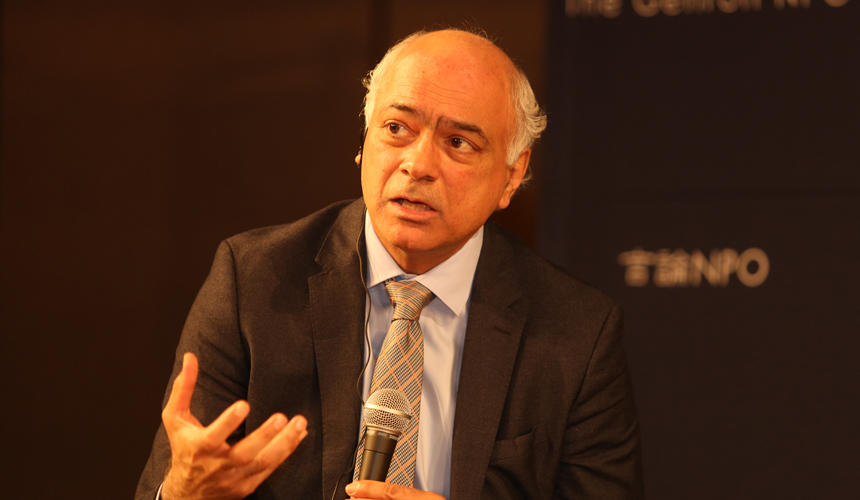 Hubert Vedrine, a former French foreign minister and keynote speaker at the Tokyo Conference 2020, said that the confrontation between the United States and China will dominate the next decade or so. He insisted that other democracies, including the European Union, Japan and Canada, should be proactive and anticipatory, and work hard to prevent emerging countries from yielding to authoritarianism, and keep China and the United States engaged in the framework of the liberal international order. Democratic countries should collaborate and cooperate to that end, he said.
At the moment, however, no common ground exists. Therefore, ways to achieve a minimum level of agreement must be explored, he said, warning that otherwise, Chinese control or U.S. control, or the two countries' dominance will be imposed upon ourselves.
Stabilizing the regional order, emerging countries should tame the "two giant elephants"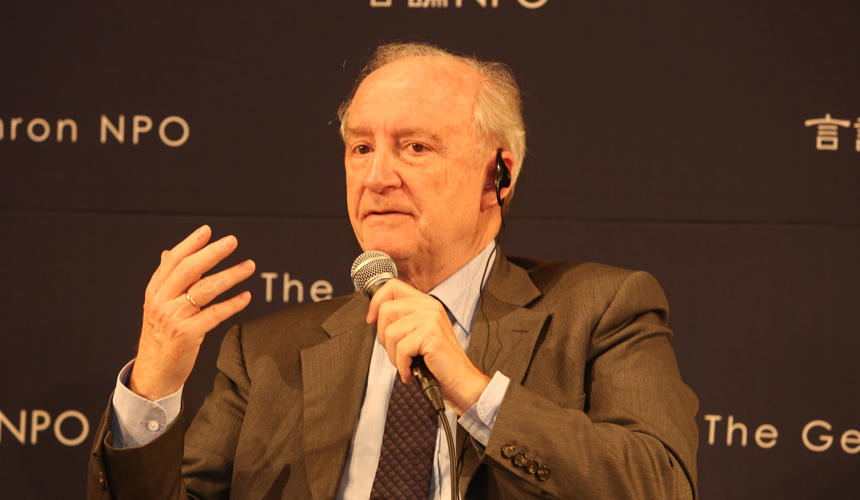 Asked about his views on the future of the world order, Hassan Wirajuda, a former Indonesian foreign minister and the conference's other keynote speaker, presented the pessimistic view that the United States and China will continue to compete, and the world order will remain unstable. On the other hand, he pointed to positive aspects such as the lasting trade talks between the two superpowers and the possibility of the U.S. attitude toward China softening after the presidential election.

He insisted that democracies should work hard to maintain the world order despite the harsh realities. To that end, they must strive for mediation between Washington and Beijing as well as stabilizing each regional order. He also proposed that the Group of 20, which includes major countries and emerging countries, should provide the framework for restructuring the international order.
Quoting the proverb, "When two elephants fight, the grass will be trampled," Wirajuda reiterated the importance of advanced and emerging democracies working closely to avoid being trampled like the grass by the two elephants - the United States and China.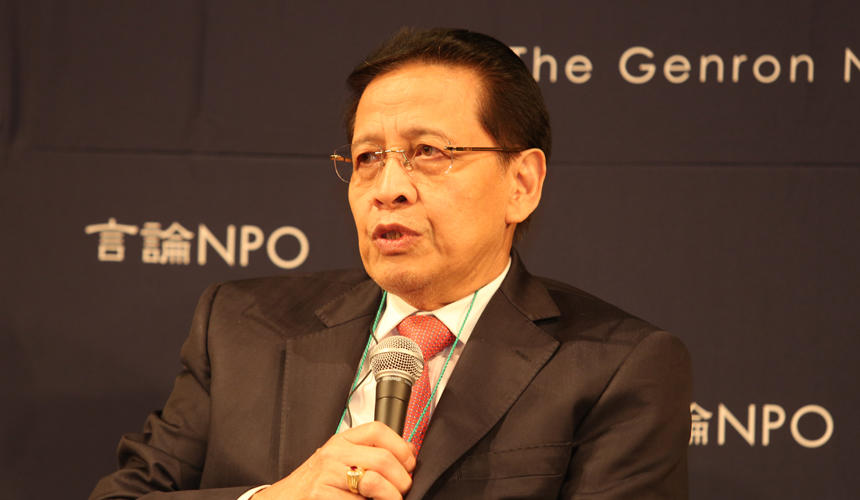 Let Trump recognize multilateral cooperation is a far better strategy to change China's behavior


James Lindsay, from an "elephant country," as the moderator put it, was asked if he thinks the United States is actively disassociating itself from its allies. Unlike his predecessors after the end of World War II, who highly valued America's friends and allies, President Donald Trump regards them as taking jobs from Americans and enjoying a free ride under the U.S. security blanket (or umbrella), said Lindsay, the senior vice president of the Council on Foreign Relations. Trump's approach, seeing America's allies and friends as potential rivals - he even sees the EU as a foe - guides his foreign policy, especially in handling trade. "(America) wants more victories," Lindsay said.

On the subject of the U.S.-China trade conflict, Lindsay proposed that the United States put pressure on China in cooperation with its friends and allies. While the United States had considerable "one-sided leverage" in trade negotiations with other countries, Trump found China had the power to push back and opted for taking a "bilateral deal" approach. In other words, making Trump believe that by having America's friends and allies alongside him, the United States can effectively change China's behavior, Lindsay said.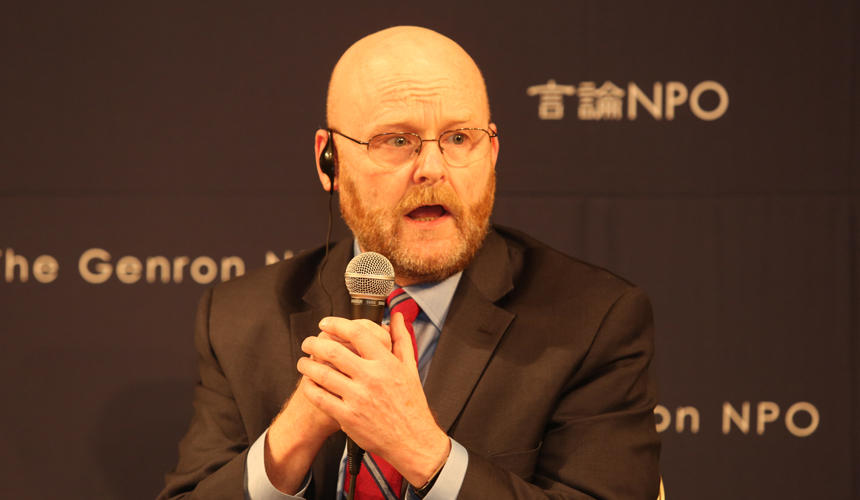 Referring to domestic politics, he said there is a fairly broad consensus across the Democrat and Republican divide that the United States should be putting pressure on China to change its behavior on trade. If a Democrat wins the upcoming presidential election, China would likely face U.S. criticism over other issues, including human rights. That would make Beijing-Washington relations more serious and contentious, he said.
Based on the G-20, let us explore a new version of the international order
Sunjoy Joshi, chairman of the Observer Research Foundation (ORF) in India, was asked what role India can play in resolving the U.S.-China confrontation and rebuilding the world order. He said there had been signs for some time that the world order and multilateralism was breaking down before Trump. "Still we cannot go back to the world divide of the 1930s," he said.
Asserting that democracies are responsible for rebuilding the world order, he said the G-20 is important and would be a good stage to reconsider the global order, as Hassan Wirajuda of Indonesia noted. Participants should explore new versions of the world order around the G-20, he said. "It is time to move on to the new version of globalization," he added.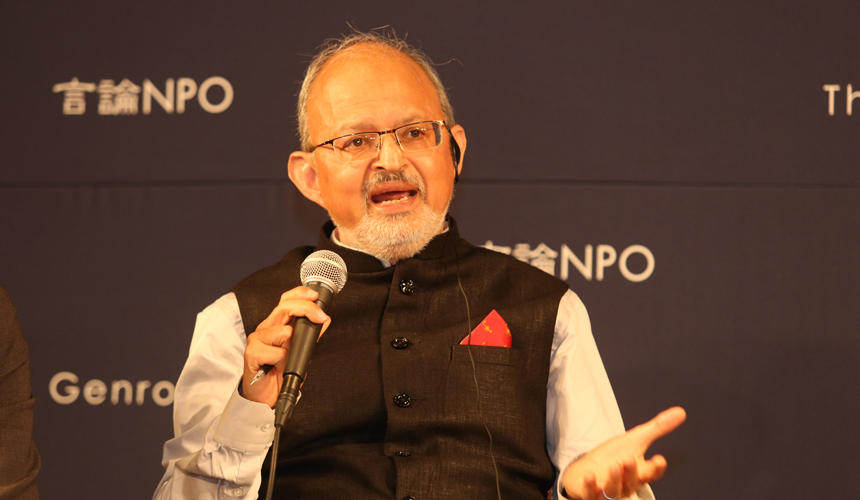 Europe should use its strength to become a rule-maker
Volker Perthes, executive chairman and director of the German Institute for International and Security Affairs (SWP), said: "In a way, Mr. Trump has woken Europe up. His America First policy and his unprecedented way of seeing allies in Europe as foes have made Europe seriously consider its sovereignty and strategic autonomy." The basic question is whether the EU is a "rule-maker" or a "rule-taker," and regrettably, Europe is still on the taking side, he admitted. However, potentially, Europe can change some of the basic rules of the world, he noted.
Perthes proposed that Europe will take the initiative in the creation of new rules in the fields where it can display its strength, such as "big data management." By sharpening its edge in next-generation areas ahead of the United States and China, Europe can have a bigger say, he noted, adding that it is feasible for Europe, with its giant regional market and industrial foundations, to realize this.
At the same time, Perthes expressed interest in the alliance with Japan, which has launched an open process, known as the "Osaka Track," that seeks to advance the creation of international rules on data flows and electronic commerce.
Perthes, meanwhile, expressed alarm at China's mass surveillance of citizens with the help of advanced AI, high-tech cameras and facial recognition technology. He said that liberal democratic countries cannot adopt such surveillance systems. China is also taking a lead in the development and utilization of the fifth-generation mobile communications system, or 5G. Perthes voiced his concern over China's potential use of these advanced technologies for espionage and subversive activities. While advancing innovation in technology, Europe must take the initiative in creating international rules to counter China's lead, he emphasized.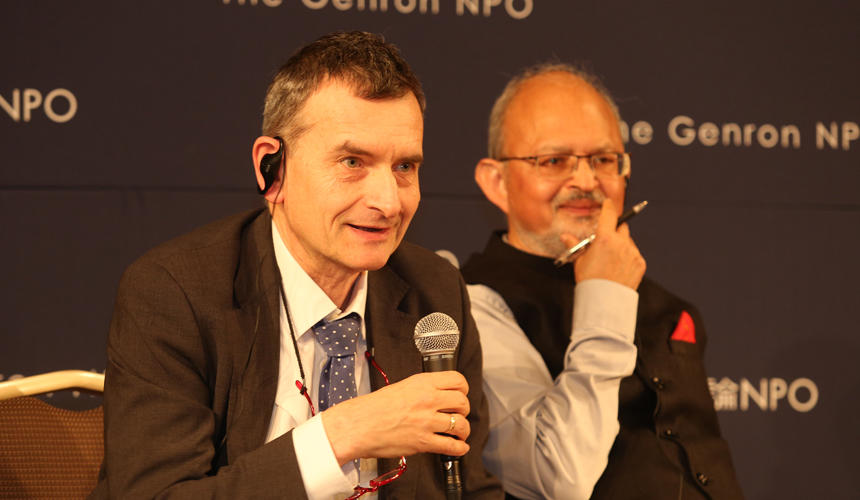 Former French Foreign Minister Vedrine commented on Perthes' remarks, saying that Europe can no longer depend entirely on the United States for its security. Noting that it is indispensable for Europe to help itself, Vedrine referred to French President Emmanuel Macron's proposal Feb. 7 to hold a strategic dialogue with European countries on security, defense and nuclear policy. Vedrine shared Perthes' view that without having a competitive edge in technology, Europe cannot take the initiative in creating global rules on data flows and AI technology.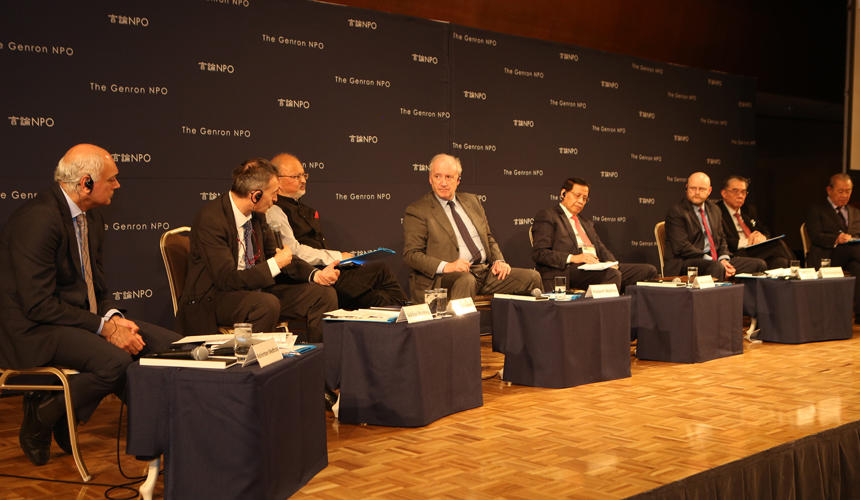 ASEAN to play a positive role
Ong Keng Yong, executive deputy chairman of the S. Rajaratnam School of International Studies, (RSIS), Singapore, commented from the standpoint of the Association of Southeast Asian Nations (ASEAN), which is sandwiched between the United States and China. As ASEAN has to depend on both the United States and China, it has not been eager to show clearly which side it is on. This approach will stay in the future, Ong said, indicating ASEAN's difficult position.
Meanwhile, Ong said it is necessary to enforce discipline by creating new rules that adapt to the changing times, regarding data flow, capital markets and supply chains. ASEAN will proactively participate in the process of formulating new rules that would win multilateral consensus, he said.
Ong also said that it will be an important task for ASEAN to work on China and the United States to reconfirm that international cooperation is the only way to solve transnational issues such as the new coronavirus outbreak, which is affecting the whole world.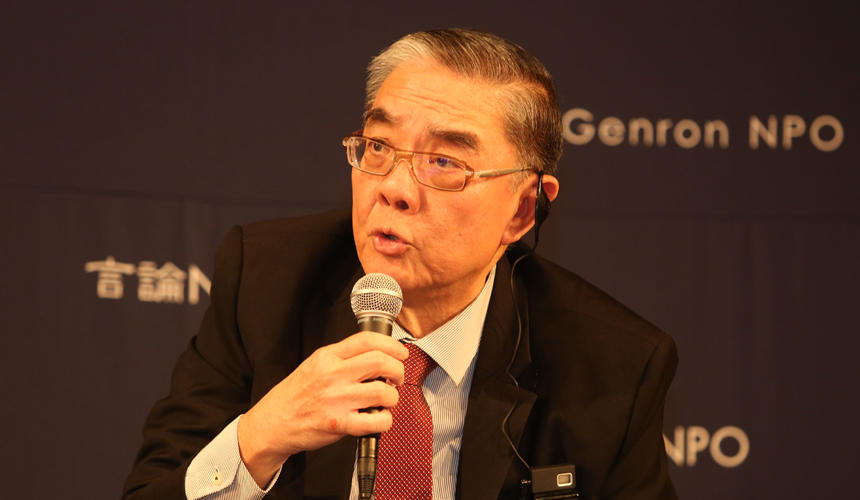 Good opportunity to prod China to change
Former Japanese Ambassador to Washington Ichiro Fujisaki said he could not subscribe to the view that the theory of the Thucydides Trap may eventually apply to U.S.-China relations. The theory argues that when one great power threatens to displace another, war is almost always the result. Fujisaki said China is out to alter the world order using "China money," not philosophy or ideologies, unlike the Soviet Union, whose weapons were tanks and nuclear missiles.
He gave certain credit to U.S. President Trump in that he has proved that the Chinese posture could be altered. However, his attempt has yielded insufficient results because he is doing it unilaterally. Noting that a multilateral approach is the desired way, Fujisaki believes now is the time to prod China to change direction as Beijing is dealing with the Hong Kong problem and the new coronavirus outbreak.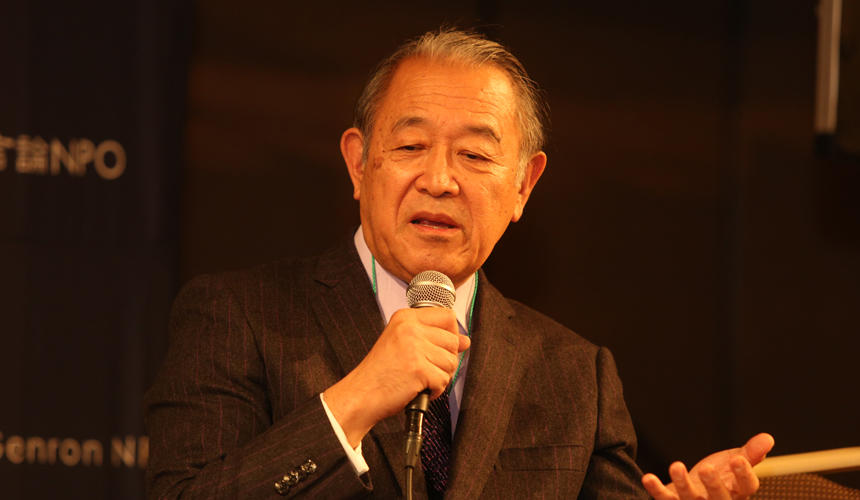 What advanced democracies should do for the world in 2030
Following the brief remarks by all the panelists, moderator Medhora sought each panelist's forecast of what the global order will be like 10 years from now.
Perthes predicted that after learning lessons from the current crisis, the whole world would eventually recognize the fact that multilateral cooperation is the best solution. "I am not optimistic (about what may have changed) when we meet here next year, but 10 years from now, I am optimistic. Things will have improved as there is simply no alternative to multilateral cooperation," he noted.
He went on to say that a multilateral effort, such as the one through the G-20 group of developed and developing countries, is indispensable. Joshi of India and Wirajuda of Indonesia shared Perthes' forecast.
Ong of Singapore expounded a view that the United States and China would strike a deal in a matter of two or three years, should the Trump administration and the Xi Jinping regime continue. Both leaders have "political dreams," and unless they can settle their rivalry, their dreams would never be realized, leading to a crisis in their political life itself, according to Ong.
Fujisaki of Japan said he would be optimistic, based on two conditions. One is that the United States returns as a "broad-minded" global leader, and the other is that China were to fully understand that there is no cherry-picking "China Way." "We should unite and tell China to come around and play under the same rules as ours," Fujisaki stressed.
Meanwhile, Lindsay of the United States said that his philosophy is "to hope for the best, but prepare for the worst." In order to avoid the worst scenario, it is necessary to consolidate an international consensus that a multilateral effort is indispensable. As typified by global warming, however, many global issues need a long time to solve and some of them may intensify, he forecast, adding that "time is not as generous as we seem to think."
Vedrine of France said this is not a matter of a choice between optimism and pessimism, and that we should think of what we can do.
The liberal world order "was not born naturally and did not appear all of a sudden." It was created by many countries under the leadership of the United States after the end of World War II, he explained. Thus, he said he is optimistic about the prospects of the global order being repaired on the strength of multilateral cooperation involving a dozen or so like-minded countries. If that could not be achieved, however, one cannot be optimistic, he said.
Following the panel discussion, the conference proceeded to the announcement of the "Declaration for the Future" of the Tokyo Conference 2020, which is to be submitted to the U.S. government, the host of this year's Group of Seven (G-7) Summit, and to the Japanese government.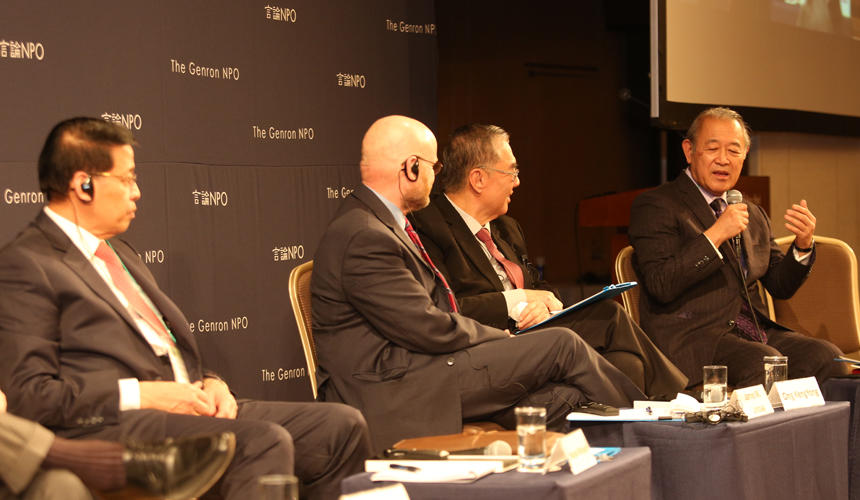 Read more: